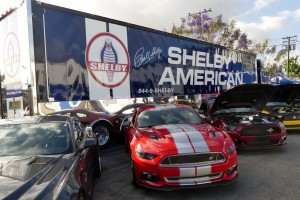 Celebrating the Spirit of Carroll, and the GT40s' winning of Le Mans in 1966
Kirk Gerbracht photos
Carroll Shelby passed away in May of 2012. So every spring, the Carroll Shelby Foundation, Shelby American, and all the other related Shelby companies and entities mark the occasion with an open house and car show– but don't you dare call this fabulous event, hosted at the historic Shelby Los Angeles facility in Gardena, California, a memorial. It's a tribute, and a worthy one at that.
The property is significant because for many years it was the home of Shelby's Goodyear Racing Tire Distributorship warehouse and his California offices. It also houses the Shelby Foundation, International, and Licensing offices, and a giant garage full of Carroll's own personal collection, and is the site of the planned Carroll Shelby Museum. Fortunately, the parking lot is large and will hold hundreds of cars, so it's the obvious place to host any car show or tribute event in Carroll's honor.
You might guess it little more than a parking lot full of Shelby Mustangs and a picnic ground full of chili. Not so.
Lots of people important to the Shelby story, past and present were there. Several former Shelby American employees and all three of his grandsons were on hand, plus Shelby American team drivers John Morton, Alan Grant and Bob Bondurant, were there. Aaron is the son of Carroll's son Patrick, and is today a successful banker in Texas. Even though Aaron has no day to day hand or position in running Shelby American, he's taken an increasingly participatory interest in the present and future of the Shelby companies and brand.
The role he appears to be taking is somewhat similar to that of Edsel Ford II, within the Ford family and company hierarchy, as that of a company and brand ambassador. It's a role that Mr. Ford appears to relish, and he represents his forbears admirably. Aaron Shelby does much the same: he's tall, handsome, and warmly outgoing, happy to chat about the cars, the company and his famous grandfather, equally willing to sign autographs and pose for selfies. A genuinely nice man who understands who he is and what his famous name represents in autodom, and is more than willing to share it. We compliment him on all of that.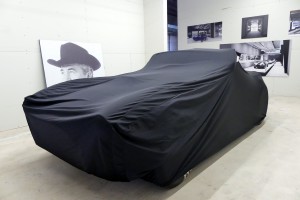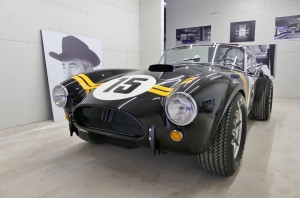 Another thriller this year was a special Cobra that Shelby American chose to premier at the Tribute. Shelby has done well with recent anniversary or special edition Cobras, so this time they whipped up a special edition "Sebring Tribute" Cobra to honor the small-block Cobra's racing successes at that historic track. Its configuration is very reminiscent of the "FIA Edition" Cobra the company already produces, but there are key differences. The Sebring car's bodywork is very similar to the CSX 8000 small-block street version small-block Cobra with the "flat" fender flares and wheel arches of that car. The Sebring car is available with aluminum or fiberglass bodywork, and will be sold as a complete running car, not powertrainless roller as are the other Cobra models offered by Shelby. This one comes with a stoutly built aluminum 289 and a manual transmission with a loud, barking competition exhaust system only. It also wears competition jack point "fang" bumpers, and is devoid of conventional bumpers and grillework. Recentl legislation changes have opened the door for Shelby to sell this as a factory assembled turnkey running car, and we hope that future fully built models will also be sold. Important to note is that the Sebring edition Cobra is sold as a racing car only and as such is not street legal.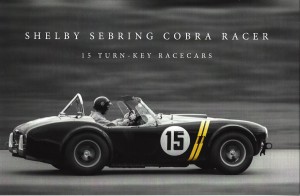 In case you're not familiar with the Cobra's history at Sebring, here's how Shelby describes the impetus for the car, and a few words from Shelby execs:
For the 1963 Sebring race, Shelby built two cars including CSX2128; these were the first to use rack and pinion steering and the 289 engine. CSX2128 was driven at Sebring by Dan Gurney, who designed the two yellow racing stripes so it would be easy to spot the car from the pits while at speed. The Shelby was also raced by Ken Miles, Lew Spencer, Allen Grant and Dave McDonald."
CSX2128 raced as a Shelby American factory team car from March through July. Sold to Coventry Motors, the car's success during the remainder of 1963, prompted Shelby American to buy it back for the 1964 season. This "workhorse" was among the most successful of the factory team Cobras and its illustrious history included an intersection with Hollywood. While driven by Allen Grant for Coventry Motors, a new livery for the car was designed by eventual movie titan George Lucas.
"For the first time, we're offering a complete, turnkey continuation Shelby Cobra roadster direct from the factory to customers worldwide. While the materials and construction methods have improved over the years, each of these Cobras will be a genuine Shelby built by our craftsmen with a Ford small block from the Shelby Engine Company. The racecars will be a thrill to drive at club events and track days," said Joe Conway, Co-CEO of Carroll Shelby International and CEO of Shelby American.
The Sebring Tribute edition cars are based on the Shelby American CSX7000 Continuation Shelby Cobra. The Shelby Sebring Tribute Cobras will retain the authentic style suspension and masculine body lines, but are upgraded to contemporary standards. Shelby American uses modern disc brakes, a stronger frame and the bodies are available in either aluminum or fiberglass. Just like the 1960s race car, the series will feature widened front and rear fenders, cut-back doors, more aggressive dampers, racing wheels featuring the pin-drive hub, oil cooler scoops and a 289 small block engine. Each car will be built to order and delivered with a Shelby American serial number for documentation in the official Shelby American Worldwide Registry.
"The Sebring Tribute Cobras will incorporate safety and performance improvements made over the years but retain the originality that made the Cobra so exciting," added Vince LaViolette, senior designer and head of R&D at Shelby American. "With an aluminum motor from the Shelby Engine Company propelling around 2,100 lbs. this turnkey car will offer the kind of power-to-weight ratio that will allow drivers to pass on corners and then run away on the straights. It is the perfect track day toy."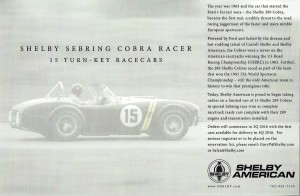 Pricing and final specifications for the Sebring Tribute Edition Cobra will be announced soon. Orders will be accepted at the end of the second quarter with delivery expected at the end of the year. For more information visit www.shelby.com.
Another highlight of this year's Tribute was that, again, the company opened up the doors to the castle, allowing everyone inside the Shelby Los Angeles buildings to see the goings on., knowing full well that only a few years ago, Carroll himself walked these halls, had an office upstairs, and kept much of his own personal car collection inside these walls. One warehouse building was dedicated strictly to Cobras, while another housed the Shelby Mustangs, Ford GTs, and Ford GT40s. Now that's VIP parking.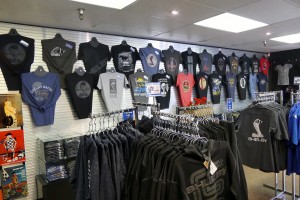 As always, there was no cost to attend the show, and the Shelby Store was there to serve your hat, T-shirt, and die-cast model needs.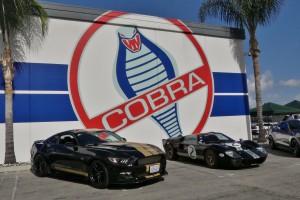 Will there be a Fifth Annual Shelby Tribute day and car show next spring? Count on, and we'll be there.
Oh Please don't leave, more photos below…