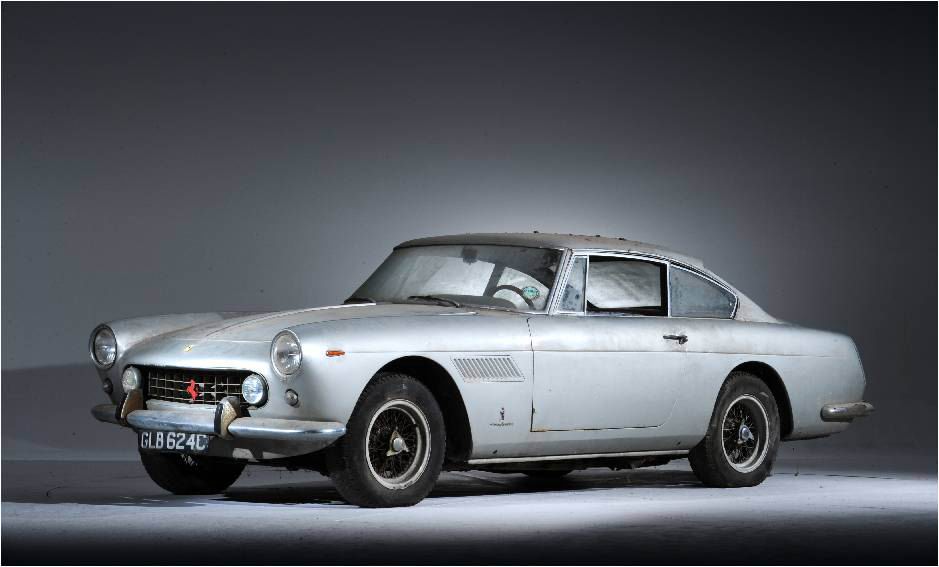 I totally understand the appeal of finding a great car languishing in a barn.  You look at the poor dusty beast through somewhat rose colored glasses, imagining what it could be if given your tender loving care.  I know, I've done it.  But I'm also careful about saddling up to too big a horse, or getting too deep into a car I'd never get my money back out of. 
Now I know cars (classic, new or old) are seldom logic purchases: I usually buy first with my heart, and next with my head, and third with my wallet.  But a rusty old car in a barn isn't enough to make me commit financial suicide.  Take for example, the case of film director Agostino "Dino" De Laurentiis' Ferrari 250 GTE which was just expertly sold by Bonhams at its Monaco auction held just last month.  This was at one time a beautiful automobile, resplendant in metallic silver paint over red leather, with a screaming 3.0-liter Ferrari V-12 up front and gleaming Borrani wire wheels on its suspension.  The car has been sitting for decades, but appeared very complete and whole, which adds considerable to its value and appeal. 
Bonhams sold the car for about $163,000, and it will take every penny of $100,000 to restore it properly and make it once again the beautiful automobile it deserves to be.  When completed, it'll probably be worth about that same $100,000, perhaps a little more, placing, for the moment, no value on its celbrity ownership.  Hmmmm….unless I were the late director's close relative, I'm not sure having his $100,000 car would be worth $263,000 to me. 
The barn finds I really love are the ones that can be cleaned up, mechanically recommissioned, and then driven and shown as a well preserved original.  I totally understand the value of original patina, but even if the De Laurentis Ferrari could be mechanically recommissioned for not too much money, it would still look like an abused, neglected Ferrari, something I don't personally enjoy. 
Yet, such barnfinds sell like mad at auction, reach record prices, and generate a lot of news.  I understand the appeal, but not the economics — wouldn't it make sense to save tens of thousands of dollars and just go out into the market and find a clean, well preserved or properly restored example of your barnfind dream machine.  I also realize that sometimes you buy the car, and sometimes you buy the story, or a combination of the two, but is it worth all the extra financial loss?
Or what am I missing?