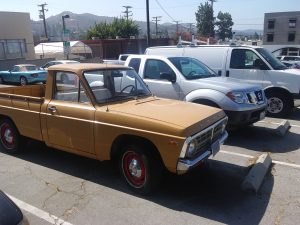 We've all likely noticed that every time a car (or truck) model gets refreshed or redesigned, it gets larger in nearly every dimension.  There are many reasons for this which include customer demand for more cargo and people room; the need to incorporate more complicated powertrains, safety gear, and electronics; and further, much of this never ending expansion program is driven by marketing departments so carmakers can claim "this year with three additional inches of legroom" or "biggest payload capacity in its class"  and other such buzzterms.
This isn't always bad, but neither is it always necessary.  A whole generation of what were then catagorized at "compact pickups" (or nicknamed mini-trucks) was born and grew to fill a specific need; a pickup that was smaller and easier to drive and park, less expensive to build, buy, and run, and only needed to be large and tough enough to fill light duty pickup type needs, as opposed to those of full sized trucks.  Made sense, and they sold by the gazillions: Ford Courier, and then Ranger, Chevy LUV, then S-10, and similar models from (then)-Datsun, Toyota, Mitsubishi, and others.  Perfect for the "pool guy" or just to have around the house for hardware store and nursery runs (I'd say Home Depot runs, but they didn't have those at the time.)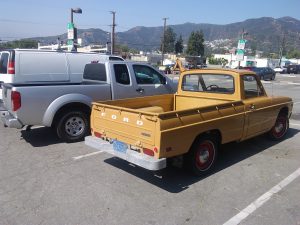 It struck me hard the other day when I parked my own Nissan extended cab pickup next to an original Ford Courier (produced at the time in join venture with Mazda parent Toyo Kogyo).  Now that entire class of pickup is long gone; When GM came out with its virtually all new Colorado and Canyon twins some years back, it struck me then that they were nearly as large as full sized trucks were back in the 60s.  Every time the Toyota and Nissan models are refreshed, they get larger in every dimension.  Of course there are benefits to this; compare their luxury, powertain, or creature feature capabilities to an original LUV truck.  Yet they are also doing so against the needs that spawned the original compacts in the first place.  Smaller, easier to drive and park, and cheaper to run.  No mas.
It also reminded me that for many years, a stripped won, four-cylinder standard cap compact or "mini" pickup was the cheapest new vehicle you could buy; perfect for a kid's first new car, a second or third or fifth vehicle to have around the house for errands and chores.  I remember in the 80s when a friend of mine just needed a cheap commuter for his freeway drive to work, and bought a brand new Mitsubishi "Mighty Max" pickup for less than $4000, I think with add-on AC, tax, license, and docs, he drove out the door for less than $4500.  And $5000 would get you your pick of nearly any stripped down mini truck equipped the same way — and this is for a brand new truck, with a warranty, that would get 30 mpg and run forever.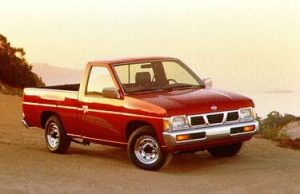 Every one of us that writes about cars or the car business is a frustrated product planner.  Sometimes, carmakers ask our opinions about what future products should be, sometimes not.  And I'm not saying we know for sure, but after 30 years in the game, I at least have some ideas, or at least experience watching what works and what doesn't.  I've certainly driven them all, from those early minis to the largest Super-Duty.  I recently heard that one American manufacturer is exploring a new pickup line that would slot below what has become the "mid size" pickup catagory, essentially rebirthing the compact.  Now there's an idea.  Make a super cheapy work truck edition, offer a hybrid and a diesel, keep it small and straightforward, and I'm convinced there would be market.
What think you?