I still love old school car books, you know printed on actual paper, with photos, and all that.  I've written and published more than a dozen of them, and even though I'm a Kindle carrying radical, reading an actual book provides certain satisfactions that go beyond just getting delivery of the material.
Here's some new stuff fresh off the press I can recommend to you…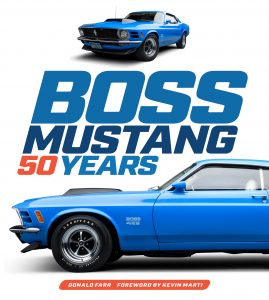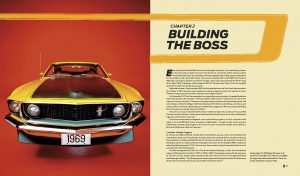 BOSS MUSTANG 50 YEARS by Donald Farr
This is Mr. Farr's third Boss Mustang book, and his best.  He's been a writer, author, and magazine editor for decades.  I've worked for him in the past, and rate him a fine guy, and a solid pro.  In some ways it's hard to believe that the Boss Mustangs are this old now, but they are and have become much revered classics; not to mention very capable musclecars and race cars in their day.  This heavy hardbound tome tells the whole story; ideation, design, development, production, options, colors, design, and all the rest.  Farr has lots of inside information on all the cars (including the Boss 351 and the more recent gen Bosses) plus more current photos and info too.  If you love these cars, you need this book.  Motorbooks.com, Amazon, or Autobooks in Burbank, CA.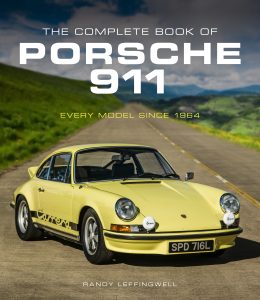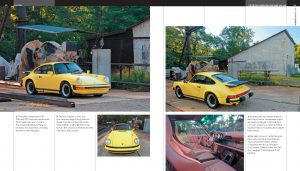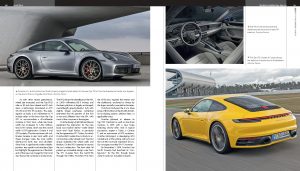 THE COMPLETE BOOK OF PORSCHE 911; ALL THE MODELS SINCE 1964, by Randy Leffingwell
Every 911ophile will want this, and especially if you are shopping for one of these cars.  Sorts out the series, models within them, and all the special and limited production variants of same.  Among the 20 things that make this book great are author Leffingwell; who is the consummate pro as a seasoned journo and book author, and a marvelous photographer.  Most important is that he has deep inside connections to the Porsche factory, museum, and archives.  This is a large format, hardbound book worth every centavo of its $50 sticker price, from the 911's beginnings up to the new 992 generation.  Motorbooks.com, Amazon, or Autobooks in Burbank, CA.
NEVER STOP DRIVING: A BETTER LIFE BEHIND THE WHEEL,  by Larry Webster and others
This is a pure pleasure read that educates about and celebrates everything we love about driving, primarily through the lens of older, classic and collector cars.  Poignant, often humorous, and charming throughout.  Lots of voices in the discussion, and all interesting.  Plus a chapter of quips and quotes about driving and favorite drives from all manner of compelling car people including Mario Andretti, Bob Lutz, Jay Leno, Patrick Dempsey, Peter Egan, Ralph Gilles, and Richard Rawlings to name a few.  Lots of fun photos to highlight the text.  The Dedication tells you most of what you need to know about this great book "For those who have driven, and those who will.  May the road deliver."  Don't get all the way through summer without reading this.  Motorbooks.com, Amazon, or Autobooks in Burbank, CA.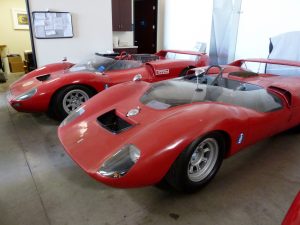 THE ROAD TO MODENA: Origins and History of the Shelby-DeTomaso P7- Can-Am Sports Racer, by Peter Brock
Peter Brock is one of the most fascinating people I know; a trained automotive designer, he was one of the principle designers behind the '63 Corvette Sting Ray and the single mind and vision behind the Shelby Cobra Daytona Coupe, he also designed the navigation control system used in handgliders.  You may remember his Brock Racing Enterprises (BRE) racing team of Datsuns that positively owned the SCCA Trans-Am under 2.5 liter racing catagory in the early 70s, and also dominated other SCCA classes too. Along the trail, he, Shelby, Alessandro deTomaso, and Medardo Fantuzzi collaborated one what was intended to become a highly advanced, early generation Can-Am racer; the car was somewhat stillborn and not ultimately competitive by the time is was completed, but is gorgeous beyond words, and very innovative.  Peter tells the story of working with the metal magicians in Modena Italy who using hammers, sandbags and tree stumps could create beautiful bodywork.  And with two fiery personalities such as Shelby and deTomaso involved, you knew there would be fireworks.  A great story, of great times and great cars, told by the guy who was there.
Available publisher direct from Brock Racing Enterprises, LLC or Autobooks in Burbank, CA.