Some news I thought you might enjoy from my friends at the Automobile Driving Museum…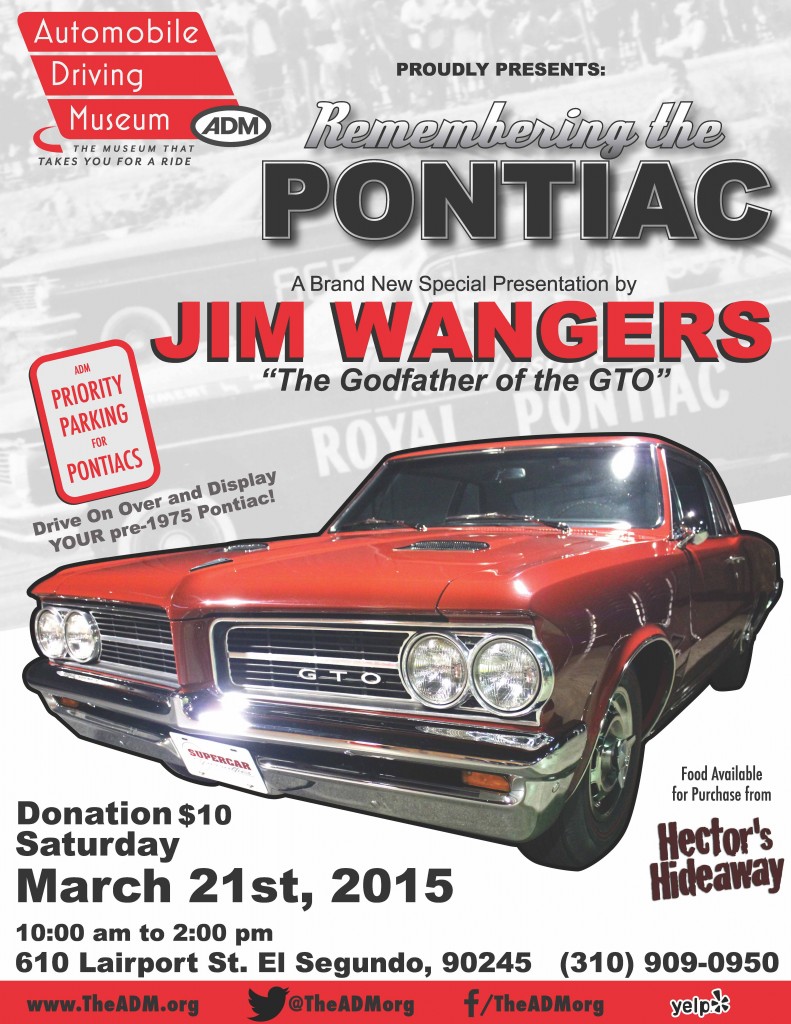 Remembering the Pontiac
(El Segundo, CA) The Automobile Driving Museum (ADM), a non-profit automotive museum that preserves and educates of historic automobiles will be hosting a "Remembering the Pontiac" event on Saturday, March 21st, 2015 from 10 a.m. to 2 p.m. Jim Wangers "The Godfather of the GTO" will be the special guest speaker delivering his "Royal Pontiac" presentation.
Jim Wangers, autobiographer of Glory Days and the marketing genius that worked for the division's contract advertising agency, McManus, John and Adams. The legendary "ad man" for Pontiac and the marketer behind the Pontiac GTO and several other Pontiac specialty cars, Wangers helped establish the "muscle car" of the Sixties to its rightful niche in the history of American car marketing.
Royal Pontiac became the "unofficial" testing garage for Pontiac's high performance cars and equipment. Wangers organized the entire Royal Pontiac program, which remains to this day one of the most respected and important landmark mail-order performance automotive sources ever established. A Royal "Bobcat" is today one of the hobby's most collectible muscle cars.
The Remembering the Pontiac event will be open to all pre-70's Pontiac cars. The Automobile Driving Museum is located at 610 Lairport Street, El Segundo, CA 90245. Requested donations of $10 for adults, $8 for seniors, $5 for children (11-17) and 10 and under are free. For more information about the ADM, visit: www.theADM.org, Twitter @TheADMorg, and Facebook at /TheADMorg.
About the Automobile Driving Museum (ADM):
Stanley Zimmerman and Earl Rubenstein, long time car collectors and friends, founded the ADM in 2001. The museum was started as a place where car enthusiast could experience riding in a piece of automotive history. Known as the only museum in the country that takes their guests for a ride in their historic cars. Now, a destination for many tourists and an attraction for auto enthusiasts all over the world, the ADM has a collection of over 130 automobiles that will take you back through automotive history.