My legend, hero, and friend Mario Andretti is the living definition of Been There, Won That.  Thought you might enjoy this news about one of motorsport's greatest treasures…MS
Petersen Executive Director, Terry L. Karges, Mario Andretti, Museum Founding Chairman, Bruce Meyer and Justin Bell
Legendary racing driver Mario Andretti received the prestigious award during a special tribute reception on the 50th

 

anniversary of his Indianapolis 500 victory.
The Petersen Automotive Museum presented the coveted Robert E. Petersen Lifetime Achievement Award to racing driver Mario Andretti at a special gala reception celebrating the 50th anniversary of his historic Indianapolis 500 win on April 10, 2019.
Mario Andretti's racing career is one of the most illustrious in history and is considered by many to be the greatest race car driver in the history of the sport. The world watched as he won the Daytona 500, the Indianapolis 500 and ultimately the Formula One World Championship, an unprecedented trifecta.  No other race car driver has ever won all three titles.  Andretti took the checkered flag 111 times during his career – a career that stretched five decades and across six continents.
"There could be no more fitting recipient of the Robert. E. Petersen Lifetime Achievement Award than Mario Andretti," said Terry L. Karges, Executive Director of the Petersen Automotive Museum. "Very few people have been more successful or done more to promote the world of racing, and we're excited to present this on the anniversary of his victory at the Indianapolis 500."
The Robert E. Petersen Lifetime Achievement Award is the highest honor the Petersen can bestow. Previous recipients of the award include Richard Petty, Dan Gurney, Art Chrisman, Carroll Shelby, George Barris, Andy Granatelli, The Ford Family, Vic Edelbrock, Jack Roush, Ed Iskenderian, Speedway Motors founder "Speedy" Bill Smith, So-Cal Speed Shop founder Alex Xydias, NHRA founder Wally Parks, and engine builder Ed Pink.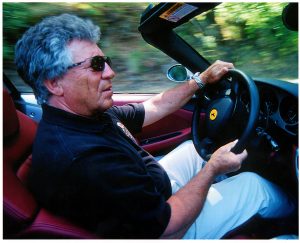 "It's an incredible honor to receive the Robert E. Petersen Lifetime Achievement Award," said Mario Andretti. "I've been blessed with a long and exciting career in motorsports. To be presented with this award on such a special night, surrounded by my friends and family, is something I will never forget."
In addition, the event featured a Q&A session with Andretti hosted by racing driver Justin Bell, a special 3-car display, a video presentation on Andretti's accomplishments, live entertainment, a gourmet 3-course dinner by Drago Ristorante, a VIP meet and greet session and a live auction. For more information about the Petersen Automotive Museum, please visit www.Petersen.org.
The Petersen Automotive Museum Foundation
 The Petersen Automotive Museum Foundation is a non-profit 501(c)(3) charity. The Museum is located at 6060 Wilshire Boulevard (at Fairfax) in Los Angeles, California, 90036. Admission prices are $16 for general admission adults, $14 for seniors, $11 for children ages 4 to 17. Active military with ID, personal care attendants and children under four are admitted free. Museum hours are 10 a.m. to 6 p.m. For general information, call 323-930-CARS or visit 
www.Petersen.org
.