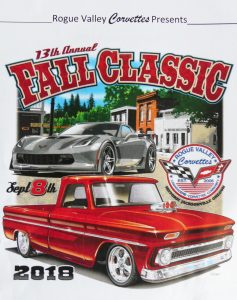 Guest Blog words and photos by Kirk Gerbracht; doubleclick on any photo to see it full screen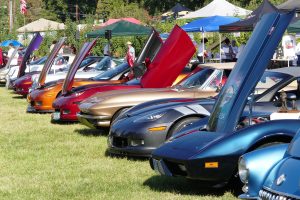 Just blocks away from downtown Jacksonville, Oregon with its 100-plus buildings on the National Registry of Historic Landmarks, its three-month long Peter Britt music festival, wineries, first class restaurants, and quaint shops, the Rogue Valley Corvettes Club held its 13th Annual Fall Classic Car Show.
Founded in 2006, Rogue Valley Corvettes is dedicated to the enjoyment of America's famous two-seater, and community service. And you can't say for a minute that this club profiles or discriminates against automotive enthusiasts of any stripe.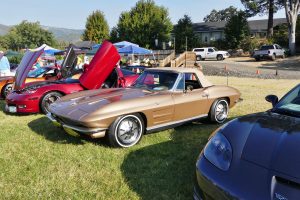 From a group such as this, you wouldn't be out of place to expect an all Corvette event. Not so here; since this deal is for charity and to celebrate everyone's love of cars, so it's Run What Ya Brung. The show has become somewhat of a staple in Southern Oregon, as every September, the Club assembles around 200 cars for a car show fund raiser — with all makes and models of cars and trucks encouraged to participate. The Ford footprint, by way of example was  particularly commendable, including a pair of big banger Shelby Mustangs, they being a '69 G.T. 500 and a black-and-gold '66 G.T.350H, plus a variety of hot rods, some mid-50s two-seater Thunderbirds, Ford trucks, an eyecatching '56 Ford Victoria, and a brilliantly orange '69 Mercury Cougar Eliminator. Plus a couple very cool Falcons and early Rancheros, a rare '68 Mustang Cal Special, and a 351-Cleveland powered DeTomaso Pantera.  Not to mention a wide variety of Studebakers, Dodges, Oldsmobiles, Pontiacs, Mercedes-Benz, Mercurys, VWs and you-name-its.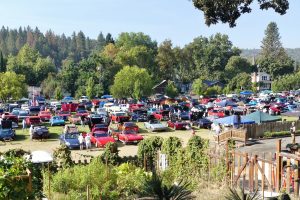 The Club/event coordinates the support of sponsors (80+), local and otherwise, for a colorful day of great cars and trucks, music, food, vendors, raffle prizes, and trophies, all to benefit a highly worthwhile charity: The Club's charity of choice focuses on high school communities — SkillsUSA brings high school students, teachers, and industry together, with educational programs, technical events and competitions, scholarships, and support for trades skills education in America's schools. Founded in 1965, SkillsUSA (www.SkillsUSA.org) has a membership of over 395,000 students and teachers.
Rogue Valley Corvettes with its approximately 100 members has donated over $100,000 in past years to SkillsUSA to help ensure our country has a skilled workforce for the future. The Club has also contributed thousands of dollars, goods and services to many other charitable causes in Southern Oregon. In addition to its Fall Classic, the club supports the Medford (OR) Cruise and the Southern Oregon Rod and Custom Show.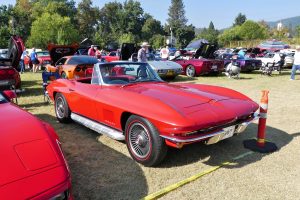 Club members cars span 65 years of Corvette history, and they regularly participate with other clubs throughout the region to support the car culture, and events up and down the West coast. Lean more at www.roguevalleycorvettes.com for more information.
Please don't leave; lots more photos just below…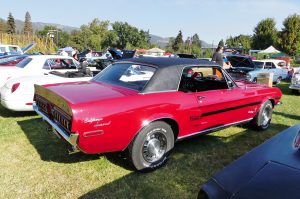 Rear view of this Cal Special shows how many Shelby components and design cues this notchback, one-year-only model Mustang contained