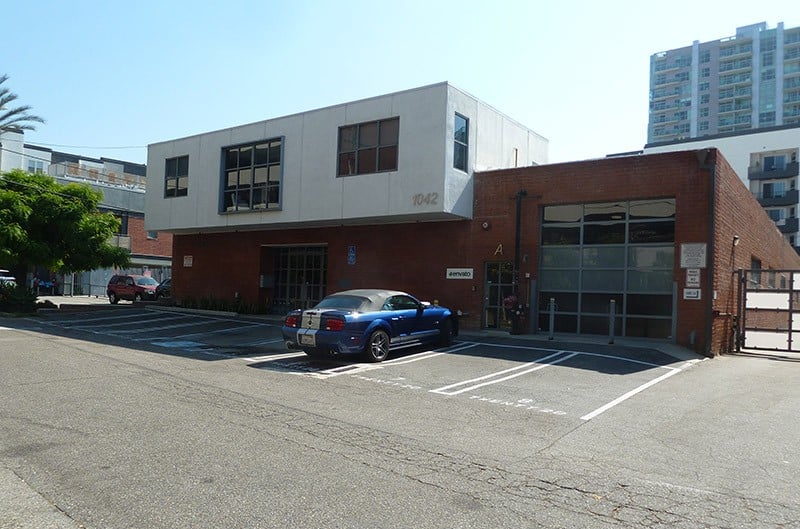 The late, great Carroll Shelby would've turned 98 this past January 11th, and even though it's now been almost nine years since his passing, he continues to make headlines. Last weekend, Carroll's personal 1965 427 Cobra (CSX3178) sold for a whopping $5.94 million at auction – proof that the Shelby legacy remains strong in the enthusiast community. Even though Carroll Shelby was born and raised in Texas, and some of his earliest exploits as a racing driver took place in the South and Midwest, the foundations of the Cobra and Shelby Mustangs were largely a Southern California phenomenon. Fortunately, many of the places where that all happened are still standing, and in many cases still recognizable as Shelby properties, or locations significant to his story.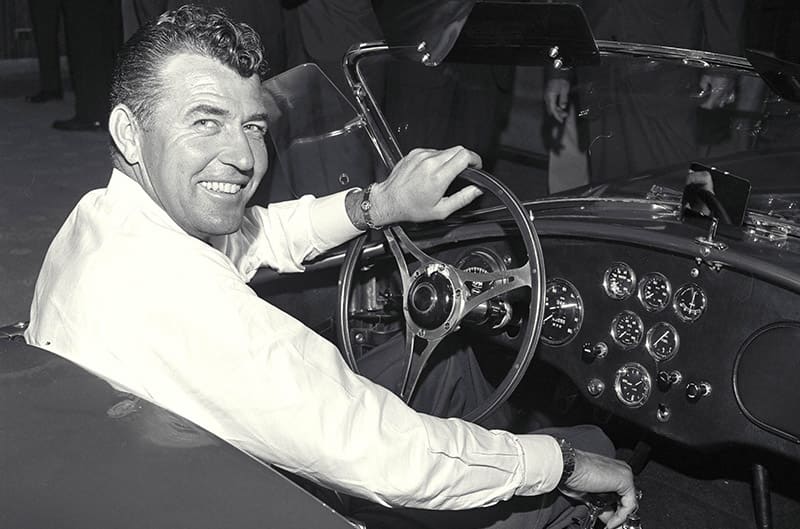 With that in mind, we think now's a good time to familiarize you with several of these locales, in the event you wish to conduct your own Shelby history road trip. Some places we'll cover are current Shelby entity properties that you can, and should, visit in more depth; others are no longer standing or otherwise as approachable. But the whole route — and the high points along it — are great ways to remember Carroll his own self, and the cars he gave the world. Time to program up that nav system and hit the Shelby history highway:
Moon Equipment (now called Mooneyes), 10820 South Norwalk Blvd., Santa Fe Springs, CA
The late Dean Moon is the very definition of a hot-rodder. He was a racer and hot-rod / racing components manufacturer. Besides his googly eyed "Moon Eyes" logo, Moon Equipment produced aerodynamically efficient spun-aluminum wheel discs, and those iconic beer keg-like fuel, oil, and water tanks – primarily for the top-speed scene at Bonneville, as well as for drag racing. His shops and factory have operated for decades out of a humble collection of garage buildings in Sante Fe Springs, less than an hour away from the West Los Angeles areas where Shelby lived, worked, and cooked up plans to produce his own "sport car."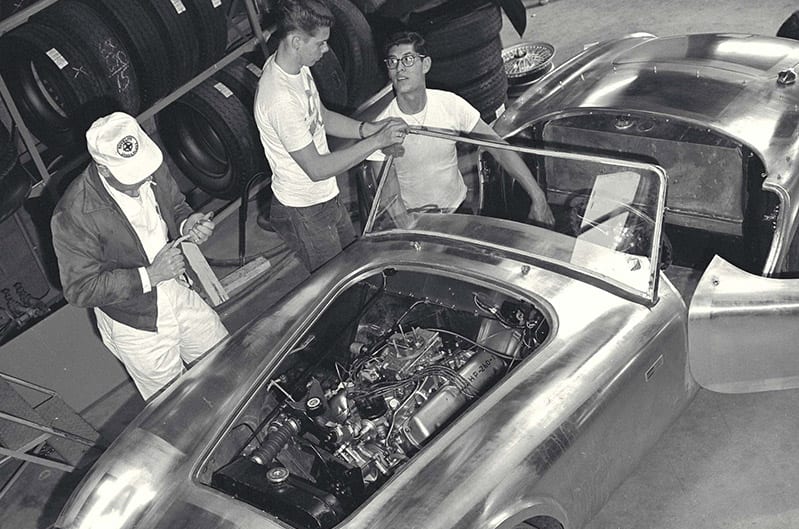 Once he had a new Ford small-block V-8 in one hand, and an engineless AC Ace roadster body and chassis in the other, he needed a place to stitch it all together. We once asked Carroll why he chose to build that first Cobra prototype – CSX2000, at Moon's shops. He replied that "Moon and his guys could fabricate anything, and I knew they'd have the mechanics, tools and capability to get the new powertrain into the car, and get it running and working."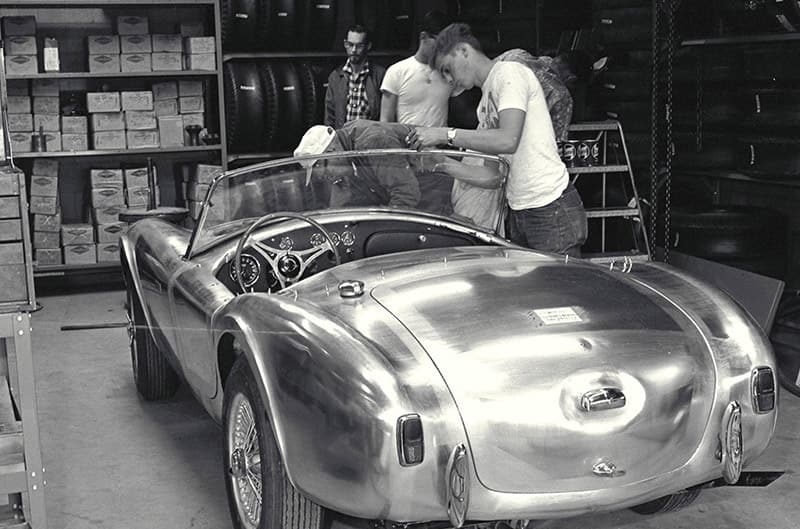 And they did – fortunately there's a series of now somewhat ubiquitous photos of the unpainted aluminum-bodied roadster sitting in Garage 1 (that being the first garage space next to Moon's offices) awaiting its new Ford motor. In addition to Carroll, there was a small group of guys (several in Moon T-shirts) seen hanging around the yawning engine bay, and photos of the engine being dropped in, and finally in situ.  In these great shots, the body still wears an AC badge on its nose, as well as "Powered by Ford" badges on its front fenders.  The engine looks little more exotic than that in an average Falcon, wearing a single four-barrel carb, and standard stamped-steel valve covers lettered with BHP-260-1. This nomenclature is fascinating, as the engine may have been 260 cubic inches, but it's doubtful it yet produced 260 BHP (Brake HorsePower) and the "-1" certainly indicates which of the two engines given to Shelby by Ford's Lee Iacocca was the first one into the engine bay. Clearly, A Star Was Born.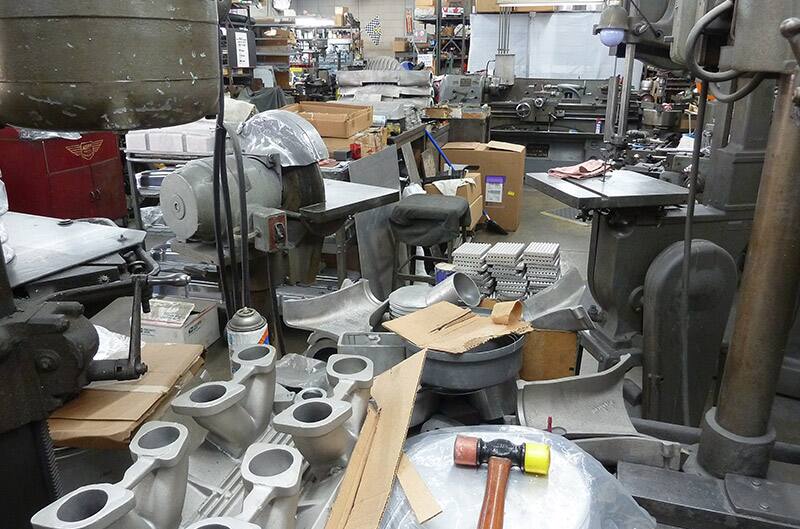 While much of the Moon property is still an active production facility and machine shop, also has somewhat of a museum-ish feel to it, with a positively killer gift and goodie shop (neat and well-organized, and positively packed to the gills) and other spaces that display older Moon products and other engine and racing parts. Mooneyes is open Monday through Saturday, with brief tours free for the asking, with no reservations needed. Pay this place a visit; you'll enjoy it. Several photos of Carroll and the first Cobra under build are dotted around the shops.  And even if you want a set of Moon 18- or 19-inch spun-aluminum wheel discs for a Tesla, they have them.
Shelby American offices, race shop, and Mustang and Cobra production facility, 6501 W. Imperial Hwy., El Segundo, CA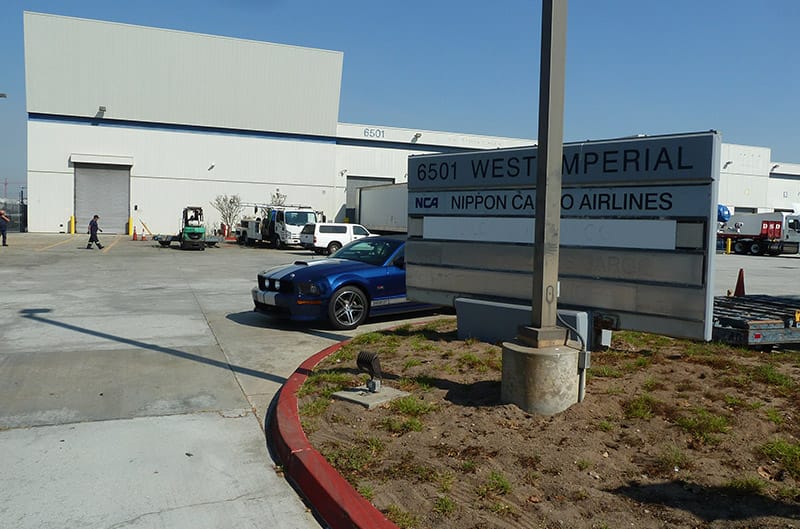 One of the most famous early Shelby American properties, was this big, sprawling building and property backing up to the south runways of Los Angeles International Airport (LAX), where a significant number of Mustangs were transformed into GT350s and GT500s. It was also recreated and celebrated in somewhat sensationalized form in Ford v Ferrari.  It's a little harder to recognize today, as no Shelby identification to its history remains, and the buildings have been added-on to and expanded a bit — it's all now a cargo warehouse for Nippon Cargo Airways.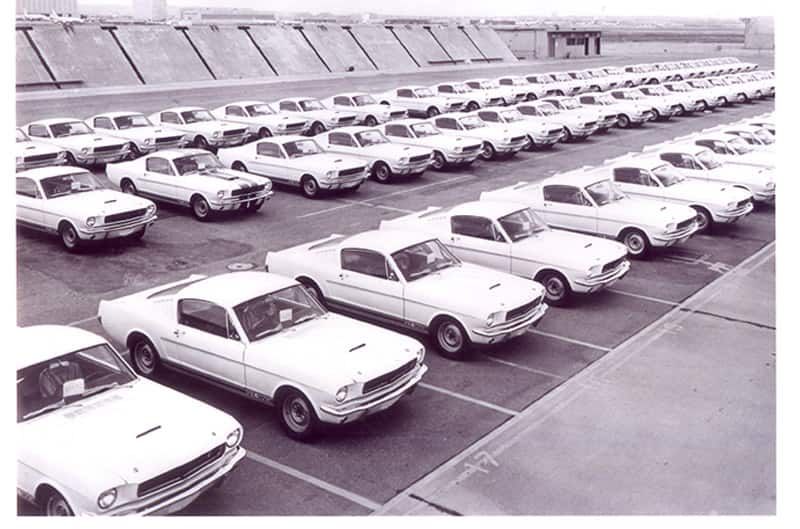 During our brief stop for a look and photos, one employee came out to say hello and look at our car, commenting that "Shelby Mustang clubs come by all the time for a little pop-up car show, to have a look, take some pictures, and do a few doughnuts in the parking lot." Several good photos exist inside of the Imperial Highway facility, along with one particularly famous photo of rows and rows of white, recently completed '65 GT350s awaiting final details and shipping to dealers. In the same shot, at the top behind the cars, you'll see the sound-break walls that separate the Shelby shops from the airport, as well as airplanes on the flight line, and even some of the buildings of LAX off in the distance.  That's just the way things got done in the 1960s when Carroll Shelby was in charge, running the store and making the deals.
1420 Princeton Drive (then Venice) now Marina Del Rey, CA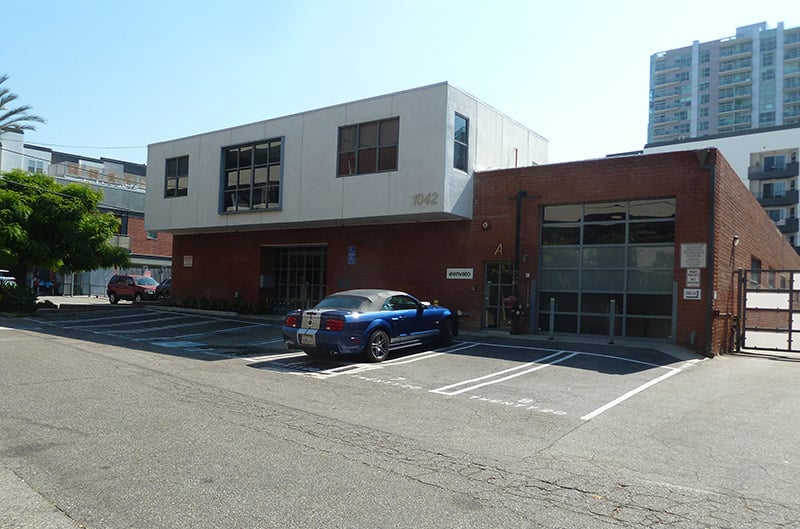 The Princeton Drive building today looks very much like it did when it served as Shelby's primary race shop in the '60's. Cobras were built there, and engines were tested in the dyno room. Peter Brock and the design function were based there, and it is at this property where today's Original Venice Crew (OVC) all worked together, as a bunch of young, race hungry guys. Princeton was also the first real home to Shelby American in California.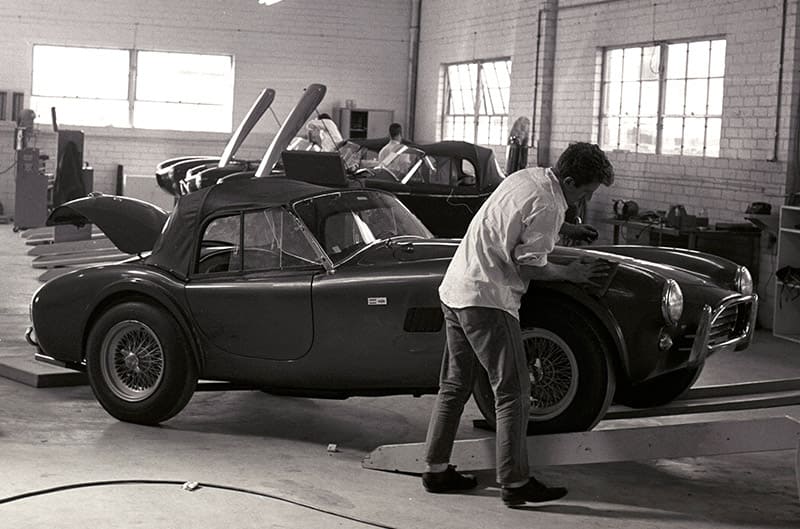 Today the building is occupied by a non-automotive tech company, and there are a few bollards that block the roll-up garage bay door, but the outside and façade of the property are immediately recognizable, and surprisingly little-changed from back in the day.  The windows have been replaced, and of course the high-rise condo building that sits behind it wasn't there when so many photos of Shelby cars, and Shelby himself with a roster of VIP visitors, guests, and customers (such as Hey Little Cobra songwriter Carroll Connors, and Steve McQueen) were there. Unfortunately there's nothing remaining to see inside, but the front of the property is unfenced and very approachable for that special Shelby selfie.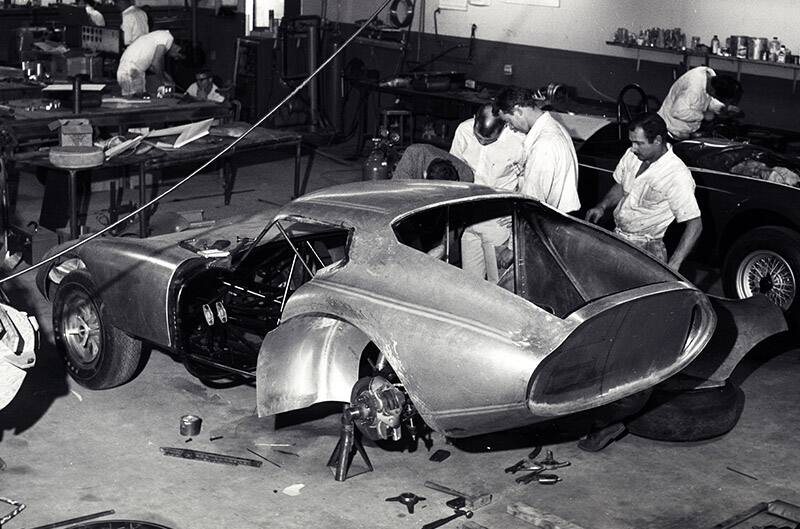 Shelby Los Angeles (Shelby Licensing, Shelby OVC, Shelby Heart Fund, Goodyear Race Tires, Carroll Shelby Industries, Inc., and  Shelby Engine Company) — 19021 So. Figueroa St. Gardena, CA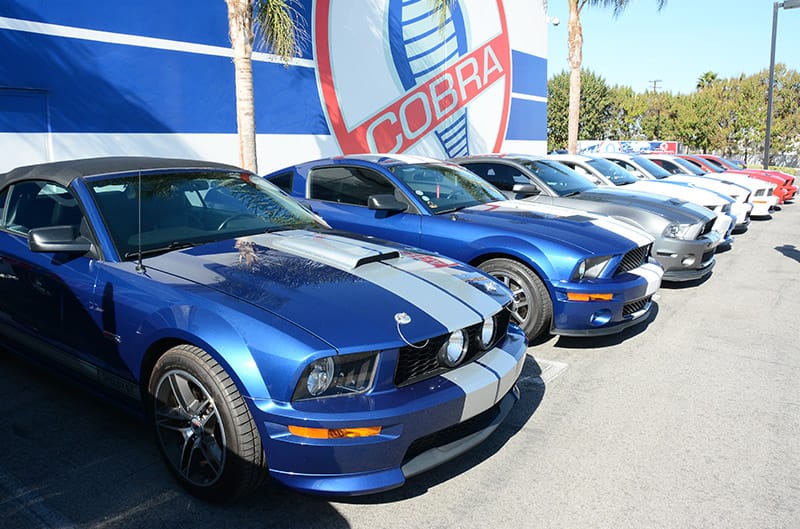 Though technically located in the City of Gardena, California, Shelby just calls this property "Shelby Los Angeles" because few folks outside of SoCal have ever heard of Gardena or even knows where it's located. Yet this sprawling warehouse property is significant in many ways. It's where Carroll officed during the later years of his life. It was also, for some time, the home to his Goodyear Racing Tire distribution business, and the Shelby Engine Company. Carroll kept most of his own collection of cars there, and today it is the current home to the OVC build shop, Shelby Licensing, the Shelby Foundation, and a variety of other Shelby entities. The Annual Shelby Tribute show and weekend events, marking Carroll's passing, is held there each May.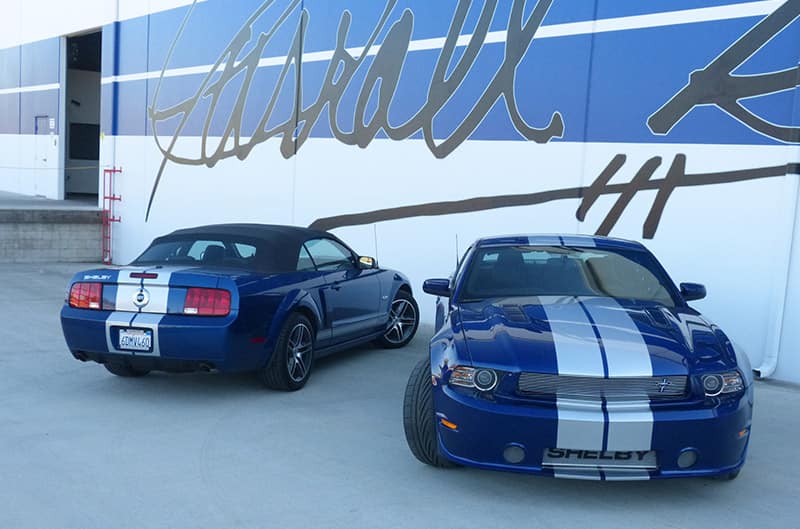 While it's not technically open to the public, a courteous advance contact might get you a quick tour. Shelby LA also houses a small Shelby store, for that T-shirt, sign, goody, or box of chili mix that you just must have while you're there. Do call in advance, however, as the Store isn't always open, but if they know you're coming, someone will meet and assist you. And if all of that isn't just quite cool enough, directly across the street is a Goodyear Blimp port, and if the ships are in residence, you can't miss them as they are just that close. And when they are picking up and dropping off passengers, the ship's take-off and landing operations are great fun to watch.
James Dean Memorial, Highway 46, Chalome, CA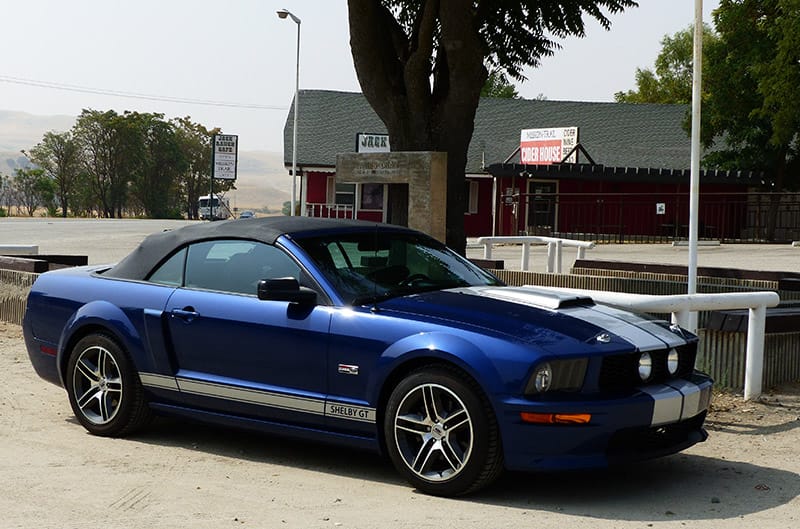 On the way to Shelby locations in central and Northern California, you can drive west on Highway 46 from Highway 5 to Highway 101 and cross the spot where James Dean was killed on September 30, 1955, on his way to a sports car race in Salinas (Monterey area) California. Carroll had no direct involvement with Dean, although his life, brief racing career and tragic fatal accident (in his new Porsche 550 Spyder sports racer) stand huge in California car legend. It's all commemorated at a little roadside diner stop on the North side of Highway 46, which makes up most of what is today called Chalome, California, about a half-hour East of Paso Robles.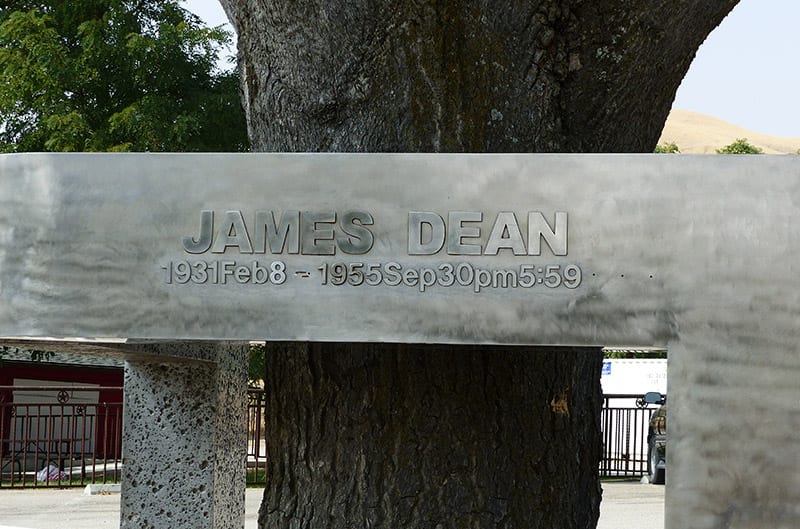 There is a very artful James Dean Memorial sign there, also the site of countless selfies, which is still readable but sadly missing a few of its letters that indiscriminate culture hunters have chosen to pry off as maliciously acquired souvenirs. (And the food at the little café is also pretty good.) If you're interested in the comprehensive story about Dean's young life, his cars, his films, his racing, and his tragic end, we recommend author Lee Raskin's definitive tome about the subject, called James Dean – On The Road to Salinas. It's current, in print, and widely available.
Weather Tech Laguna-Seca Raceway, Highway 68, Salinas, CA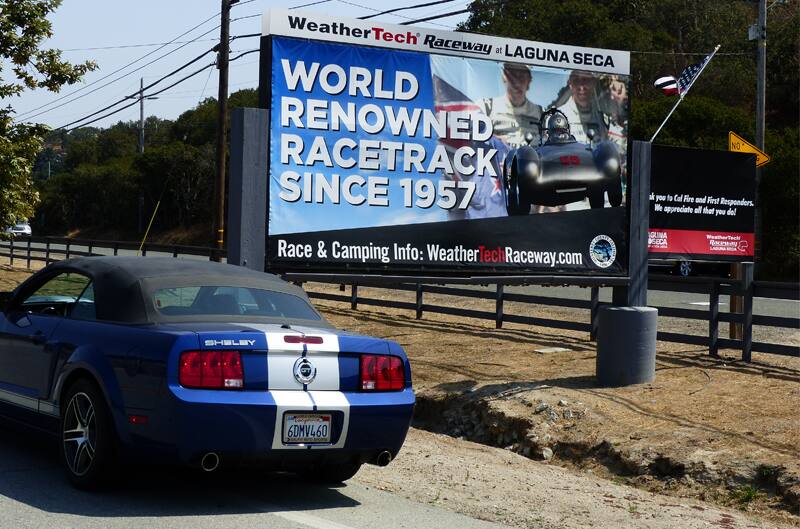 Laguna-Seca, built in 1957 to replace the Pebble Beach Del Monte Forest road-racing course, and the old Salinas airports sports car racing track, is significant to the Shelby story in that this is where he drove his final race as a professional driver on October 23, 1960. Shelby was aboard a Maserati Birdcage sports racer that day, and finished a strong second to the great Stirling Moss in a Lotus. Just as at Le Mans a year before, he was suffering mightily from the angina heart condition that once and for all ended his driving career.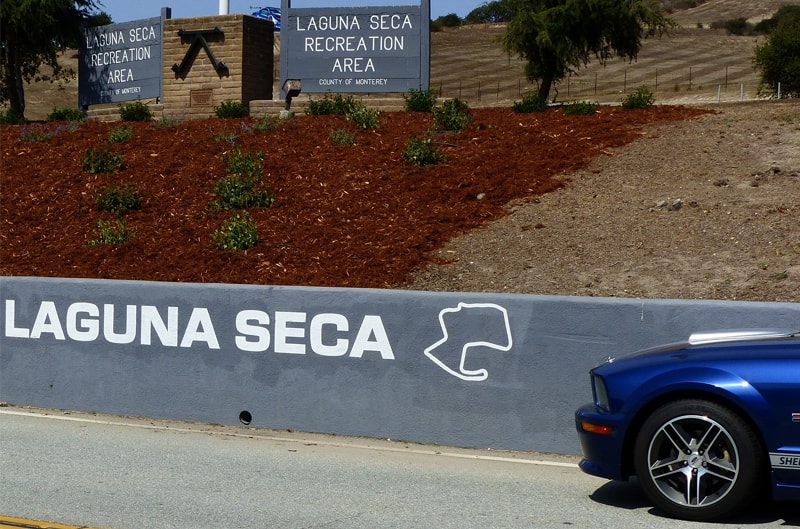 Carroll had long been saying that his ultimate plan was to produce his own brand of sports cars, and had likely already come to the conclusion that he would call it a career at the end of 1960. Yet at the finish of this race, tired and nearly delirious, he climbed out of his car and declared without question that he was done. It was an auspicious ending, as he finished the season as USAC sports car champion.
Ford San Jose Assembly Plant, San Jose/Milpitas, CA, 447 Great Mall Dr., Milpitas, CA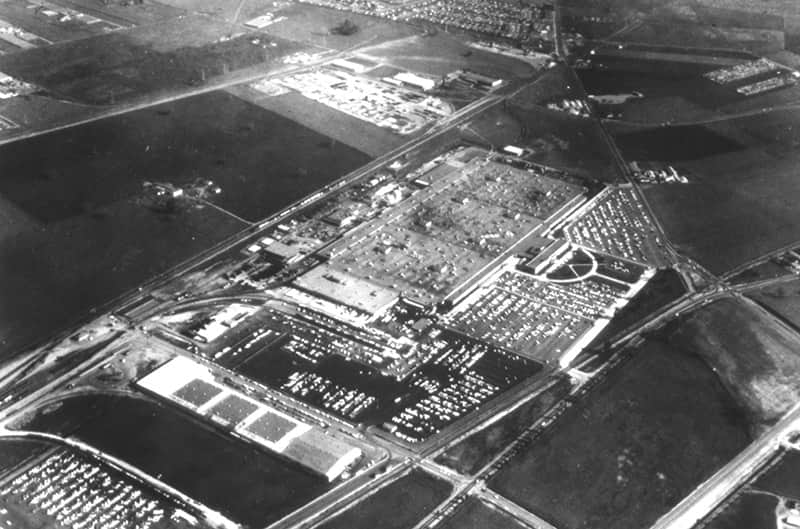 As you've likely guessed by now (just from the address), what used to be Ford's mighty 1.4 million square-foot assembly plant from 1955 – 1983 is now an equally massive shopping mall. Its main connection to the Shelby story is that so many of the specially configured Mustang GTs that became GT350s and GT500s were built at San Jose.
Fortunately the mall retains a substantial amount of the factory footprint and structural girdering – there's little question that it took considerable work and redevelopment to convert an automotive factory into a shopping mall. The good news is that the developers – which included Ford Land and Development – chose to preserve, and in fact recognize, the property's considerable automotive and cultural history. Watch for a much more in-depth look at this important Ford plant coming soon to the Enthusiasts section of FordPeformance.com
Shelby American, Inc., 6405 Ensworth St., Las Vegas, NV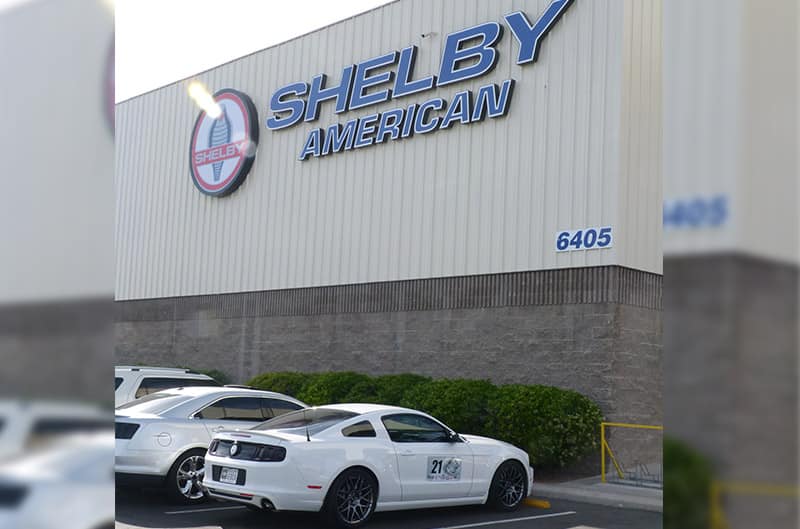 This is Shelby American's current production facility, with offices, a design studio, Heritage Center Museum and a mega Shelby Store. No Shelby road trip would be complete without a stop, shop and tour of the Shelby American's current epicenter. This massive industrial warehouse and factory property would pack several football fields inside, covering more than 125,000 square feet. All Shelby Mustang and truck assembly work takes place here, and the Shelby American executive and design team offices are here, too.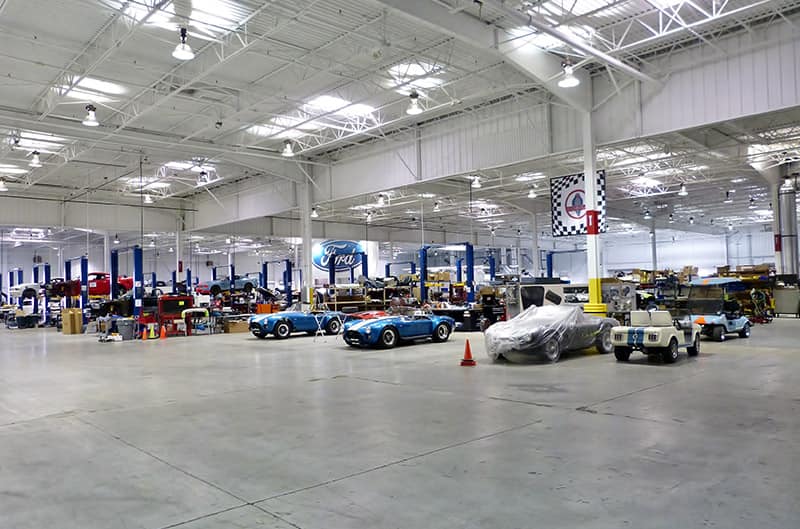 The Heritage Center Museum is fabulous and chronicles and illustrates Carroll Shelby's personal history as well as the birth of Shelby American and most of the vehicles that bear Shelby's stamp on them. Of all the Shelby Stores, this is by far the grandest and best-stocked, not only with the expected hats, shirts and goodies, but also a considerable inventory of Shelby Performance parts. Staff on hand will help you select a set of valve covers, a supercharger, service install, or order up your new Shelby car or truck. Self-guided and guided tours are free:  https://www.shelby.com/en-us/Shelby-Las-Vegas/Shelby-Heritage-Center-Home
Just make sure you take your time along the way . . . and enjoy the ride.
PHOTOS COURTESY THE AUTHOR, KIRK GERBRACHT, SHELBY AMERICAN and FORD MOTORSPORT ARCHIVE