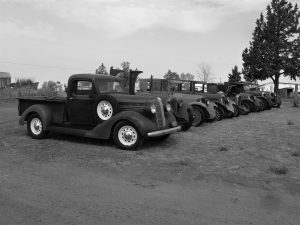 Among the many things I love about driving through rural communities is the surprising number of old cars I run across; yard art parked here and there, wrecking yards, small used car dealerships, barns, and other such random depositories of old tin.  And of course it comes in all shapes, sizes, and conditions.  Uber sharp cherry classics, nice driver quality old cars, restoration projects, "barn fresh" or parts cars.  You name it and you know what I'm talking about.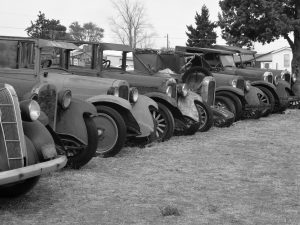 I was recently cruising down a semi busy but generally smallish highway in Southern Oregon when a row of old cars parked up either in someone's front yard or a vacant lot caught my eye, I really couldn't tell which.  Slam on brakes, band the illegal U-turn, and zoom in for a closer look.  Mostly together cars, all in resto project (or hot rod fodder) condition, and curiously enough, all Dodges.  When it comes to cars of the 20s and 30s I'm generally a Ford guy — late Model As, '32s, '34s, '36s, and such are my personal faves, but I eat all meats.  I admit that some of these cars were very pretty and handsomely designed.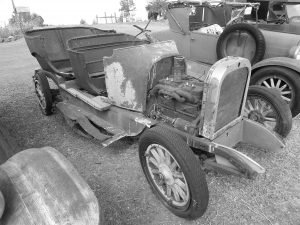 Some of them had rust, but I wouldn't classify any of them as pure rustbuckets or strictly parts cars.  Most still had powertrains and relatively complete bodywork.  Fun stuff and interesting as hell.
Here's a few more snaps…and you can doubleclick on any image to see it in high rest and full screen…