The late Tad Burness's original Monstrous American Car Spotter's Guide 1920-1980 has been newly reborn as "My Dad Had That Car; A Nostalgic Look at the American Automobile, 1920-1990." And I'm honored to be a part of it, and lucky enough to have my name on the cover as a Commentary Provider.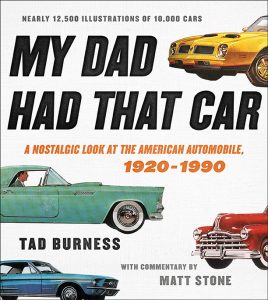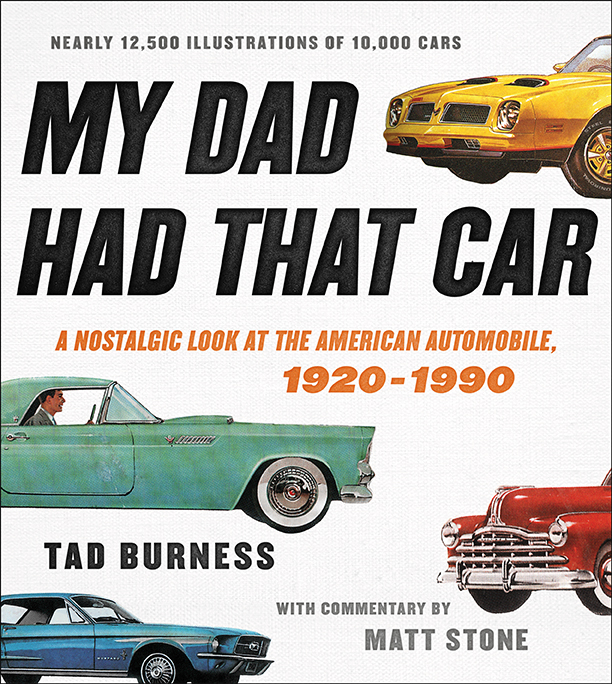 This amazing, cinder block sized book has nearly 1400 pages, and contains some 12,500 illustrations of more than 10,000 cars, and thus weighs several pounds. It was author and illustrator Burness's idea to cover every model from every carmaker in America from 1920-90, and with very few exceptions, I expect he did it.
This now one big book was originally two different volumes, and it was my job to author a new Foreword and chapter introductions by decade — great fun I promise.
Published by Black Dog & Leventhal, this book launches today ; you can buy it publisher direct, or at a discounted price at Amazon.com right here:
https://www.amazon.com/Dad-Had-That-Car-Automobile/dp/0316430919/ref=la_B001KMK5GG_1_3?s=books&ie=UTF8&qid=1493436408&sr=1-3.
It'll also be available at many Costco, Barnes & Noble and Books A Million stores…just in time for Father's Day.
OR YOU CAN ENTER HERE AT NO COST TO WIN A FREE COPY:
https://a.pgtb.me/zJCSbs
I've posted the Foreword here so you get a little bit more about where this all comes from: