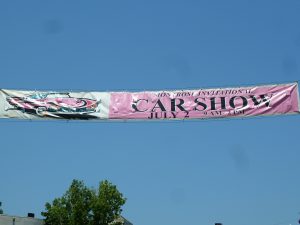 You may or may not have ever heard of Montrose, California.  It's our version of "Mayberry, RFD" and embodies a crazy-charming old school shopping village.  The Montrose Village is about three blocks long, meanders slightly, and is packed full of great restaurants, jewelry stores, and cutsey boutiques.  It's the home of our weekly farmer's market, and enjoys a real sense of community.  And each July 4th weekend, the Chamber of Commerce, local hot rod clubs, and the local business associations, put on a dandy car show.
It's a run what you brung show first and foremost, with a lot of support and involvement from our two local hot rod clubs.  So the hardware runs the gamut from Tri Five Chevys, hot rods, trucks, and bikes to Cobras and Citroens.  And there were many and plenty of all of those there this year.
It only costs a few bucks to enter, and spectator admission is free.  All the local eateries are open so stroll, look, talk, make photos and sit down for a drink or a bite when you're ready.  Nice easy deal. And great cars this year; always are, but this year the show was at least 50% larger than in past, and the quality and variety was exceptional.
Please enjoy the pix, by meez truly.