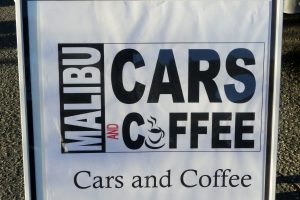 My longtime friend, and oft time photographer, Kirk Gerbracht (who also supplied the great photos contained herein)  lives by the saying that "the measure of a successful weekend is how many car events you could cram into the two days" and it's a perfectly logical notion, to which I also subscribe. One show or event is pretty easy to pull off, two sometimes takes a little more effort, and three more more is the quinella.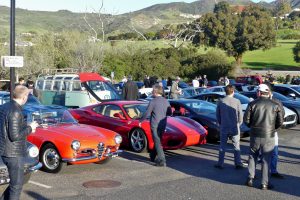 We recently pulled off the "three fer" beginning with our usual local, and always excellent, morning breakfast cruise in at a nearby UA theater complex in LaCanada, (put on by the Early Rodders hot rod club, every Saturday, something for everyone, run what you brung, and of course no charge, with a Starbucks and a bagel joint on property at 1919 Verdugo Blvd La Canada, CA 91011, come see us some time).  Then on Sunday we went to an always great event at a park parking lot in Malibu, smack on the beach at PCH at Las Virgines /  Malibu Canyon Road.  This one happens only once a month, but is worth saving up your morning for.  Hey you can cut the lawn later in the day.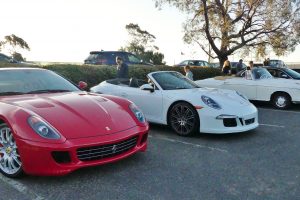 Malibu is also technically a run what you brung gathering, but given the socioeconomic strata of the area, there aren't too many run down beaters at this deal.  Lots of exotica and top end sports cars (Astons, Ferraris, Mercedes, numerous Porsches, upper crust Mustangs, and the more than occasional McLaren).  If you like fast and dangerous, this is a great stop for you.
Its smallish but mighty; the lot doesn't hold more than 150-200 cars, but there is plenty of other parking around for your civilian vehicles.  If you plan on putting your car in the hot lot, be there by 7:00 or you don't get it, or maybe you might sneak in at 7:30 if there's no line and someone else is pulling out of a spot.  And as with most of these events, its all over by 9:00.  Coffee and snack truck always on hand, and lots of good places nearby on PCH for breakfast.
Then it was off to mid-town LA for the Petersen's monthly C and C gathering; which sometimes highlights a certain marque, group or club, and other times is wide open to anything and anyone.  This day was a wide open day, and it was indeed wide open.  It all happens on the museum's upper deck parking lot, with free bagels and coffee.
And the selection and quality of cars is fabulous; lots of Ferraris it seemed this day, and Porsches too, from old 50s stuff to the latest and hottest.  Its by no means a judged show in any way, but there is some casual "people's choice" and "sponsor pick" type of prize giving — best of show this day was a red Pantera that the owner had since new, and was absolutely stock and unmodified, still wearing its original paint.  Plus there was a Nissan PAO on hand (how many of those to you see every day) and a Pebble Beach quality Volvo 1800 ES sportwagen, looking showroom fresh and perfect in nearly every way.  Check out www.petersen.org for dates and details.
And please don't leave, lots more photos from both events just below…