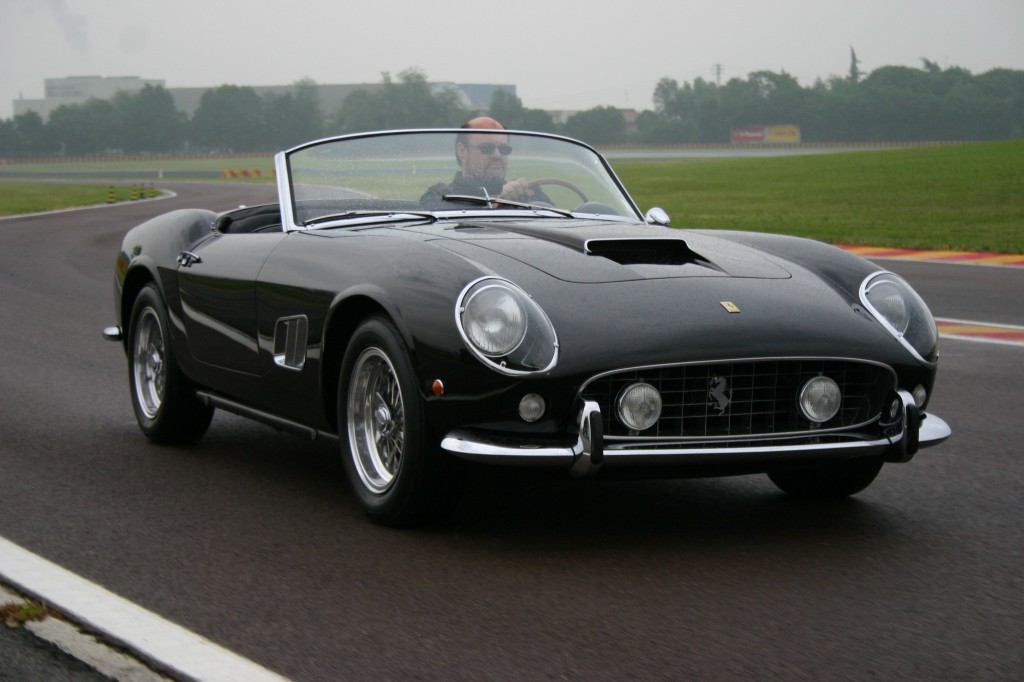 This is one of the most memorable cars I've ever driven, so I thought you might enjoy the story.
Actor James Coburn loved Ferraris
and owned several throughout his life.
We take the wheel of one of the rarest,
and now most expensive, of them all
words Matt Stone
photos courtesy RM Auctions
PAUL Newman. James Garner. Steve
McQueen. Clint Eastwood. James Coburn.
Hollywood's car guys of the 1960s and 1970s.
They played hard together—on and off the
silver screen. Cars, bikes, and racing were
woven into many of their films. Newman once
raced a Ferrari Daytona sponsored by Eastwood.
McQueen and Garner raced against each
other in Baja. They are studs from a time, as
Archie Bunker put it, "When girls were girls
and men were men."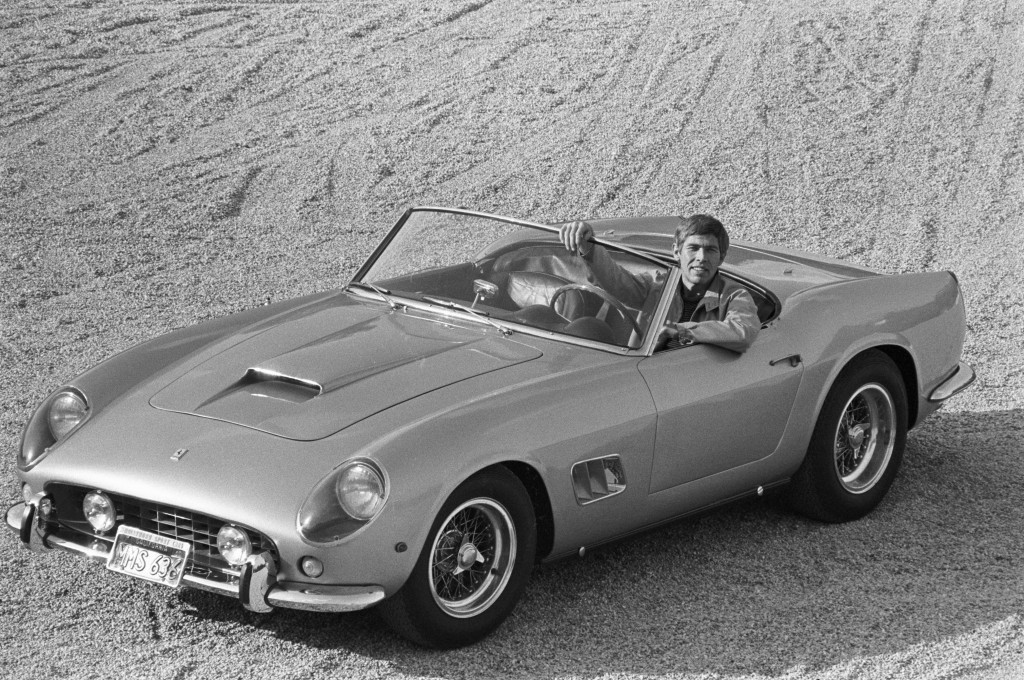 James Harrison Coburn was born August
31, 1928, in Laurel, Nebraska. The lanky, silverhaired
actor with the big grin, big voice, and
big heart began his career with a television
appearance on "Studio One" in 1957 and
capped it 42 years later with an emotional,
long overdue Oscar win. Besides acting,
Coburn wrote, produced, and directed.
His memorable performances range from
"The Great Escape" (with McQueen and
Garner) to a voice-over in "Monsters, Inc,"
from the Bond-like "In Like Flint" to that gritty
Academy Award-winning performance in
"Affliction," plus more TV work than one can
count.
And Coburn loved Ferraris.
He's credited with turning Steve McQueen
on to the cars from Maranello, and in the early
1960s, owned them two at a time. One was a
250 GT Lusso, the other, the 250 GT Spyder
California on these pages. Colloquially
referred to as the "Cal Spyder," it's a car
that makes more all-time-greats lists than
Babe Ruth and Michael Jordan combined. The
Cal Spyder was lighter, faster, and sportier
than the lusher, more luxury-minded 250
GT Pininfarina Cabriolet model. Mechanically, it was
typical Ferrari fare for the day: tubular
chassis, Scaglietti body construction of a
Pinin Farina design, 60-degree 3.0-liter
SOHC V-12 running triple-downdraft Weber
carbs rated at 280 horsepower, four-speed
manual transmission, Borrani knock-off wire
wheels.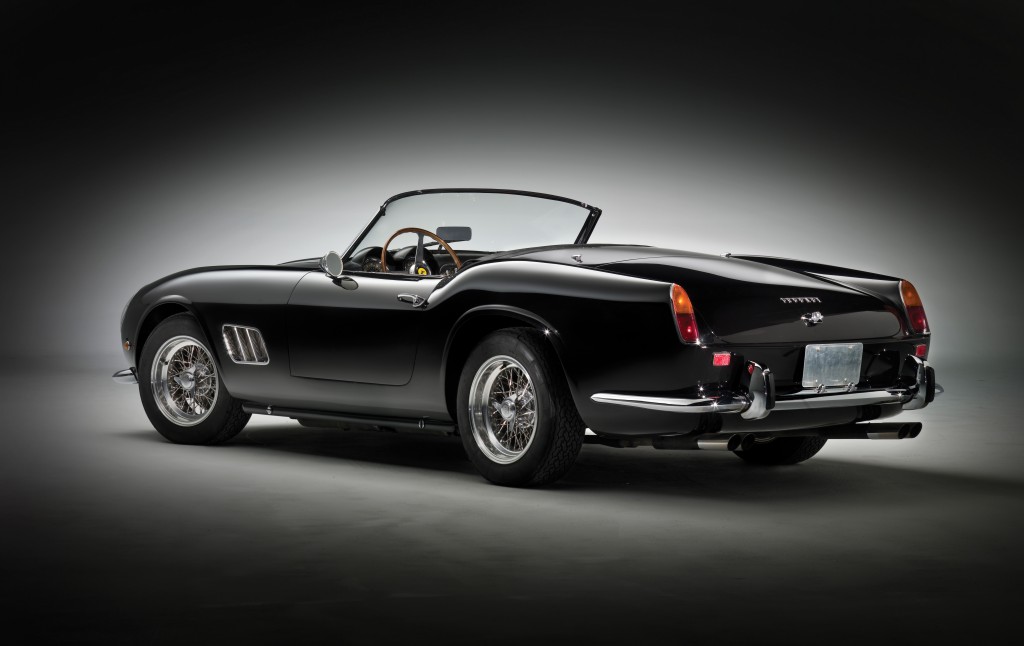 Like Fabergé eggs, Cal Spyders combine
rarity and timeless, eye-searing beauty
that's perfect in proportion. The first of
them was completed in late 1957, the last
built in early 1963. While it's unlikely any
pair of them is exactly alike, there were
two principle variants. The long-wheelbase
(LWB) Spyder measured 2600 mm—102.4
inches—between the wheels and was the
first to market. The sportier-yet version was
dubbed the SWB, for its 200mm-shorter
wheelbase. Design differences are too
numerous to detail, but aficionados also
identify Cal Spyders as "open headlight" or
"covered headlight" models, the latter having
elegant, aerodynamic plastic covers over
the front lights.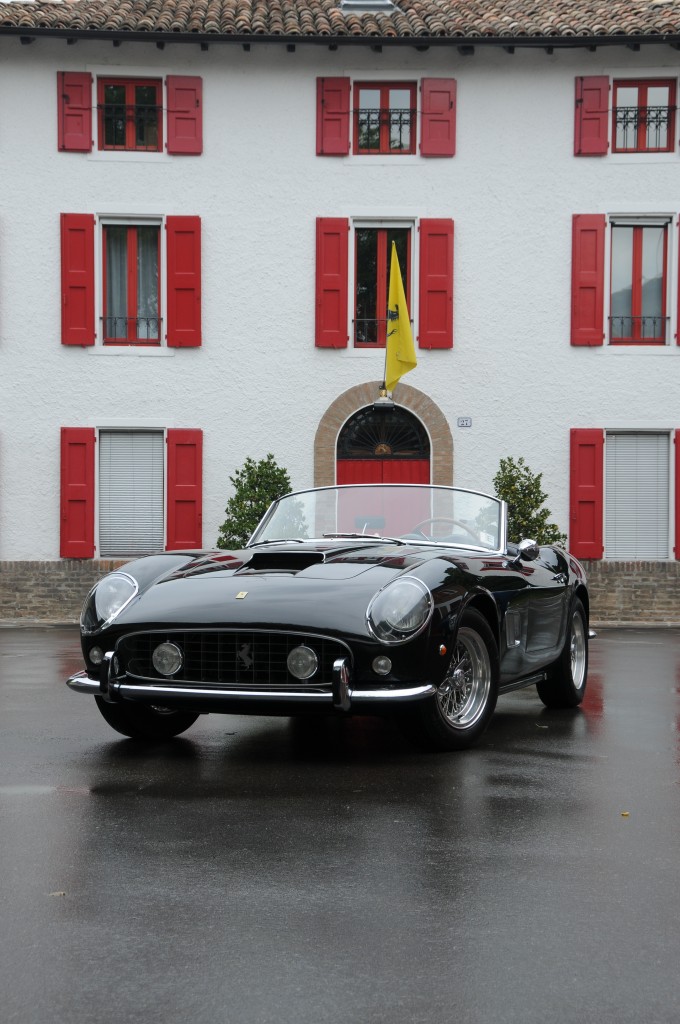 A "Tastes Great, Less Filling"
style debate rages over which Cal Spyder
configuration is the most desirable, but it
matters little. They're all fabulous. Estimates
vary, but approximately 46 LWB Spyders
and between 50 and 57 short-wheelbase
examples were produced.
1961 250 GT SWB Spyder California chassis
number GT 2377GT was sold new through
Jacques Swaters' Garage Francorchamps,
Ferrari's importer in Brussels. When the
first owner was ready to move on, Swaters
arranged the car's sale to James Coburn in
1964. Number 2377 was repainted several
times during Coburn's ownership; it has
been black, silver, and possibly red. The car
lived at Coburn's Beverly Hills area home
and was often serviced at Max Balchowsky's
Hollywood Motors. Balchowsky is best
known for building and racing his American
V-8-powered Old Yeller sports cars, often
beating high-priced thoroughbreds in the
process. He also did the suspension and
frame modifications on those iconic 1968
Mustang GT fastbacks used—and used
up—in the filming of "Bullitt."
Coburn sold the Spyder in 1987 after
24 years of ownership (over time, he also
owned the above-noted Lusso, a Daytona, at
least one 308, and a 412P sports racer). 2377
changed hands a few more times since then
on its way to a starring role in RM Auctions'
Legenda e Passione all-Ferrari auction, held
at the factory in Maranello, Italy, in May of 2008. It
was on this hallowed ground we sat down
beside her.
I won't waste words on how this tripleblack
Spyder looks; that would be likesomeone needing
to explain that Angelina Jolie is sexy.
What photos don't convey is how
compact and tidy it is; Ferrari's new California
is massive by comparison. Sinking into the
same low-backed leather bucket in which
James Coburn sat for more than two decades
causes a shiver. Turning the slim ignition key
and depressing it to ignite the Colombo designed
V-12 results in a bigger one.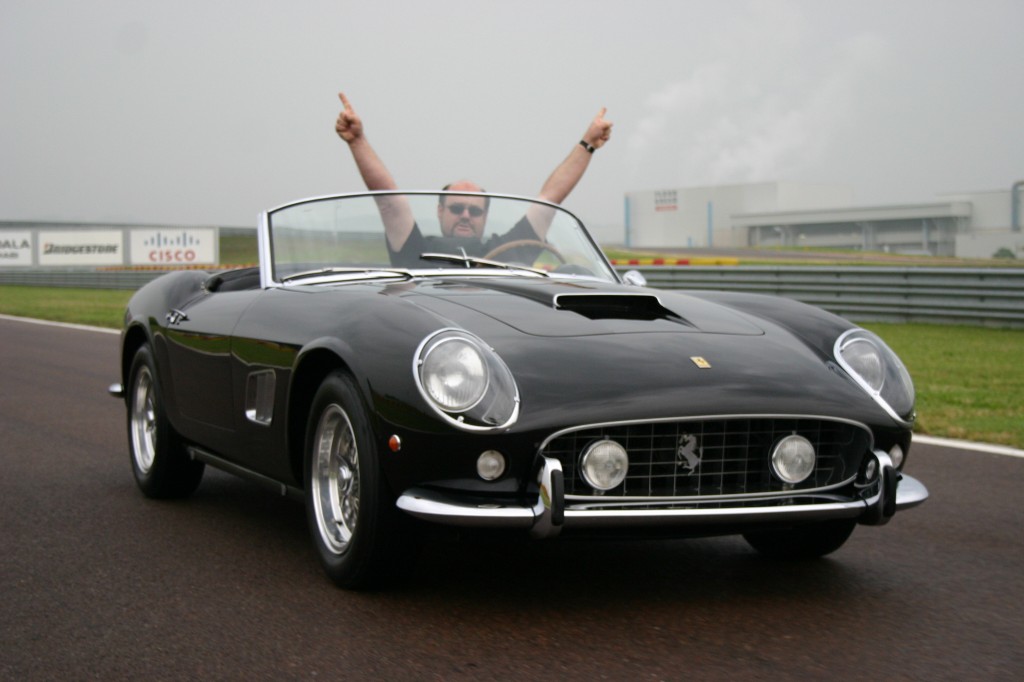 Car magazine road tests of the day often
describe the sound of a Ferrari in syrupy
terms, such as "the ripping of raw silk." I'm
here to tell you: It's all true. I've driven several
early-1960s, 3.0-liter Ferraris, and this one
feels particularly crisp. It idles easily and
pulls to 7000 rpm without a burp.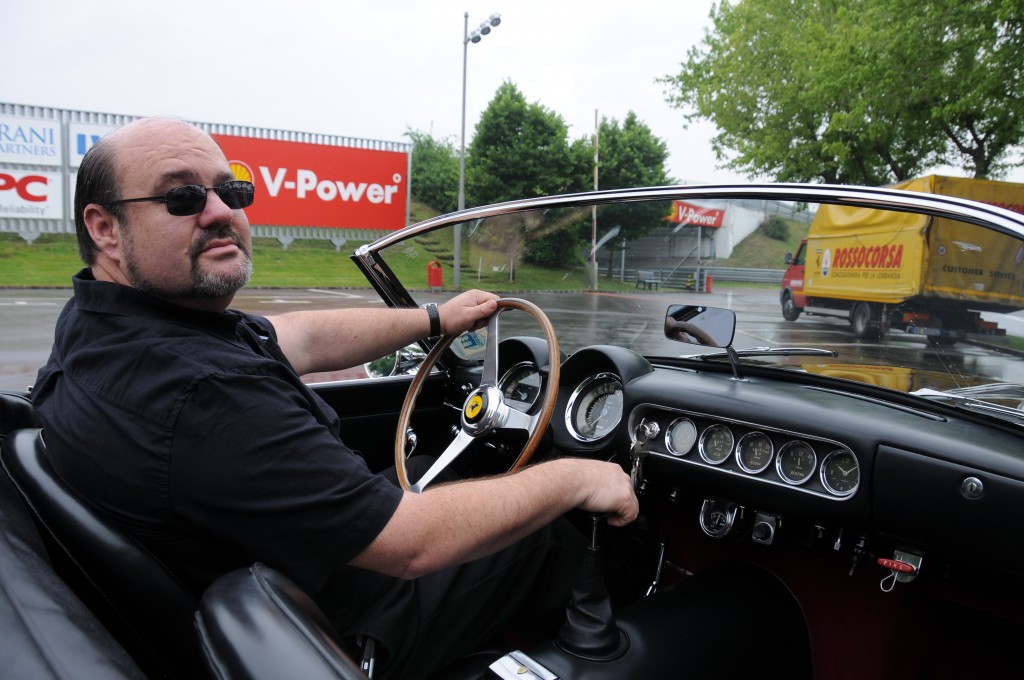 As I point the Coburn Spyder out of the pits and onto
Ferrari's private Fiorano test track (where the
F1 team tests), it begins to rain. Note to self:
"This car is the unquestioned star of the show, is
to be auctioned within 24 hours,
and people have traveled from far and wide
hoping for the opportunity to spend millions
of dollars for it. Best not to ball it up."
Besides thrilling you in a vintage sort
of way, the other descriptor that comes to
mind is direct. The manual steering feels as
if it's actually connected to the front wheels.
The slim shifter moves metal gears in the
transmission. The brakes give a response
commensurate to input. Zing the throttle,
and you can feel your foot's connection
to the carbs. Your butt rides inches off the
ground. Instrumentation is spread across
two-thirds of the dashboard, fresh Italian
air swirls around your head, and your ears
are filled with the heady intake, exhaust, and
valvetrain sounds. Intoxicating. An MX-5 will
likely outhandle this Ferrari great, but it is
straight-line quick for any era.
The rain has picked up, hastening the need
for cover. My moment as a James Coburn
wannabe is over. Everyone has his favorite
Ferrari. For me, that has for decades been
the 365 GTB/4 Daytona (black, wire wheels,
gray leather interior). But then, along came
a Spyder.
Epilogue
On May 18, 2008, 1961 250 GT SWB Spyder
California chassis GT 2377GT was sold by
RM Auctions in association with Sotheby's
for 6.4 million Euros, or $10,894,400 (at thencurrent
exchange rate, including bidder's
premium), to British radio and TV personality Chris evans,
at the time setting a new world record for the
highest price ever paid for an automobile
at auction.
More photos