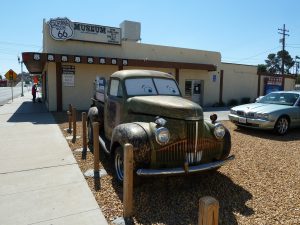 I do not currently own a Jaguar, although I've had three of them over time — two mid-60s sedans plus a Series I E-Type.  I generally love them and would own another.  So it wasn't much of a stretch when my posse mate Jeff asked me to join him and his JOC region for a day's drive  in his big Jag Portfolio sedan to the California High Desert town of Victorville.  More than handsome, lotsa fast, and and uber comfy is his car.
I'm a pretty big Route 66 fan having lived on or near it much of my life, and buildings full of well collected and curated old stuff interests me.  Victorville is a generally sleepy little desert town, but not without history.  The Route 66 Museum is a very homespun, totally volunteer effort from a dedicated group of locals who work hard, love what they do, and have done a lot with what little sponsorship budget they have.   I admire them for it and compliment their efforts.
The property is an old commercial building of some sort, with plenty of parking next door, and costs nothing to visit short of any much appreciated donations.  It's full of a varied collection of old stuff, from road signs, petroliana, and dinerana to maps to cameras and all kinds of ephemera dedicated to, or taken from, The Mother Road.  It's not a car museum, but of course strikes many automotive themes.  There are only a couple cars there; a cut up VW hippie van cab that you can sit in and mug for your selfie.  Plus a Model T truck that's also kinda cool.  The vintage sleeper and kitchen trailer is nicely restored and charmingly well presented with lots of period travel stuff.
7 or 8 Jaguars, full of very nice people, participated in the event, although disappointingly the former were all newer cars, but nothing vintage which I certainly would have enjoyed, some cars back from the Route 66 days perhaps.  But not this time.
This is one of those museums that you can see in an hour if you wish, or take two to linger over details if you want to and have the time.  There's a world map full of pushpins from the places people have visited from; you wouldn't travel half way around the world to go there, but a suprising number of folks have — remember that Route 66 reunions are very popular with many travelers.
Nice day, nice ride, and my compliments to the hard working volunteers who assembled and run this charming little place.
All the information, and more photos, just click to open below.