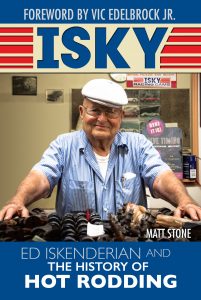 ISKY Ed Iskenderian and the History of Hot Rodding
*Saturday, March 18
10:00 AM – 2:00 PM
==========
Meet The CamFather himself and author Matt Stone (that's me!)
To tell the life story of Ed "Isky" Iskenderian is to tell the history of hot rodding in America.
Isky: Ed "Isky" Iskenderian and the History of Hot Rodding, tells the whole story, from his pre-war Lake Muroc and car club activities, his service in the military, starting a small business fabricating parts and making cams in the back of a rented shop, and then selling cams to other rodders. It covers how he grew a business from a single cam grinder and became the leading cam authority in barely 10 years.
Ed's company name went on to become one of the household names in the performance community. His continued success is an entertaining tale of mingling with industry icons, insight into the business of hot rodding, great stories of yesterday and today, and a life very well lived. You will enjoy the stories recorded here as much as Ed "Isky" Iskenderian seems to enjoy telling them.
Autobooks-Aerobooks | 2900 W. Magnolia Blvd. Burbank, CA 91505 818 845-0707 www.autobooks-aerobooks.com