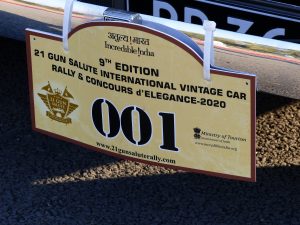 Most people know something about India; a deep long cultural history, for a time under British rule; the sacred cow, the Taj Mahal, exotic foods, faces and places.  What you may not be familiar with is this amazing country's century long motoring culture.  From the earliest days of cars, often wealthy Indian Maharajas and Maharanis embraced this mechanized form of transport, meaning the long arduous trips around this vast country needed no longer be undertaken by animal or the railways.
India's elite naturally gravitated toward the world's top luxury brands; Rolls-Royce, Bentley, and Mercedes-Benz often their transport of choice for at least two reasons; one being that they represented the style and comfort by which these people traveled, and additionally because these cars were well engineered and stoutly built, able to reliably handle the often tough terrain.
Besides all of the vehicles imported into India, the country developed its own transportation industry, which often built imported brands under license, plus home grown nameplates such as Tata and Mahindra to name a few.
A decade ago, Indian businessman and committed car collector Madan Mohan, along with the consult and support of other like-minded locals, decided that this culture and heritage should be celebrated, and formed the 21 Gun Salute Concours d'Elegance Trust, with Mohan as its Chairman and Managing Trustee.  The event began as a relatively humble gathering of primarily local cars, and has since grown to include a post show multi week rally/tour, and a variety of cultural events.  The show is now judged to International Chief Judge Advisory Group (ICJAG) standards, which, similar to Pebble Beach, emphasizes originality and authenticity.  2020's concours held in New Delhi, the ninth annual, drew nearly 140 vehicles from around the world, including a considerable Indian owned and restored contingent.  American cars are very popular in India, so the field was peppered with Fords, Oldsmobiles, Buicks, and many big game Cadillacs; specialty classes included Jaguar/Daimler, Volkswagen and Motorcycles.
The show festivities began in the shadow of the famous India Gate, a monument somewhat analogous to Paris' Arc de Triomphe, in terms of both honoring historic national events and worldwide recognizability.  The show participants gathered at India Gate Park then drove, more than an hour through India's somewhat insane traffic to get to the golf country club show locale.  Here, Show principal Madan Mohan addresses the local crowd, entrants, judges, and dignitaries.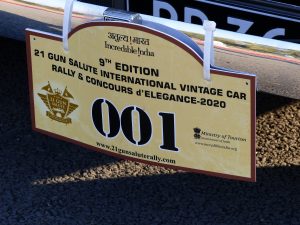 Each car got its own custom "license plate" indicating its entry number in the show and for People's Choice awards.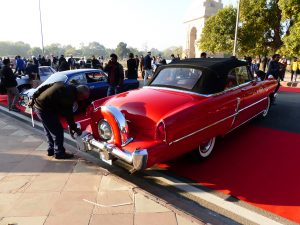 Big Yank Tanks of the 50s and 60s are very popular in India, and showed up in numbers, with this massively red '52 Lincoln a certain crowd favorite.
The restoration scene in India has grown exponentially in recent years.  The craftsmanship is high, with many irreplaceable parts now hand fabricated in country.  Just check out the before and after shots of this Stude
This lovely young woman handled this big Lagonda with aplomb, orchestrating its non-synchro gearbox, manual steering and manual brakes as if born to do so.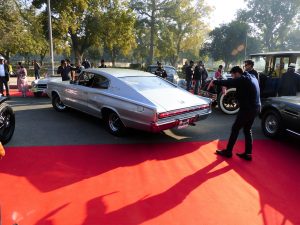 A young team of local musclecar restoration enthusiasts finished this fabulous 1967 Dodge Charger just hours before the event; it was showroom fresh, highly equipped, and sounded a treat.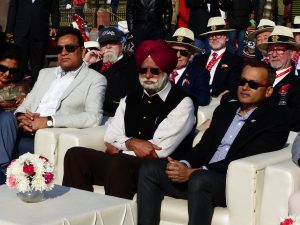 Many local maharajas own great cars, entered the show, or in other ways attended and supported 21 Gun Salute.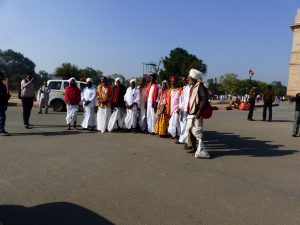 India goes big on pomp and circumstance, as local bands or other musical and dance demonstration seasoned and flavored the show with local sounds and color.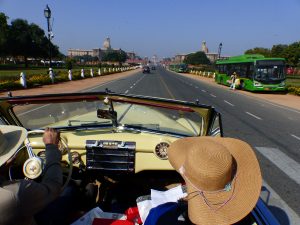 We hitched a ride from the India Gate gathering point to the actual show venue aboard this beautifully restored 1946 Buick Roadmaster convertible, top down and sun shining.  The car has been in the same family now for more than 30 years; this lovely book, assembled by the owners' daughter, documents its India-from-new history.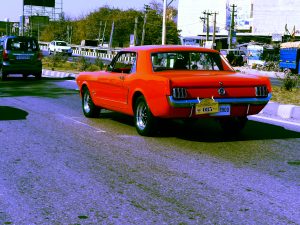 Lots of Ford Mustangs on hand at this event which featured a standalone class for them.  This manual transmissioned, 289-V8, dual exhaust example rumbled satisfyingly.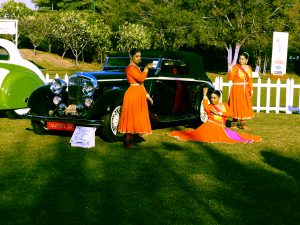 These lovely dancers not only performed on the awards stage, but visited several cars around the field, just another great splash of local color and motion.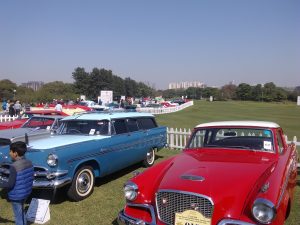 .It wasn't all Bentleys, Rolls or Mercedes, a variety of relatively approachable youngtimers also dotted the 21 Gun Salute field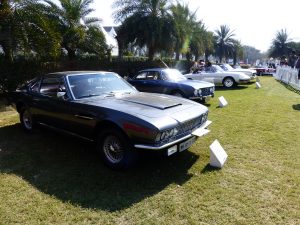 Post War European class served up a delicious mix of True Brits, Alfas and Mercedes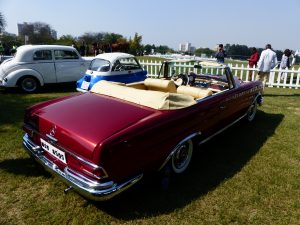 If there's a better and more authentically restored Mercedes-Benz 220SE Cabriolet in the world, we've never seen it.  The frame off, ground up platinum resto was done in Mumbai, by a young shop which earned several awards at this event.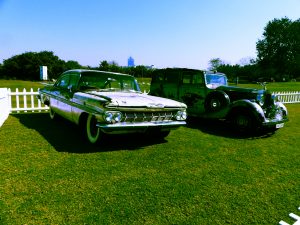 Certainly among the show's most popular entries was this "barn fresh" '59 Chevy Impala sedan, which won best in class for the Preservation category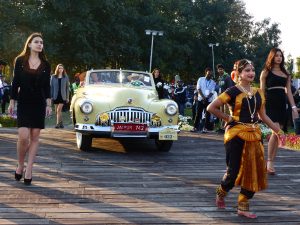 We were certainly pleased when "our" Buick convertible crossed the ramp as an award winner; every trophy winner was paraded up across the stage by a variety of models, dancers, and musicians.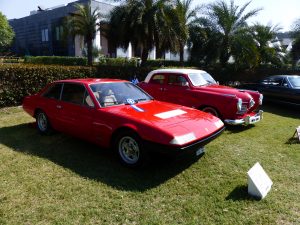 The lone Ferrari in the show was this vividly red 365 2+2, you'll recall this model later became the 400i.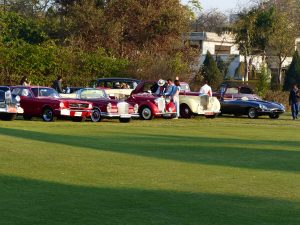 All of the first in class recipients, each eligible for Best in Show, formed a separate winner's circle, this in itself was an impressive show within a show.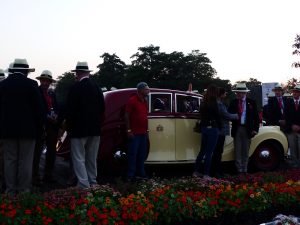 A most worthy Best in Show is this India-from-new 1946 Bentley Mk-VI Light Touring Saloon, by the Maharaja Yohan Poonawalla still wearing many shields and flags from its long royal history.