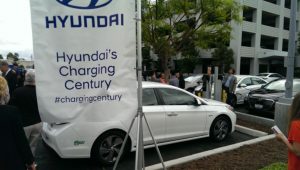 Hyundai has announced that before too very long, it plans that 40% of its new car fleet will be pure EV. That's a lot, and the investment required to get there is monumental.
Hyundai and sister brand KIA have been nibbling at the edges of electrification for some years, but has now firmed up and announced plans to wade far into the EV deep end. Hybrid models have been out for some years now, with plug in Hybrid models following more recently. The real tip of the EV iceberg for Hyundai is the multi-energy platformed Ioniq, which can be had as a conventional hybrid, a plug-in hybrid or a pure EV (and it's a damn dandy car too, watch for my upcoming review).
I recently visited Hyundai America's fabulous Orange County, California HQ campus to see that 115 EV charging stations have been installed for the use of company cmployees (free of charge) who drive plug-in models. Hyundai has established deep partnerships with ChargePoint, a company that is building and installing EV charging stations in tons of locations to help build the infrastructure needed to support daily and consistent EV use (smart business to get into these days, don't you think?  Although the company isn't just jumping late onto the badnwagon, Chargepoint has been around for a decade now). As you might guess, Southern California Edison is also deeply involved in this growth, a company spokeswomen commenting that EV charging must be "available, accessible and affordable."
Am I advocating that all gasoline or diesel powered cars and trucks be replaced with EVs? No. An electric car won't replace a Ferrari Daytona or Shelby Cobra in anyone's heart or mind, but I do believe in "right tool, right job." Meaning that for daily driving and commuting, an EV can make a lot of sense, especially as charging stations continue to sprout up, and battery technology allows ever expanding range. If someone has a 25 mile round trip daily commute, and can drive that for less than a dollar a day worth of juice, with virtually zero carbon footprint, then why isn't that good?
I'm totally on board with Hyundai's plan, and look forward to the next several years as the company rolls out new and exciting EV products. Hyundai has dubbed this the Charging Century. And if it means easier, quieter, more affordable, and greener commuting, I'm all for it.