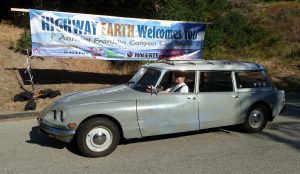 This is the greatest car show you've likely never heard of or been to.
My friend, master photographer Evan Klein, wanted to create a low stress, no hassle car show to celebrate all cars, and the car community of great people, at a wonderfully historic place high atop Beverly Hills called Franklin Canyon Park (and Lake).  If you are old enough to have ever watched the Andy Griffith Show, its opening scene, with Andy and his "son" a very young Ron Howard, are walking through the park with fishing gear, you might sorta kinda recognize it.
Part of what makes this location so cool is a large natural lake right in the middle, around which rings a one mile, one way road, with several turnouts, that will hold some number of cars.  Some of these parking spots are large and will hold dozens of cars, some large enough for only a few.  Even jogs in this park, and/or walks his dogs there, and just felt it was a natural.  So four years ago, he birthed the idea of Highway Earth (you remember the song "Life is a Highway" which may or may not have had any inspiration on the show's name). The idea is that everyone and nearly any car, truck, or bike, is welcome and there's no judging, no trophies, no hassle.  Very family, bring the pets and bring the kids, and such.  It only costs a few bucks to enter your car, and admission is free.  What's better?
This year was full packed, around 150 cars I'd guess.  The Alfa Romeo Owners Club of So Cal also hosted its own judged concours "show within a show" there, and had a large turnout packed with great looking Alfas.  Plus lots of everything else…old Citroens, Volvos, muscle, BMWs, a superb round up of Corvairs, a few Corvettes, blah and blah.
But nothing about this day was blah.  It was cool and comfy in the morning, but got pretty warm after lunch (glad there was a guy on hand making and selling wonderful root beer floats).  Among the things Evan loves to do at his show is a big group photo of all the attendees, and he also draws a raffle for one on one photo shoots of your car — not often you can get your car staged, shot, and lighted by a pro — at no cost.  Very popular.  He also shoots, writes, edits and produces a "program" magazine given out each year, showing highlighted cars for this years show, and some snaps and stories from the year before.
The modest entry fees don't quite cover Evan's costs, so there are some great sponsors that make up the diff, and they are: Petrolicious.com, Hagerty Classic Car Insurance, The Petersen Automotive Museum, Scott Martin Auto Brokers, Mothers Waxes, Polishes, and Cleaners, Autobooks-Aerobooks books store in Burbank, the Auto Gallery dealerships, Mr. Vintage Machine, and Automobile magazine.  Thank y'all for being involved.
You must attend, or enter next year, as everyone is quite sure there will be Highway Earth 5, keep up with the happenings at www.HighwayEarth.com.