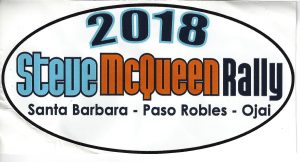 It is my considered honor and privilege to be deeply involved with the Friends of Steve McQueen Car & Motorcycle Show weekend, held each June at the Boys Republic School in Chino Hills, California (www.stevemcqueencarshow.com, and www.boysrepublic.com).
This amazing institution has been turning around the lives of wayward teens since the early 1900s, and has done more good work societely than I have room to list.  A young, virtually orphaned Steve McQueen was left there by his single mother, after a very rough time growing up.  McQueen shaped up, towed the line, and graduated from the school prior to entering the US military.  He's often quoted as saying that the school saved his live.  As an adult, world famous actor and movie star, he continued to visit and support the school spending time with the kids, learning about their lives and aspirations, and sharing himself with them.  And also in meaningful financial ways.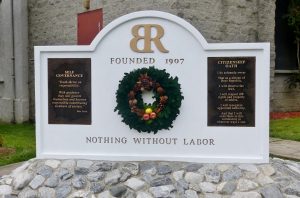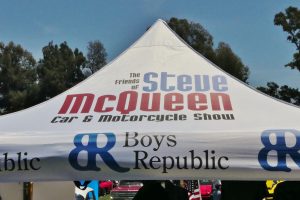 It is in his honor and memory that the McQueen family, primarily in the form of son Chad (who serves as the show's Co-Chairman), and a bunch of car guys and car clubs got together to put on a car and motorcycle show at the rambling school campus.  It's been a huge success, and 2018 will be the event's 11th season.
The previous ten shows have raised many millions of dollars to benefit the school, most of the money going to upgrade, expand, and renew its now century old physical plant.  Money well spent.
In anticipation of each show, for the last three years now, the organizers have put on a pre-event road tour/rally which ignites momentum for the show, makes for a great weekend drive for folks (like me) who enjoy that type of activity, and also raises money for the school.  This year's program included a three day, two night drive event built around great roads, hotels, wineries, and other interesting aspects of Santa Barbara, Avila Beach, Paso Robles, and Ojai, California.  The maximum number of cars allowed in is 48, one of McQueen's more famous racing numbers.  And each car in the rally wore a big banner on its doors carrying Steve's likeness and that same famous racing bubble number.  The event was sponsored by Circle Automotive Group, and RS (Russo and Steele) collector car auction house.
Our gathering point, and first night's stay was the Fess Parker DoubleTree Resort on the coast in Santa Barbara.  This gave everyone the chance to meet, greet, and have a Friday night pre-event drivers' meeting.  It all happened April 27-29, 2018.
The next morning it was up early for breakfast and on the road by 9:00.  This was not a rally in the calculated "time speed distance" sense, nor was it a gimmick or poker hand rally, just purely a road tour to get everyone juiced up for the show, and to spend a few days enjoying good company on some of the world's best driving roads.  Saturday morning's route had us skirting California's famous Pacific Coast Highway 1, at some points popping out to the beach, others staying just inland of the big water.  In spite of recent fires and floods, the roads were clean and clear, the traffic generally light.
And the selection of cars on hand was memorable; Porsches of every year, model, age and stripe.  From a wonderful hot rodded, Outlaw style '58 356A, to the newest 991 GT3s and Turbos.  A Ford GT and a Ferrari Maranello.  One clearly-having-fun group of women in a new Rolls-Royce.  Several Mustangs, a few Corvettes, and all other manner of great road toys.  Plus an enthusiastic, friendly group of people who wanted to have fun, celebrate the upcoming show, and raise money for the school.
After a lunch spot at a park near San Simeon, smack on the blue Pacific, we wound our way inland toward the very history city of Paso Robles, also now one of California's most prominent wine countries.
Our HQ for Saturday night was the positively breathtaking Allegretto Vineyard Resort (www.allegrettovineyardresort.com).  This is a fairly new property, and for all the world looks like the largest, most elegant Italian villa you can imagine.  The family that built the property thought of everything, and this marvelous resort is Five Star, first cabin all the way.  The building is new construction favoring Tuscan villa style, and the ownership has gathered artwork, sculpture, glass, wooden doors, and all manner of decoration and appointment from all over the world — it's an amazing effect.
The property besides having its own abbey, is surrounded by its own vineyards and is also a working winery.  The building is somewhat rectangular making for a large. elegant courtyard inside behind the walls.  If you are every visiting Paso, and feel so inclined, stay here and you won't be sorry.  The rooms are sumptuous and every public space is beautiful.
Saturday was capped off by a cocktail reception, and excellent Italian buffet dinner, a silent auction, and Yours True as guest speaker and presenter.  Rather than just get up there and yammer, it was my honor to present a slide show of vintage and archival photographs of Steve McQueen as car guy, racing actor, and legit racer and motorcyclist.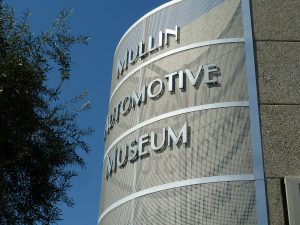 Sunday it was up and on the road again early, heading inland for our return trip to SoCal.  We drove the also storied Highways 58 and 33 on our way to lunch and a tour at the splendid Mullin Automotive Museum in Oxnard, boasting a recently refreshed exhibit dedicated to Mr. and Mrs. Peter Mullin's passion for great coachwork-era (primarily, but no exclusively French) cars.  Our group enjoyed lunch out with our friends and the cars, then got a tour of this fabulous, elegant, art deco inspired museum.  I'll let the photos below, do the talking.
Our weather was bright, dry and perfect all three days, as was the planning and execution of this event.  Truly one of the best road tour events I've ever participated in.  Engaging roads, fabulous scenery, and full days, with just the right number of rest, meal, and touristy stops mixed in.  A big shout out to Gareth Ashworth, Christian Addicott, and everyone else who organized and pulled off this outstanding program.  Please join us next year.
And I very much look forward to seeing you at the Friends of Steve McQueen Car & Motorcycle Show on June 2, 2018 at Boys Republic in Chino.
Oh Please don't leave — lots more photos just below, and double click on any shot in this post to see it full screen in high res