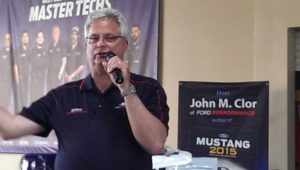 My longtime friend John Clor, he of FordRacing.com and Ford Performance Marketing, is currently driving around the country (in a Ford Transit Ecoboost van) meeting Ford fans and primarily Mustang clubbies at a variety of dealerships around the country, giving a charmingly informative presentation about Mustang design history, and other interesting things Ford.  John is a great guy, a total enthusiast, loves Mustang IIs more than anyone else I know, and his stop last night was at Jim Burke Ford, a 100 year old dealer business in Bakersfield, California, just an hour and a half from my home. So it was all the motivation I needed to zip up there to see him and his wonderful wife Jenny, see his presentation, have him sign my copy of his new book on the 2015 and current generation Mustang, have dinner, and swap stories old and new, plus make up a few.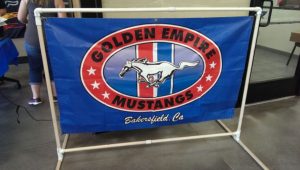 It was a nice deal; Jim Burke Ford is a large and very nice store, and they partnered with the Golden Empire Mustang Club of Bakersfield to host the event, which was held in the dealer's large, immaculate service reception garage.  It was a class deal, with most members bringing their Mustangs or otherwise cool Fords, and the dealership popping for pizza and soft drinks. There was a raffle of cool giveaways served up by Ford Performance and the dealership; nice people having a good time enjoying Ford and their friends.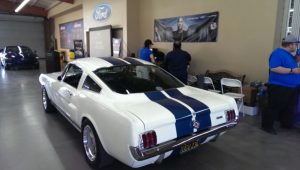 John dug through the Ford design studios archive pulling out some very early drawings and photos of the first Mustangs, and what it could, and in some cases, thankfully didn't become. Plus some funny fake stuff, like a whacky rendering of a Boss 302 crossover, Mustang hearses, and such. His other main message is how the car has in many ways been shaped by buyer feedback, letters, and nastygrams saying "do this" or "why did you do that?" John is an engaging speaker and humorous story teller, and the proverbial great time was had by all.
Even though John and I have known each other and worked together for nearly 30 years, we only see each other ever so often as he of course works in Dearborn, Michigan. I know, I know — "Go Wings!"
No matter, my compliments to this compact but highly engaged and involved Mustang Club for having lots of fun and doing great things. And to Jim Burke Ford for hosting the group and many of its customers, and John and Ford Performance, and me. I thought you might like to see some of their cars, so here ya go….