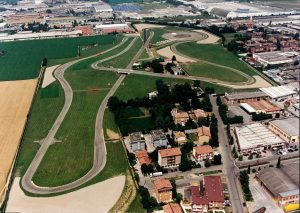 To Tread Upon Hallowed Ground
Lapping The Ferrari Factory's Test Track
[Doubleclick on any image to see it full screen in high res]
Some places are sacred; Mount Everest, the Wailing Wall, the Taj Mahal, or the Coliseum in Rome.  Places that move you, for their historic significance, transcendental beauty, cosmic geography, or some combination of the above.
Fiorano brochure, this one autographed by Piero Ferrari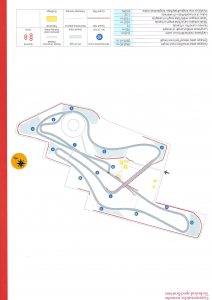 Pista di Fiorano is just such a place: Ferrari's official, private factory backyard test track.  A 2.976 kilometer roadcourse built in 1972, located in Italy, just a few hours South of Milan.  The property includes a skid pad, direct access to the F1 team's logistics center, and a lovely courtyard, garages, an entertainment area, meeting rooms, plus a full size, F1-spec pit box at the track's start finish line, with an office for Mr. Ferrari, and several "apartments" where some of the factory drivers stay when in town "working."
The actual village is named Maranello, a company town if there ever was one.  That's where they build Ferraris, as they've done there for three quarters of a century now.  Ferrari's facilities in Maranello are also home to the Prancing Horse's Formula 1 team, one of the winningest in motorsports.  Ferrari race cars, prototypes, and street cars alike need a place to test; to get rung out hard, in answer to the proverbial question: "what'll she do?"  For Italian speed freaks, Fiorano (named for the actual town it occupies, butting to Maranello) is that sacred place.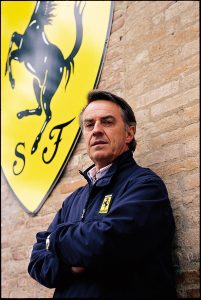 Famous, if not infamous Ferrari development driver, the hopelessly cool Dario Benuzzi
So many of racing finest piloti have driven there, in search of a thousandth of a second here, a microscopic edge there: Gilles Villenueve, Gerhard Berger, Mario Andretti, Alain Prost, Nigel Mansell, Jean Alesi, Niki Lauda, and dozens more.  Fiorano is the automotive gymnasium for current Scuderia Ferrari team drivers Charles LeClerc and Carlos Sainz, Jr.  Eddie Irvine and The Great one, many-times world driving champ Michael Schumacher, clocked countless laps around this place, as have the company's many prototype and development piloti.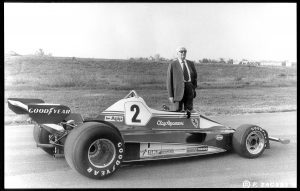 Enzo Ferrari at the track with Regazzoni's 312 era F1 machine
Enzo Ferrari himself used to monitor the racing teams' progress on test days from his office, which is connected electronically to cameras and timing equipment installed at the track.  Fiorano may be the world's most famous race course that doesn't actually play host to a sanctioned race.
My Mission(s) over time — and you damn well bet I chose to accept it/them — was to log laps around Fiorano in a variety of cars, from the introduction of the then new 360 Modena, the 575 M Maranello, the racy 360 Challenge Stradale, and even the Maserati Trofeo cup GT spec racer (strange in remembering that Ferrari and Maserati were intense cross-town competition for decades, prior to Ferrari buying Maser, and back then you'd have never seen or even thought of a Maserati on this track).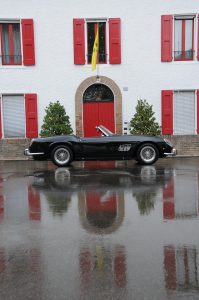 In several cases, my test ride would be fully wired to record lap performance data.  The telemetry system was not of the real time variety as with most race cars today, but still plenty sophisticated; its on-board computer gathers the data, which would then be downloaded upon my presumably safe return to the pits.  It's one thing to log and analyze average lap times over the entire circuit, or even trap speeds here and there, but this chipmonster can keep track of everything except my cholesterol level: trap speeds at several points around the track, what gear the car was in at the time, and spot rpm levels.
Oh, and by the way: not only would they be tracking my every shift, they'd also compare and contrast my assuredly masterful, or is that marginal, driving skill with that of Signore Schumacher himself, who laid down baseline laps for the computer in an identical 360 Modena that I was to drive on this occasion.  The telemetry system allows the analysis and comparison of multiple drivers, and could even print out a cute little overlay graph that would show how dismally I did at each and every opportunity.  A little something to take home and be embarrassed by for years to come.
In the case of the 360, I was budgeted one lap to warm up the car, one lap to get up to speed, two hot laps, and a final trip around to cool down.  Now let me understand this: in two laps, all I have to do is get my arms around the performance and handling characteristics of this 400 horsepower mid-engined exotic, learn and memorize the intricacies of this fast and technically challenging road course, have my performance monitored and dissected like that of a lab rat, then have my numbers compared against those put down by the factory Ferrari F1 guy.  Sure glad there's no performance anxiety in this deal.  What do they want me to do next?  Levitation?  Time travel might be easier.
Considering it had rained just hours ago, I spent most of the warmup laps just finding my way around the course looking for a semi-dry line.  Speed is building about half way through lap 2, and I begin to feel moderately-comfortable as I exit the final turn on my second lap, needing to get down the straight at max speed to start my first flyer.  My measly 116 MPH trap time just before Turn 1 is well short of Schumacher's 130, so I need to get a move on. I snap off two clean downshifts (4th to 3rd to 2nd), in preparation for the first corner.  Turn 1 is a hard right hairpin – brake late, brake late — taken in second, then through the next series of gentle sweepers in third.  Smooth, stay smooth, now a downshift to second again for a hard right hander, which takes you up a hill and over the bridge (which crosses over the main straight).
A somewhat blind right hander comes up quickly — lost some speed and revs there, but pick it up on the small straight leading up to a 180 degree left hairpin, the slowest spot on the track.  Downshift all the way to prima, then its foot to the alloy, and redline paddleshifts through second, third, fourth, as the car floats through a very gentle left turn.  I feel the traction control nibbling in; must have hit some damp spots through the corner.
At one particular point just prior to downshifting for the last turn, I'm later pleased to learn that I'm just 8 miles per hour slower than my handsome, German, then $25 Million per year nemesis.  I downshift to second and brake too early, but administrate the final corner, a late apex left hander, just about perfectly.  Well, perfectly for me, anyway, and rocket down the front straight, completing my first hot lap.  "Awesome", "bitchin", "the bomb" and all those piss-ant adjectives don't come even freaking close to describing this ride.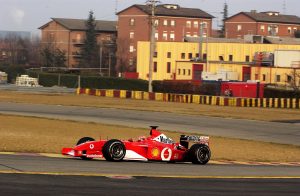 Lap two is much the same, yet different: a few spots went better, others perhaps not as well.  I flash across the start/finish line, taking unfortunate notice of the "Box" ("Pit") sign being displayed to me by the crew.  Yeah, well, I'll slow down later boys – oh c'mon, just one more crack at Turn 1.  About a third of the way around, I realize that it is indeed time to cool the car — and myself — off a bit, so I trundle the Giallo Fly yellow Modena back around to the garage, and park it.
Did my times and intervals challenge those of Ferrari's Number One?  You kidding?  Amazingly, I got close-ish in one or two spots, the closest being a scant 2.4 miles an hour slower, about a third of the way down the front straight.  It's easy to deploy the "I only had five laps" excuse, but the truth is, 500 laps, or even 5000 wouldn't mean that I — or many others for that matter — have what it takes to drive at Michael Schumacher's then stratospherically talented level.  But at least I can say I drove at the same track as he does.  Stood in the same garage.  Visited the same restrooms.  Yup, just me and Mike.  At Fiorano. Duking it out on hallowed ground.
The only downside rub about this place is that it's likely you can't drive there.  Unless you really know someone, or several high up someones, (or have a fleet of new Ferraris on order there) there's no "public access" per se, and unlike the 'Ring, you can't pay up a few Euros and buy laps.  But you can drive around the outside of the property, and if you happen to drive down the right residential street, you can see bits of the track, and if the F1 team is out testing, you can hear it for at least a mile around.
And don't miss lunch or dinner at the nearby Ristorante Montana, where Michael Schumacher used to roam the kitchen with the owners Rossella and Maurzio, and sample the day's menu.  www.ristorantemontana.it