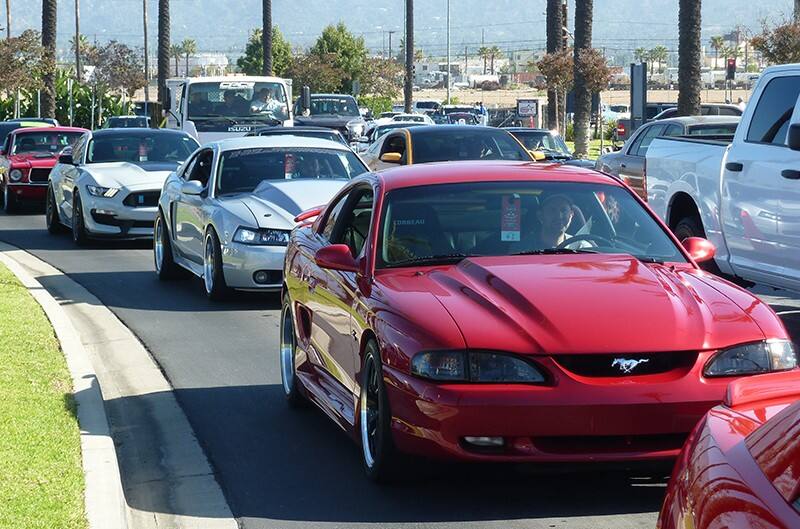 IRWINDALE, Calif. — The world's largest single-day all-Ford car show is much beloved, but has taken its shots lately. First was its ouster from longtime locale, Knott's Berry Farm in Buena Park, California. Then a less-than-successful outing at Angel Stadium in Anaheim. Then a one-time reprisal back at Knott's. Then COVID — you know the rest of the story from there.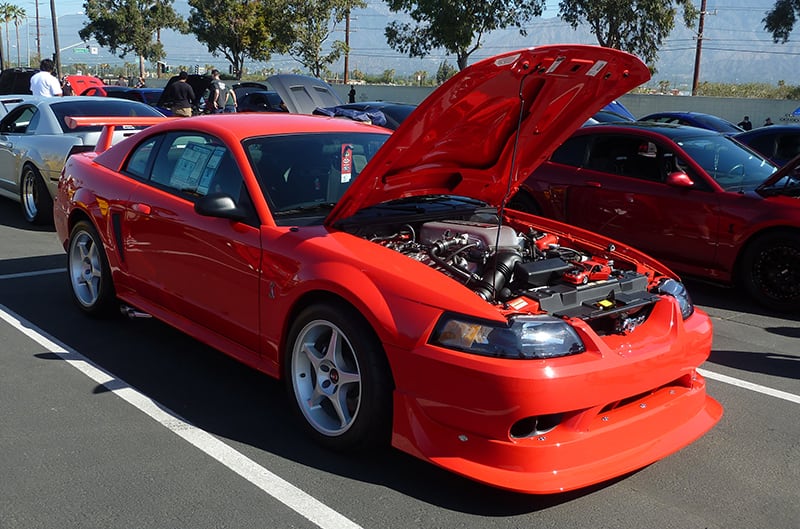 The ever-dedicated event partners, the Ford Car Club Council and Ford Motor Company, vowed that its Fabulous Fords Forever show would return, doubling down that COVID-era event restrictions would be lifted by its intended return date of Sunday, June 13, 2021. They were . . . and it did. Car-show hungry fans were aching for "a fix" and they got it big time at Fab Fords 2021. The new, and generally ideal, location was Irwindale Speedway, a small but beautifully constructed paved-oval track facility in the somewhat industrial LA burb of Irwindale, about 45 minutes northeast of downtown Los Angeles. An easy-to-find, easy-to-get-to, rambling race-track facility and parking lot proved a smart answer for this, Fab Fords #35.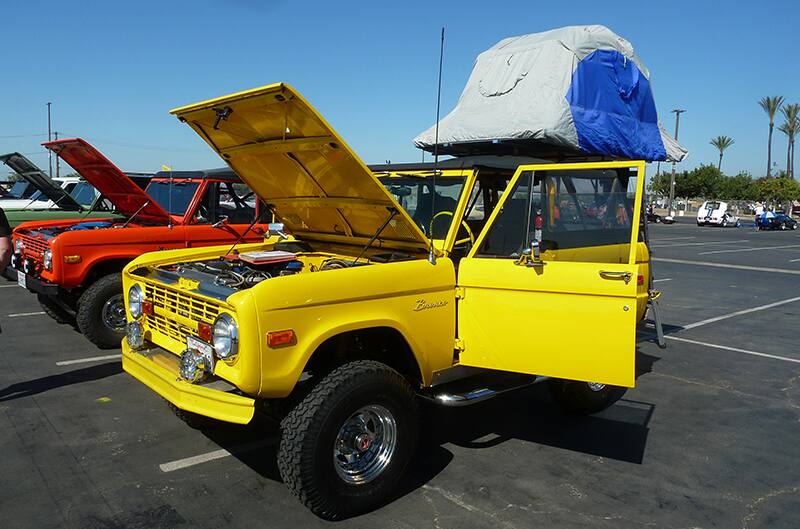 As always, all Fords, Lincolns, Mercurys and just about anything with, or that ever ran, a Ford engine was welcome in the 57 entry classes. Knott's was a slightly larger facility, and a few of those events ran in the 1,400-1,500 vehicle range. This event always fills up prior to the show, and if you wish to enter, you must do so in advance. The 2021 field was pre-registered chock full at exactly 1,000 vehicles (not 999, not 1,001, as one Ford public relations executive noted).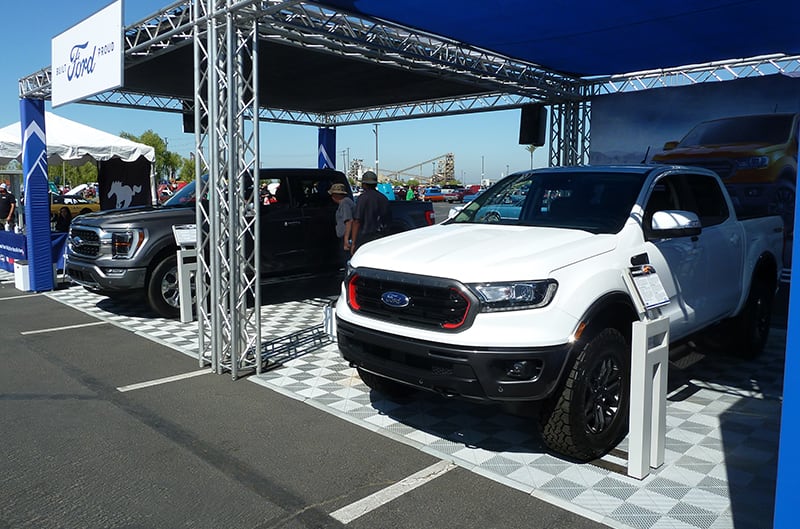 Most of the vehicles on display were privately owned cars, trucks and such, but at least a dozen sponsors brought large trailer trucks, and often elaborate displays of vehicles and wares — from tuners to T-shirts to superchargers. Ford Performance (the just-revealed new Maverick pickup made its first West Coast public appearance here, and proved a popular stop at the show), Galpin Auto Sports, Shelby American, Saleen, and others had big displays to help break up the row after row of stand-alone cars.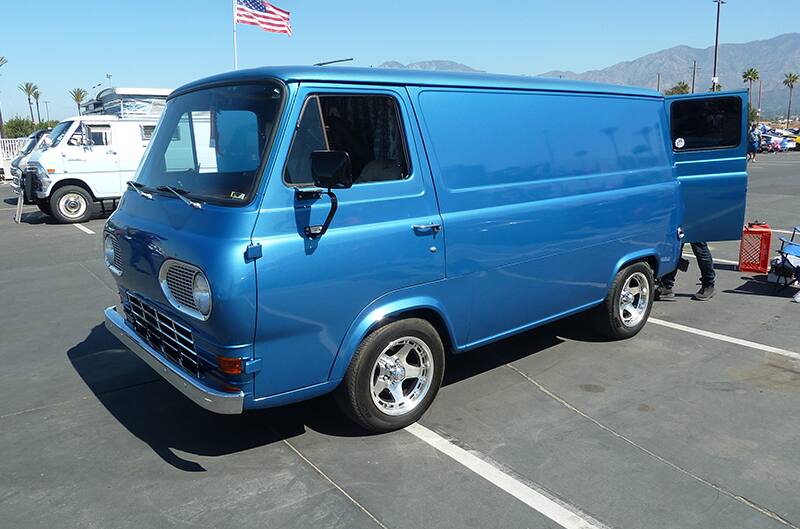 Fab Fords is a totally family deal too, welcoming attendees of all ages in their strollers and wagons. The event has always celebrated significant model anniversaries, and the reborn Fab Fords was no different.  Such commemorations include 65 years of the Thunderbird, 60 years for the compact Falcon, 80 years of Continental, 50 years for Mercury Capri, 60 years of various Econoline vans, 55 years for the now-reborn Bronco, 50 years since the first deTomaso Pantera, and – how can it be? – 50 years of Pinto.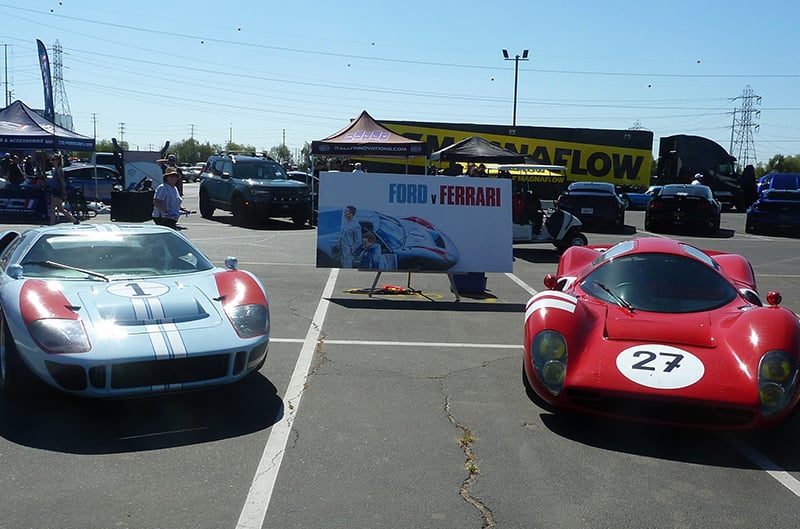 Various Ford luminaria strolled the field too; among the more popular, particularly among the hot rod and custom-car fans, was the ageless Gene Winfield. One of the acknowledged high priests of hot rodding, "Windy" brought his Ford 427-powered Strip Star show rod. Built in 1960, the Strip Star sits on a Ford chassis and runs a 425-horse FE big-block. The car's a bit of an amalgam of a street rod, a swoopy turntable custom, and a drag racer.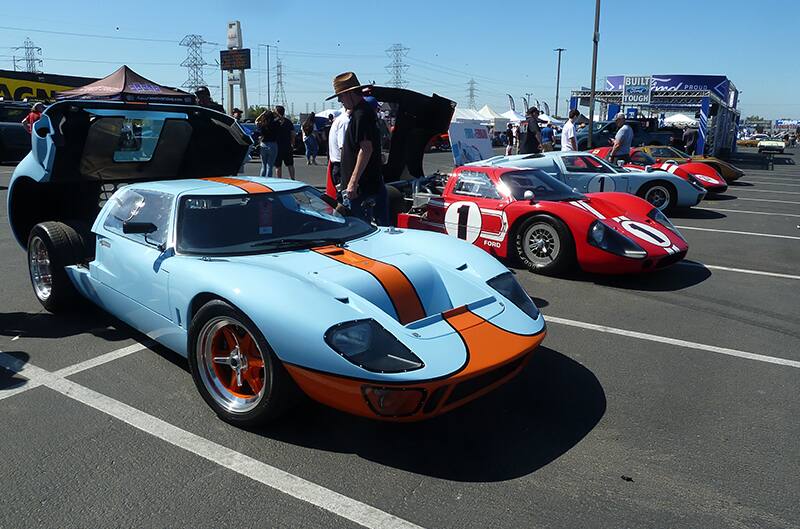 Winfield is known for canopy and bubble-style tops, and of course, the Strip Star has a power opening and closing canopy cabin cover that somewhat resembles that of a '60s-era fighter jet.  The Star made one particularly notable movie appearance, that being 1989's Back to the Future II, where it was purportedly representing what cars would look like in the "far off future" of 2015.  . . . Or not.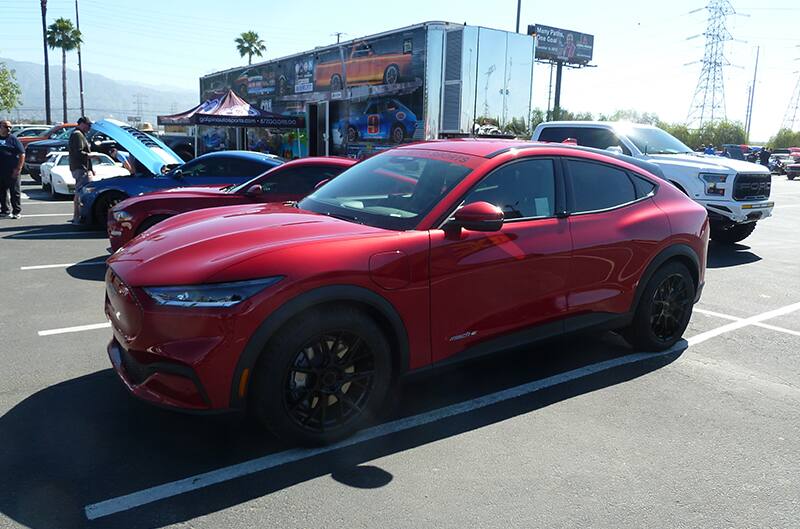 There were a few teething problems, but none that ruined the broth. Everyone we met was thrilled that the event survived and returned, and people were so happy to get out and enjoy a day with like-minded Ford enthusiasts and bench racers, surrounded by great hardware. Maybe that's why they call it Fabulous Fords Forever.