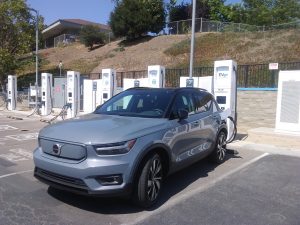 DRIVEN: Volvo XC40 Recharge EV
[Please click on any image to see it full screen in high res]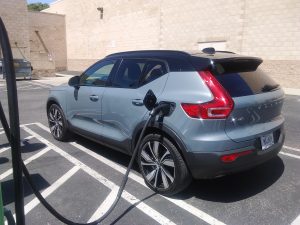 As you might imagine, I get many questions about EVs these days.  "How do they drive?"  "How far do they go on a charge?"  "Are they slow?"  Or "Are they fast enough."  "What do you do when you want to take a trip in an EV?"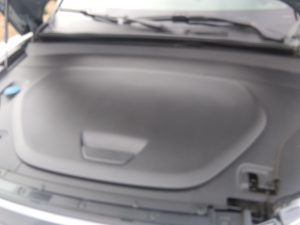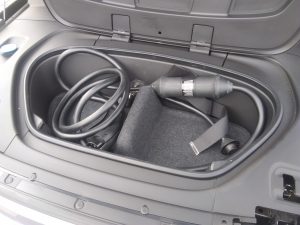 It was this last question that I was most anxious to experience and answer with Volvo's new XC40 Recharge EV SUV.  I have now driven a variety EVs of all stripe, size, and price, and in summary: they drive great.  How far they go on a charge varies from vehicle to vehicle, and your driving habits.  No, they are NOT slow.  And Yes, most of them are fast – some extremely so.  However, I'd yet to experience an EV on a longish or even semi longish trip.  So, I dialed up an XC40 Recharge pure EV for my annual trip from SoCal to CentralCal for Monterey Car Week, Pebble Beach Concours d'Elegance and such.  I figured it to be something less than 400 miles each way, plus local driving, so in most models this meant a full deep recharge at least once a day.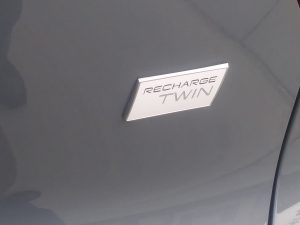 The XC40 Recharge comes in one mechanical / technology spec, that's with front wheel and rear wheel drive dual motors, and three trim and equipment levels.  There's no additional (optional) battery pack (if you want more range) or additional (optional)motors, should you desire more performance.  With plenty of battery capacity, and 402 horsepower (and a very musclecar like 486 pounds-feet of torque) aboard, you won't want for more power.  All of XC40 Recharges are thus all-wheel drive, with an automatic transmission.  Volvo quotes a pure EV range of 223 miles on a full deep charge – better than some, not as good as most of the class leaders.  Max towing capacity is 2000 pounds, which will handle small boats, small trailers, tent trailers, or a pair of jet skis.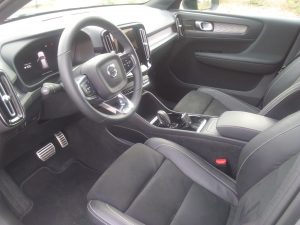 The three trim and equipment levels are Core, Plus, and Ultimate.  There are few standalone options, most everything combined within these packages.  I would have been happy with either the Core or Plus model, but Volvo supplied a top of range Ultimate, and it was.  The XC40 is also Vegan, its "Textile Nubuck" seat fabric looking and feeling for all the world like high quality leather, but without the cowhide part.  The entire vehicle's design ethos is very Scandinavian inside and out; handsome organic shapes, top quality metals and plastics, supple to the touch materials, high tech lighting.  The large center mounted touch screen infotainment console is an outstanding bit of kit; easy to read, sharp and glare free, it allows you do administrate much of anything the car does.  It handles all the connectivity and pairing stuff with ease, and the sound is terrific.  The XC40 is also handsome from any angle, and in use and reality is a very smart size for urban SUV dwellers.  Its uber roomy for five, holds a reasonable quantity of stuff, and parks easily.  Its battalion of cameras, mirrors, and beepers help around the tight stuff and parking lots.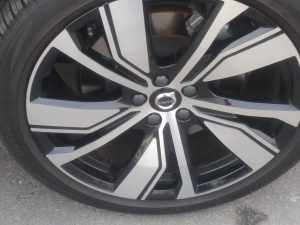 The XC40 recognizes the "key" fob as you approach, and once inside, just drop it in gear and go – there's no "on" button or other starting procedure.  And this thing isn't quick, it's genuinely fast.  The husky horsepower number, plus all that low end torque give you power to handle any situation – be it jetting away from a stop, passing on a grade, or pulling up a graded onramp.  And the all-electric HVAC system cooled and heated perfectly.  All handled with a high tech sounding whir of supreme capability and confidence.  My tester also had really sporty rolling stock too, which offered an ideal balance of crisp handling, loads of grip, a comfortably firm ride and minimal road noise.  Think EVs may not be fun to drive?  Try this one out…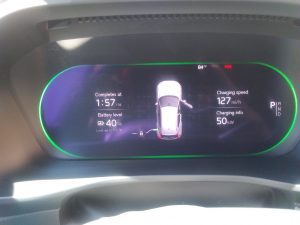 Adventures in Charging
We quickly got an education in the various types of charging out there.  Fortunately, the 12.3 inch screen system helped a ton; its nav capability proved superlative, down to the tenth of a mile.  And it was happy to search for charging stations, giving distance and directions from current location to plugging in.  And in most cases the system would indicate how many charging stations were available at any given location, how many were free or occupied, and what type of charging was offered.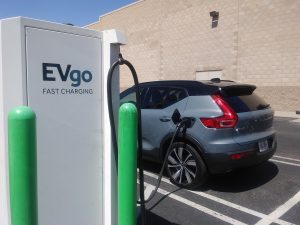 Having travelled our first couple hundred miles, we decided to stop for lunch and recharge in San Luis Obispo at a ChargePoint location.  This spot only offered 110 volt (equal to household) charging.  We plugged in and activate charging easily, but spirits dropped when the car indicated it wouldn't be fully charged until 10PM that night – aaaaack! – can't do that, have a dinner party to be at by 6:00!  The system also calculates and advises you real "time to empty" information, and also how much charge you'll need or have left to get to any given station.
So it's not always about finding any charging station, but the right type of charging offerings.  Standard 110 volt charging is often referred to as "Level 1" charging; the least expensive, but also the slowest – this works great for overnight type charging when you don't need to go back out or keep going.  Level 2 charging is 220-240 volts, cuts the recharge time in half, for a modest increase in cost.  Then there's "Fast Charging" which costs a bit more yet, but gives you the biggest volt jolt in the minimal amount of time.  Once we found a Fast Charge station just a few miles away from our original locations, the car said it would fully recharge in a bit less than two hours.  Time for lunch and a walk.  So on the road, the goal was Fast Charging Stations only.  You'll also notice that there are different types of charging heads (plugs).  Most current EVs are Fast Charging compatible, which work with any of the three methods described above.  You'll also find that Tesla compatible chargers are much more prevalent than the non Tesla variety.  This is changing, as more and more charging stations are built, and since new Teslas can charge on any of the non-Tesla specific plugs.  All said and done, our "fuel" cost for the entire trip was about $90, a bit less than we'd have spent for gasoline in a conventional car and at current inflated per gallon costs.
We had no trouble with the charging stations – we found them easily, they were in acceptably clean and safe surroundings, and they all worked.  Range anxiety?  Sure, some, especially the first day or two, but once I got the rhythm of when and how best to charge up, it was no biggie.  A Tesla owning friend of mine has driven back and forth across America in his car and finds it all fits his travel pattern well enough.  In his early 70s, yet active, sharp, and healthy Dave likes to limit his daily travel to about 500 miles.  He finds that he begins each day with a full charge, and plans his lunch/shopping stops around charge stations mid-way through his day.  He then fully recharges each night at his hotel/motel stop.  So with some flexibility and a bit of planning, it can work.
Can't otherwise say enough good about the XC40 Recharge.  It did everything as promised, and in some cases more than – it's handsome, supremely comfortable, packed with good tech, and a superlative performer.  I would like to see a bit more range out of it – let's say 250-275 (the closer to 300 the better) miles per charge, which of course would extend its intermittent range, and reduce charging stops, but the vehicle is stylish, luxurious, and of uber high quality – a fair amount of tech and comfort for its sticker price – want to save a few bucks and still have the same performance, shop the other two trim levels.
Volvo has made large, wholesale, and global commitments to EV power ultimately replacing fossil fuels in its lineup, and based on this experience, I'd say they're doing a high quality job of it so far.