When the first Mercedes-Benz C-Class sedans came out in 1985/6, it was truly compact, not much bigger than a BMW 2002 / 3-series.  At first they were only four-cylinder powered, tidy, nicely equipped, and a sales smash.  Because of its diminutive size, everyone nicknamed the new smaller Mercedes as the "Baby Benz."  Of course over the ensuing 35 years, the C-Class, which confusingly was named the 190 E, even though the E-Class was a separate lineup and a somewhat larger car even then.  No matter, today's C-Class range is a fully evolved lineup of coupes, sedans, and cabriolets, plus performance minded AMG editions, and there's nothing "baby" about them.  Of course they are larger in terms of length, wheelbase and interior room than they were back in the mid-80s, and omuch more developed, offering technology, luxury and performance that the originals could only dream of.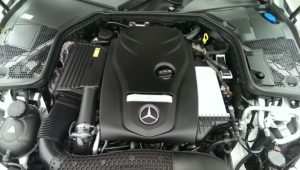 I've driven nearly every C-Class derivation produced, but this white C300 coupe was my first opportunity to spend a full week in one, and roadtrip it as well.  My tester was loaded to the brim, including full time 4Matic all-wheel drive, a turbocharged 2.0-liter I-4 cranking out 241 horsepower and a credible 273 lbs. ft. of torque, backed by a sophisticated 7-speed automatic transmission, and every bit of safety technology acronym that Mercedes-Benz could pack into it.  And there was nothing missing inside either, with seemingly every luxury, safety, and infotainment connectivity bell and whistle in the catalogue.  The Polar white paint over red leather interior combo was particularly attractive on this great looking body style too — most onlookers mistook it for an E-Class coupe.  The EPA rates it a 23 City, 29 highway, and 25 combined, which in spite of my heavyish foot, I had no trouble equalling.
All in this proved a marvelous car to drive; plenty quick, quiet, fine riding, and a responsive handler.  The only feature I didn't have any opportunity to meaningfully test is the wet weather handling of the all-wheel drive system — everywhere I went was bright and dry, and under these conditions, the 4Matic was virtually transparent.  On dry roads, I didn't know it was there, didn't know it wasn't.  Plus as with most modern Mercedes-Benz models, the brakes were outstanding.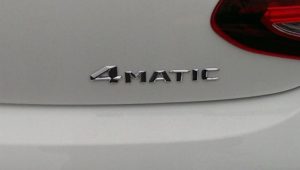 Operationally I have zero complaint with this car, it performed marvelously.  As with many swoopy roofed coupes, interior access takes a bit of dexterity to hop in and out of, but once in there's adequate room and plenty of comfort.  Although there's no faulting the level of content, luxury and capability in this car, no matter how much I rationalized the window sticker and options list, it still struck me as expensive.  Mercedes have never been price leader cars, but I'm guessing there are Japanese, Korean, and American alternatives that do much the same as this car for less money.  But then you don't get that all magical three-pointed star on the hood and everywhere else, and to many, that's worth the extra buy in.  A little options trimming would have brought the cost down, without removing too much that you'd really miss.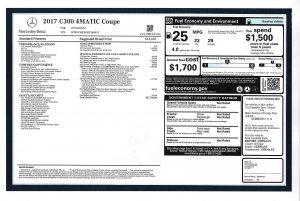 All in, a high quality, handsome, and great driving car from Mercedes-Benz, although I'd suggest you choose options carefully, and bargain hard.  If you can get the car you want at a price you're happy with, you'll be happy with it, I promise.
And while I'm at it, I hope you don't mind if I plug my friends' Ray and Janine's Highland Valley Vineyards in Escondido, which is where I took the car.  This is a small and very bespoke winery and tasting room in North San Diego Country, and they guy and gal that'll be helping you and pouring your tasting are the owners, and delightful at that.  Check 'em out at https://www.highlandvalleyvineyards.com/