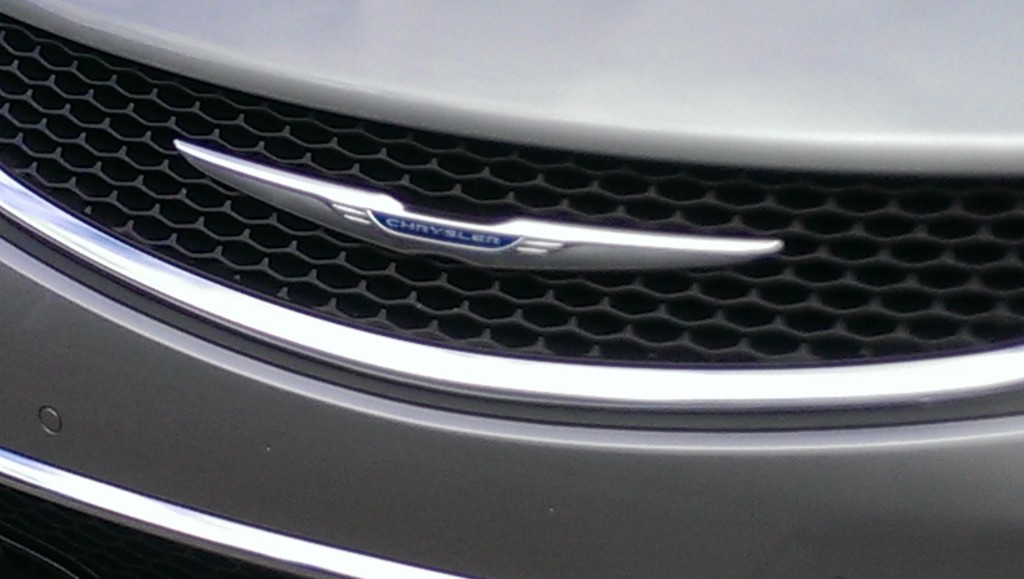 By now you've seen Chrysler's "America's Import" ad campaign for the Chrysler 200 sedan. It's pretty clever stuff, leaning on big name talent icons such as Eminem and Bob Dylan. And it also plucks our heartstrings for Detroit; America's long ago designated Motor City. The idea behind the ads is that American companies and workers can build cars entirely competitive with imported brands. Which is true. We can and often have. The subscript is that the 200 should be on your shopping list against the usual German, Korean, and Japanese models that dominate the premium mid-size sedan marketplace. Which it should.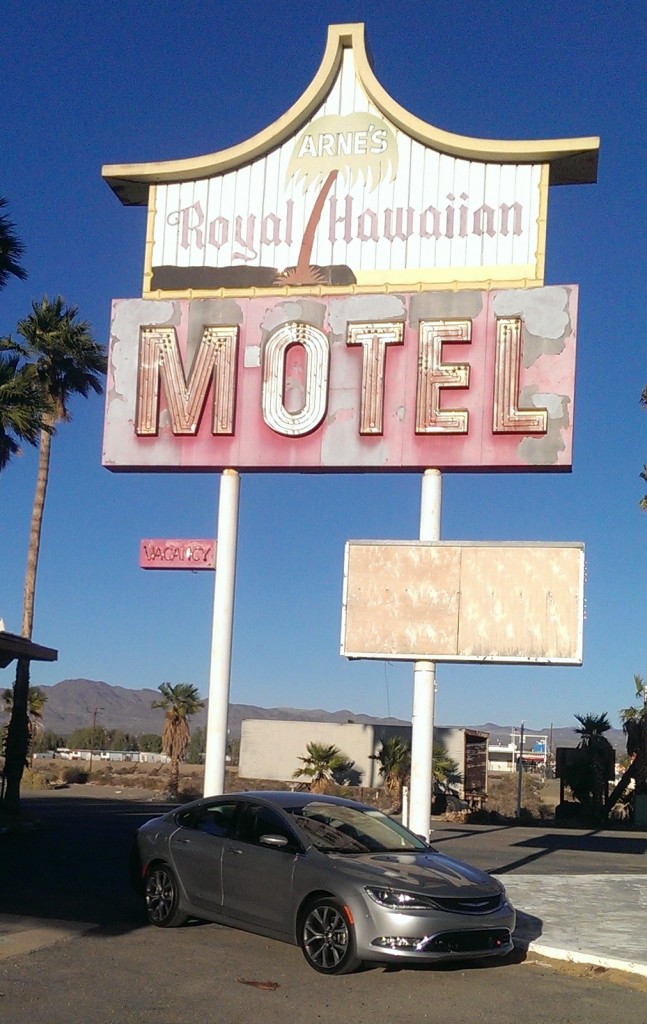 Even though there's a bit of the 200's chassis architecture and "black metal" beneath the skin that is shared with Alfa Romeo sedans, remember that Chrysler and Alfa are all children under Fiat ownership these days. And Alfas are pretty darn good cars (yes, imports) so what's the harm. Anything you can see and touch is exclusive to this car, or at least to modern day Chryslers. The 200 replaced the outgoing Sebring and Avenger models a few years back and with this generation it's offered only as a four-door sedan; any previous coupes, and (Hawaii's favorite rental car) Sebring convertibles are no longer produced.
My Billet Silver Metallic Clearcoat tester was loaded to the gills with every luxury and technology option you can get; enough to push its $25,995 base up to $34,415. This car had the heavy duty safety and "customer preferred equipment" packages, premium lighting group, 19-inch alloy wheels, and the V-6 engine / 9-speed automatic transmission powertrain. Loaded loaded.
And for all that it was a damn nice car. The design and styling are whistle-slick, really handsome, and nicely detailed. Parked next to my wife's KIA Optima Hybrid, the two looked like siblings, if not at least close cousins. No bad thing, but the body envelopes are very similar. Chrysler has for a long time taken stick over cheap and cheesy interiors, but this cabin was finished as well as any Mercedes-Benz or Lexus with high quality materials, high tech instrumentation, clean crisp switchgear, superb seats, and squeak-and-rattle free assembly. The Alpine 9-speaker plus subwoofer is one outstanding stereo, with all of the connectivity stuff you want. And the GPS nav system is one of the smartest and easiest to use navs I've ever experienced in an automobile. It gave lots of information on a superb screen and was super easy to use and program. Not sure if it is Garmin sourced or who makes it, but it was nigh to perfect in operation.
The powertrain proved equally outstanding. Chrysler's 3.6-liter V-6 has always been a nice engine, but in this application, it burbles through lusty sounding dual exhausts, has lots of low end torque, and really revs easily and smoothly; a thoroughbred powerplant to be sure; much more lively feeling that Lexus's similarly sized V-6. I was at first skeptical of the 9-speed trans, which on the surface seems like far more gear ratios than anyone needs. Is this just a way to game the EPA mileage test? Which, on this car, is 19 City, 32 Highway, 23 combined. Market competitive, but not exceptional. I'd read some other roadtests where the trans was criticized for hunting a lot up and down the gears, but I didn't notice it here. Sure it shifted a lot accelerating hard up through the gears, but once settled, seemed fine and very smooth, only shifting down when extra power was needed or when facing hills. And it is also particularly responsive, quick to shift up or down when so commanded by the steering wheel mounted paddles.
The 200 C's suspension is tuned fairly taught, for solid, almost Germanic handling, with quick, crisp response to steering wheel inputs; you'd expect that with 19-inch, low profile rolling stock, but not even these great tires and wheels could overcome a sloppy suspension, which this car doesn't have. Yet there was no measurable ride penalty either; the car quiet and smooth even over less than outstanding road surfaces.
It's roomy and comfy front seats or back, and the trunk is large and flat floored too. A great road trip car, which is what I did with it. Vegas, baby…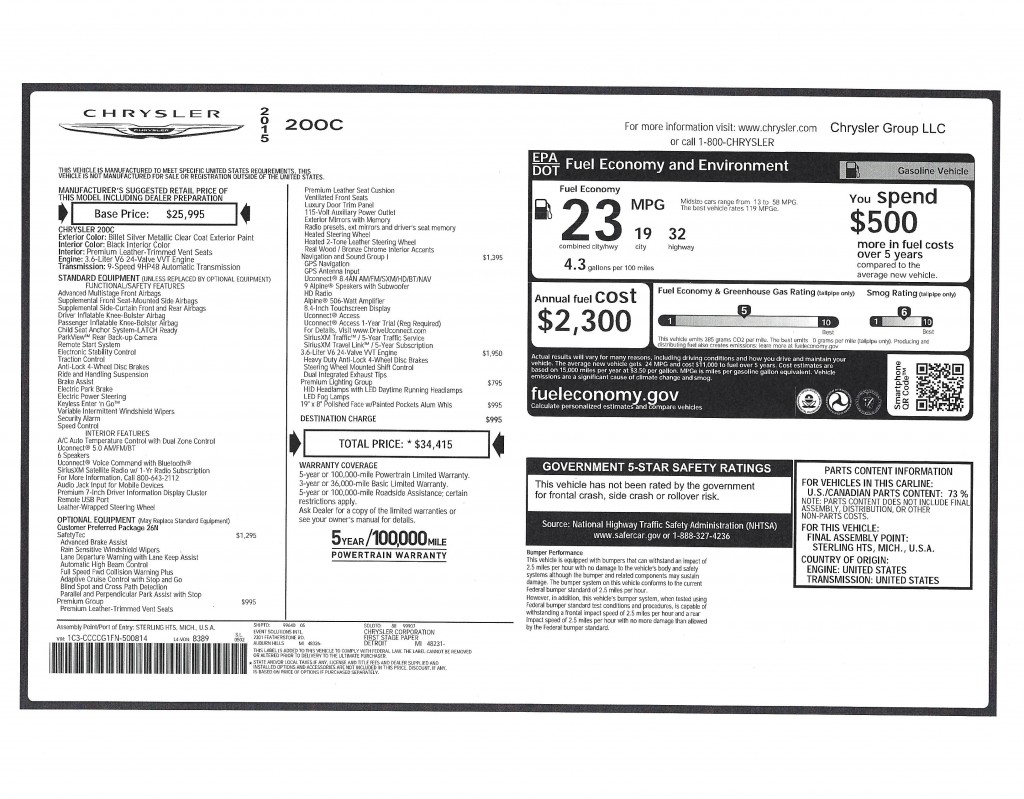 I couldn't find much not to like, as this car looks great, inside and out, and does everything well. The price struck me as a little strong, although the content was certainly present and accounted for. The base price wasn't bad, but it seems like every option was at least a thousand dollars, and the V-6 cost you an extra two grand. Plus there's no hybrid, electric or diesel model offered so forget hypermiling if that's your taste. No matter a very American car that absolutely can compete with similarly equipped and priced imports, no matter where they come from.