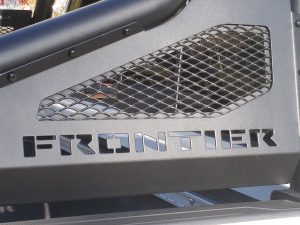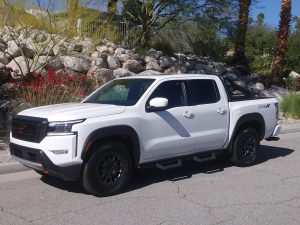 Nissan's just now out with an all new Frontier, and for reals, it's all new.  Which is a good thing, as the most recent gen mid-sized pickup from Nissan has been around since the 2005 model year, just into George W. Bush's second term as president.  It served long and well, but was for sure time to catch up with the rest of the marketplace.  The last Frontier (see what I did there) was updated several times over the last decade and a half, but its interior packaging, infotainment, chassis, and design weren't as fresh as they used to be.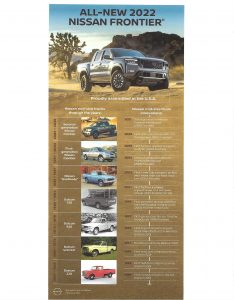 For the 2021 model year, Nissan tipped its hand about what to expect in the new Frontier for '22, by giving us its new V-6 engine in the old  Frontier package, which actually worked pretty well.  But now the whole canvas has been repainted, and looks and works a treat.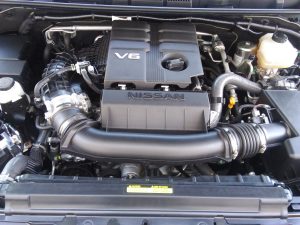 Nissan's previous V-6 family has generally been a jewel.  When it first came out as a 3.0-liter unit a couple of Maximas ago, it was considered among the world's best production V-6s.  As time evolved, the engine got larger and more powerful, going from 3.0- to 3.5- to 3.7- and then to 4.0-liters and 261 horsepower, but got a little rough and grainy along the trail.  It was always tough and reliable, with more than enough power, but lacked the smoothness it was so previously known for.
No matter, the new for '22 3.8-liter V-6 boils out 310 horsepower and 271 pounds-feet of torque — absolutely plenty and certainly market competitive.  Its strong and punchy and smooth and quiet too.  It's all the foundation of the new Frontier, and comes only backed by a 9-speed automatic transmission with a ratio for every occasion.  There are no more manual transmissions offered.  Which makes sense, as the new 3.8 has more than adequate grunt to handle the new uber efficient automatic, and the market take rate for stickshifts has dropped to single digit percentages, meaning nobody buys them any more in many vehicle types and segments, mid-sized trucks among them.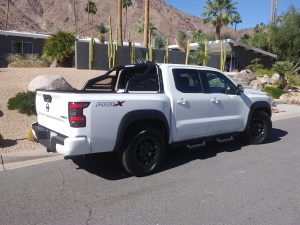 In reinventing its mid-sized pickup lineup, Nissan has reconciled packaging and bodystyles a bit.  To begin with, there's no more single row seat, "standard cab" configuration, which actually disappeared from the lineup some time ago and doesn't seem to be missed.  So its extended King Cab (let's call it "cab-and-a-half" with rear "flipper doors") or full four-door crew cab only now.  Another interesting deletion with the Frontier revamp is that there is no more four-cylinder base engine offering.  This makes market sense as most people who buy mid-sized trucks opt for the largest, often V-6 engine served.  Nissan did its homework and determined that the I-4 take rate didn't justify developing and certifying this powertrain for the new truck.  The only buyers it's likely to leave behind with this move are those who shop strictly price, or perhaps fleet buyers who shop price, fuel economy, and insurance rates as their primary drivers.  All in, I doubt the I-4 and/or manny tranny will be missed much.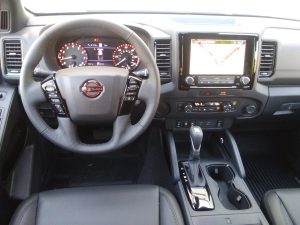 There may be some frame or chassis "black metal" underneath that's been updated and carried over from the old Frontier, but nothing that you can see, touch or feel that comes across as rehashed.  My tester, a fully loaded to the gills PRO-X Crew Cab had about everything you could build onto it.  Every luxury touch inside that you can name, including an interior no previous Frontier owner would recognize — high quality materials throughout, power nearly everything, a huge touch screen with thoroughly up to date infotainment with a great sound system and outstanding easy to program and read nav.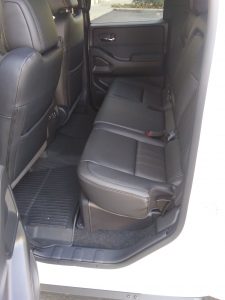 The seats were trimmed in a rugged looking textured leather feels great and appears sturdy enough to wear long.  If you have the correct spec phone, you can charge it wirelessly on the little inductive charging pad just behind the shifter and in front of the center console.  The instrumentation is complete, clear, and easy to read, plus lots of storage cubby space inside.  A well thought out, safe, and comfy cabin.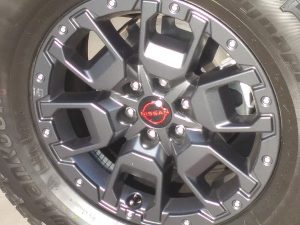 And what fun, and what a joy to drive, and its not just quick, its actually fast.  The new V-6 emits a happy snarl, but is dead quiet on the low rpm cruise.  And the new 9-speed autobox offers a ratio for every occasion, and always keeps the engine in the smart part of its powerband; this trans reads your right foot perfectly summoning up or downshifts as you direct, and of course you can shift it manually if you wish, but there's hardly a need.  This new motor has some steam too, lots of grunt at low rpm or higher, and always smooth and eager.  Forget a V-8, you won't need one here.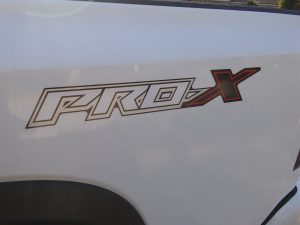 The PRO-X trim level is a combination of appearance, convenience, and performance hardware that's well worth the asking price.  My tester also had the optional off road style step rails and Sport bar in the bed — both handsome, rugged, well finished, and sturdy looking pieces.  The 17-inch PRO alloy wheels look great, and mount beefy all-terrain tires.  In spite of not being a 4WD model (which Nissan also offers) there's enough meaningful off-road packaging here that unless you're doing the most serious rock-hopping, you won't feel insecure taking this rig out and getting it a bit dirty.  The bed offered a couple of worth surprises too — you'll never get caught in the dark, so to speak, and the bed is ripe with several LED lights that light up the cargo area on demand or when unlocking.  Plus we appreciate the 110 volt power port too — perfect to charge up those electronics or run those power tools. Thoughtful, and value added.
The Frontier rides and handles smartly too, with well controlled body motions, and much less heaving and "porpoising" than the previous Frontier chassis tended to exhibit.  It's all quite tight too, with nary a squeak nor rattle to be found, or coaxed out of it, no matter the road, or lack of road, conditions.  Great strong brakes too.
Complaints?  Not much to gripe  about here.  The steering is meaty and feelsome in your hand, and nicely telegraphs what's happening beneath the tires to the drive, however, and slower and packing speeds, some drivers may tend to find the steering a bit heavy.  Also, that great looking Sport Bar rack in the front half of the bed also whistles a little bit at freeway speeds.
I'd enjoy the chance to have them in the same corral and be able to do a legit back to back comparison with the new Frontier's competitive set to include the Ford Ranger, the GM Canyarado twins, and the ever competitive Tacoma, which was also thoroughly refreshed just a model year back.
All said and done, this new Frontier appears a winner.  Its been meaningfully re engineered and contended, and does everything well.  If you liked your old Frontier, you'll really love the new one, and if you are shopping this segment, I suggest you now include the Frontier on your list, as its a fully competitive player, and an outstanding one at that.