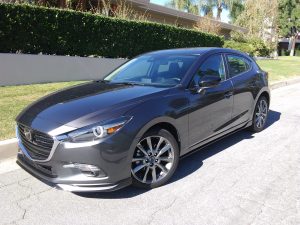 Mazda has always done the "sportwagen" thing well and to an enthusiastic degree.  We first saw signs of it in the sporty and damn fun to drive Protege5 of a couple vehicle generations back; that car has since grown into today's Mazda3 lineup of sedans and sportwagens; they've almost always been fun and sporty, and built on solid underpinnings.  Mazda has kept the current generation car very fresh in terms of technology, and most recently a solid round of interior remodeling.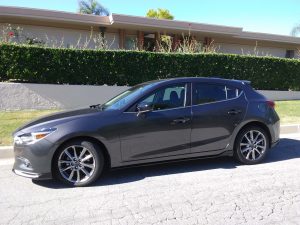 My tester looked reservedly sporty in Machine Gray Metallic with the full black interior.  Being the Grand Touring model, it came with all the luxury and sporty goodies, including aggressive 18-inch alloy wheels wrapped by performance minded all season tires, leather trimmed sport seats inside, dual exhausts, and the 184-horse 2.5-liter engine.  So many cars this size run 2.0-liters, which is a naturally and mechanically efficient layout, but the slightly larger 2.5 serves up more low end torque than the two-liters, this one rated at 185 pounds feet of twisty grunt.  The engine is backed by a 6-speed automatic transmission, that offers manumatic paddle shifting control when you really want to take charge.  On a base price of $24,995 you get most everything you'd really want or need, and this car packed on another five grand worth of ups and extras; some you'll want and others you can live without, for a total as delivered sticker of $29,785 — and a damn lot of car for that.
It's the interior that really strikes you; great layout, super comfortable, with high quality leather, plastics and other materials used throughout.  Nice big tach front and center as you'd want in any driver's car.  The seats are spectacular, beautifully trimmed in nice quality leather, with lots of adjustment in any direction plus lumbar support function.  All of the front exterior lighting is high tech LED now, bright and clear in all conditions.  All of the connectivity is first rate, with an easy to see and operate nav and all the other Bluetooth and Satellite stuff.  The only thing this car didn't feature in that department is the wireless, induction cellphone charging function that's now showing up on a lot of models.
In fact my biggest complaint with this entire car has to do with a small aspect of the instrumentation; the speedo and some other ancillary readouts are shown on a small, power flip up heads up display, and when the seat was adjusted for my comfort and average setting, about a third of the HED was cut off.  On some cars these little flip-up display screens are adjustable for angle and rake, which would have helped.  I looked for an adjustment function for this one, and if it was there, I never found it.  If it was adjustable, and I couldn't figure out how, then I take it all back.
The engine idles with a burbbly thrum, thankfully not the blarey snort you hear from so many "tuner" exhaust systems on small four cylinder engines.  The reasons here is that this, of course, is an OEM engineered system, it's dual instead of a small diameter single pipe, and also because the larger 2.5-liter engine just sounds a little huskier than most smaller 1.8- and 2.0-liter I-4s.  And as the revs climb it only sounds better; never anything close to loud, just a powerful sounding tenor sound track that revs up and down with the tach.  The engine is a jewel, with meaningful low end grunt, plenty of mid range, and it'll rev to the moon if you ask it to.  The transmission is an excellent dance partner for the engine, snapping off relatively crisp, responsive shifts when asked.  Even though many smaller engined cars have gone to 7-, 8-, 9-, and 10-speed automatics now, 6 is enough for this package.  It doesn't shift quite like a Ferrari or a Porsche PDK transmission, but will respond to your commands of the paddles or the manual side of the  console shift gate.  Mazda's suite of safety technology is also right up to snuff.
The suspension tuning is excellent; sporty and firm enough to be engaging, but never so harsh as to punish.  The electric power steering system is also very responsive, although somewhat lacking in road feel, is also nicely weighted.   The low profile 18-inch rolling stock also aides quick suspension response, and the rest of the shocks and springs keep body motions well controlled.  All in all it's a ball to drive, and being that its a 5-door semi-wagon hatch, there's a ton of cargo space in back, especially when you flatten the second row seatbacks.
All in, this is an excellent machine; so typical of a Mazda, it's more expressive than some other more boring models of similar size and price that accomplish the same transportational goals, but aren't as much fun doing so.  Remember, Mazda was the "Zoom Zoom" brand, before reminding us that "Driving Matters" and now encouraging us to "Feel Alive."  As opposed to….?
If this size, style and class of car suits you, I recommend you shop the Mazda3; it'll do all the same stuff as a more boring car, and for those of us who really enjoy cars and driving, adds on the fun factor that makes the difference between something engaging and, well, not so much.  Plus its great looking, beautifully built, and reasonable value.