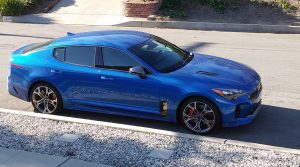 Here's a car magazine comparison test I bet you'd have never dreamed of:
BMW M3 vs. KIA Stinger GT vs. Mercedes-Benz C43 AMG
By now you're screaming "major typo!" because how would a KIA earn the right to take on the two German stalwarts.  Welcome to 2019, because it has and it does.
You likely think of KIA as that Korean maker of reliable, well made, economical, sedans and SUVs…plus let me tell you, one very nice minivan.  All of that's true.  Plus a little just a few seasons back, KIA decided to wow the crowd and introduce a serious compact to mid-sized sport sedan.  I'm talking great looking, serious handling, high feature, rear wheel drive, big power sport sedan — yes the kind that can play hard with BMW and Mercedes.
So I couldn't wait to get behind the wheel of one myself; the new Stinger comes in multiple flavors, including a naturally aspirated more mild mannered V-6 version, plus the much crazier GT, with its full fat, high calorie, and max protein 365-horse 3.3-liter twin turbocharged V-6.  Here's how the numbers stack up against the Germans:
KIA Stinger GT                                    BMW M3               Mercedes-Benz C43 AMG
Engine config:     3.3-liter TT V-6    3.0-liter TT I6       3.0-liter TT V-6
Horsepower          365                          425                        385
Torque                    376                           406                      384
Transmission         8-speed auto          6 sp. manual    9-sp. multiclutch auto
                                                                    or 7 sp DCT auto
Base price                $38,350                 $66,500              $55.250
The BMW puts up slightly larger numbers on paper, but all of the cars are wonderfully fast with 0-60 times all in the low four second range via seamless delivery, virtually no turbo lag, and mountains of torque.  I have driven all of these cars, although not back to back at the same time, nor with timing gear attached.  I'd say the BMW is miniscually faster in a straight line, but all three play confidently in the same sandbox.
And of course they've all got amped up suspension, serious rolling stock, and big brakes.  My Micro Blue Stinger tester wore handsome, lightweight 19-inch alloy wheels, high performance, Michelin Pilot Sport summer tires, and real Brembo brakes.  The steering served up lightning quick response and adequate road feel.  And it grips as well as the other pair.  I'm lucky enough to live at the base of the much storied Angeles Crest Highway (California Highway 2 if you've seen the window or bumper stickers) which is our very own version of the Nurbergring, and I caned the KIA up and down the mounain several times, finding its handling virutually unflappable, predictable and nearly as much fun as finding Charleze Theron in a bathtub full of baby oil.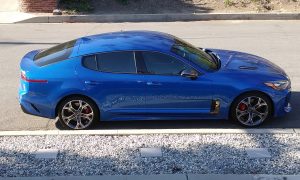 As you can see from these photos, the Stinger's styling and design are muscularly handsome, with a nice semi squat look to it, strong shoulders, and attractive surface detail.  The all LED lighting is high tech, attractive and effective.
The interior is first rate sport sedan all the way, with high quality materials, supportive  leather sport seats, great ergonomics, and first class comprehensive infotainment and connectivity.
There's no such thing as the perfect car, but honestly I couldn't find a single thing about the Stinger GT I didn't like, and I'd spend my own money to buy one if I were actively shopping this market segment.   In terms of themes and variations, it's worthy of mention that the M3 is the only among them still offered with a stickshift and clutch pedal transmission, and if you really want to jump off the horsepower cliff, Mercedes-Benz also serves up a C63 AMG version of its C-Class sedan, packing a twin turbo V-8, and even gobs more performance.
We can't forget the Stinger GT's price/value message either.  My tester based at $38,350 and came highly packed for that.  In fact there were no options to be had, so adding in only the mandatory cost of Inland freight and handling, it bottom lined at $39250, a commendable $16000 less than the C43 AMG and a whopperish $27,250 less than the BMW M3.  Which makes the Stinger's performance-for-money factor even more compelling.
Could I pick a winner between this KIA, the Benz or the Bimmer?  No, not at this juncture – not without having all three of them together, with a full bank of performance numbers, along with a couple other drivers whose driving and feedback I really trust, to help me take them on a 1000 mile road test style drive.  If you've got a long way to go and a short time to get there, you could do so much worse than to do so in a KIA Stinger.  A real live genuine sport sedan, from Korea, that plays hard against the usual players, and absolutely deserves your consideration, that I'd be proud to park in my garage.