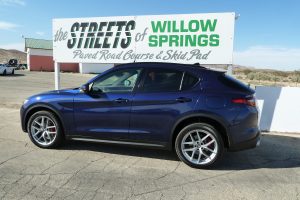 Remember youcan double-click any photo to see it full screen.
The Stelvio is a looker from any angle, with more than adequate passenger and cargo room in back for most needs.  Others are bigger, but this is a smart size that will work for most drivers and it keeps this Alfa light on its toes.
From the beginning there was no question that a reborn Alfa Romeo would need to include a sport/utility into its new lineup in order to rebuild its brand as a substantive and lasting automaker in North America. No less than Porsche has demonstrated that you can't make it on sports cars alone. So far only Ferrari has (so far) continued sans SUV.
So we have the Alfa Romeo Stelvio, named after the challenging and beautiful mountain pass in Northern Italy.
The Stelvio is a crazy pretty two-row seater, with great curves, fluid lines, and design cues tying it to the wonderful Giulia sedan lineup, and in varying ways to several Alfa models from the past.
My tester was a chock fully loaded TI Sport AWD, meaning it runs Alfas 2.0-liter direct injection turbocharged I-4, boiling out 280 horsepower, backed by a ratio-for-every-occasion 8-speed automatic transmission. I was not initially enthused about this combination, having sampled the sedan's Ferrari derived V-6 which is wonderfully smooth, uber powerful, and symphonic in your ears. I was also worried that the Swiss Army knife transmission with so many ratios would never stop shifting.
No matter, I soon learned to appreciate this powertrain, as it's excellent in every way. This engine is smooth, powerful, and lusty, a pleasure to keep the car just on boost, or deep in the middle of its torque curve. It idles nicely yet revs willingly with a satisfying whoosh when the turbo spools up. And it sounds great, something not all turbo fours can claim. My fully loaded, Montecarlo Blue Metallic tester had every option offered on this model, and this powertrain also includes a burbly, big bore dual exhaust system that plupples pleasantly at idle, then howls under revs.
I often shifted the transmission into the Sport Manual mode so I could orchestrate the shifting via the large, aluminum paddleshifters, but I really didn't have to. This trans is smart and superbly calibrated, holding gears as long as your right foot wants it to, and downshifting when needed. It's fun to shift it on the paddles, but it works just as nicely in full auto mode, without the constant gear hunting I initially envisioned.
The perfectly tuned suspension, and beefy, handsome 20-inch rolling stock helped this car to great handling prowess, quick turn in, lots of stick, high limits and sharp reflexes. You'll never say this thing "handles like a truck." And it's got killer brakes too; stopping on the proverbial dime, time after time. The Stelvio is also quiet, not Lexus numb quiet, but pleasantly quiet with minimal road rumble or wind noise, all the better to hear those snarling dual pipes.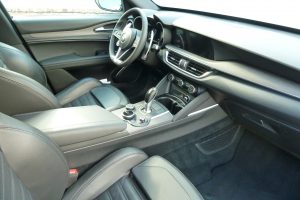 The interior is a joy too. The leather seats are handsome, supple, supportive and comfy for a long trip, which I did with this car, and would happily do again. The main instrumentation is dead ahead and clearly visible through the steering wheel, in a pdded binnacle appropriately resembling Alfa Spiders of the past. The backup camera screen is large and brite, the nav system worked perfectly, the AC blew cold, and everything worked, all the time. For those of you who may be concerned about any perceived "lack of Italian build quality" I can only report that in the 1500 miles I put on this vehicle, it never burped. Never overheated, failed to start, or showed any bad habits of any kind. Period. Rock solid, beautifully built and finished to my eyes.
My worst criticism of this car is that the $900 upgraded Harmon Kardon premium audio system just wasn't.  It of course has AM/FM radio, Sirius satellite radio, Bluetooth and all the rest.  Big amplifiers, lots of speakers, and just didn't sound all that great.  I parked it and tried every audio mode, played with the tone controls, changed channels, nothing I did made the system sounds like it was worth an extra grand.  It lacked adequate power, transparency, clarity, and richness no matter what I played and no matter how I played it, something I didn't expect from a premium H-K system.
That's truly my only disappointment from an otherwise wonderful vehicle.  The window sticker is posted just below, and compared to any other premium SUV of this size and performance, the Stelvio gives good value (and great style and great fun to drive) for money.
It makes the most of the words sport/utility, offering more than reasonable utility, and a damn lot of sport, with Italian style, for the buck/lire/Euro.  I'd buy one with my own money, and drive it happily every day.