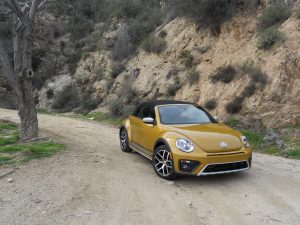 DieselGate is over; VW is ready to have some fun.
The current VW Beetle, which was first reborn as the New Beetle in 1999, is about the only remaining "retro" car from that era.  The retrofuturist Ford Thunderbird has come and gone.  The Chrysler PT Cruiser which was a huge sales success for Chrysler, has also left the building.  As did Chevy's somewhat similar in concept HHR.  The Prowler. and the SS-R retro streetrod pickup.  Finito.
But the Beetle soldiers on, VW continuing to refresh and reinvent it as and when appropriate.  Its newest fun variant is called the Beetle Dune, available as a closed coupe or a convertible.  Remember the original Dune Buggy?  And so many of those home built, kit parts Baja Bugs?  The Beetle Dune, released last year, and continuing for 2017, attempts to capture some of their fun look and spirit, although don't expect to take them flying over sand dunes nor running the Baja 1000 off road race.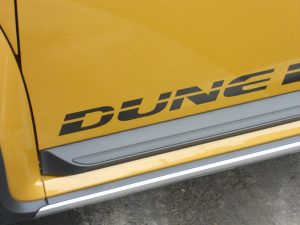 VW does a good job coming up with special models that are more than just a badge and some stickers, as I'm pleased that this Dune package has some meaningful content.  The aggressive bumpers are specific to this model as are the side moldings, 18-inch wheel designs, and increased ground clearance via a raised ride height.  Plus some striping and stickers, which is in this case fine, and fits well with the 60/70s flavor of the whole dealio.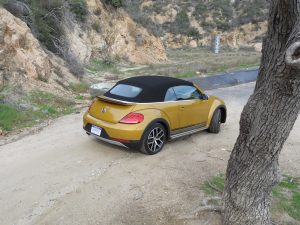 While nobody would take the Dune seriously as an off roader, it is a bit more capable now as an "all-roader" with the increased ground clearance allowing it a bit more undercarriage slack for traversing the occasional mountain path or dirt road.  The track is also increased about a half inch.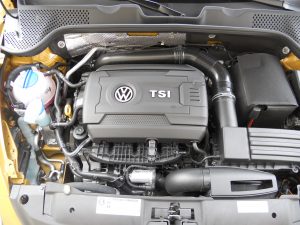 The engine of choice is VW's seminal 1.8-liter, turbocharged, direct fuel injection I-4 powering the front wheels of course.  This hearty sounding engine spools out 170 horsepower and 184 pounds-feet of torque, more than plenty enough to move this happy little bug along with spirit.  You wouldn't call it fast, but it ain't slow either.  The trans is an appropriate 6-speed automatic.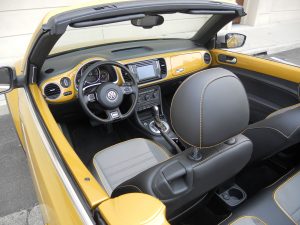 My tester was a highly equipped convertible Dune, packing every option save for nav, and it bottom lined at a more than fair $31,210.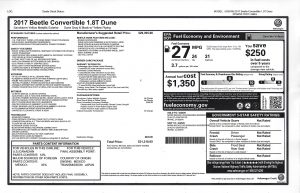 This eyepopping retro color is called Sandstorm Yellow, and fit the retro flavor perfectly; its also available in White or Black Pearl.  As is typical of VW, many of the interior panels, such as the door panel caps and glovebox door, match the exterior color — and perfectly.  Save perhaps Bentley or Audi (also VW groupe brands of course), no carmaker does plastics to a higher level than VW; in fact the build and assembly quality of this car, inside and out, is spectacular, with great materials and superb fit and finish everywhere you look and touch.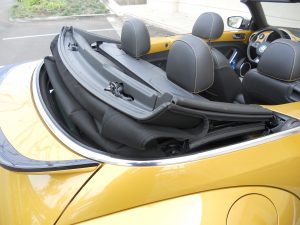 And this thing is a ball to drive.  You can't help but get swept up in the Dune's retrowhimsical look and mission, and the car gets lots of looks, smiles, and thumbs ups.  And I did take it up to the mountains and worked some rutted firetrails a bit, and the car did just fine.  Plenty of power and traction, and nothing hitting or clunking underneath.  Kudos to VW for an exceptionally well engineered and executed convertible top.  It's a strict power one-touch with no manual latching or unlatching needed, raises and lowers quickly, and settles down relatively well into a nacelle just aft of the rear sat.  Its cleanly finished with no tonneau cover needed.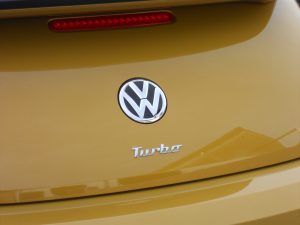 The Dune's EPA ratings are 24 City, 31 Highway, and 27 combined, which I had no trouble  equaling or bettering on the 700 mile road trip I took while I had the car in possession.  It's possible the increased ride height has taken a little of the Teutonic edge off the Beetle's handling, but not much nor enough to inhibit the fun factor.
If the concept and execution of the Dune package speaks to you, then you'll enjoy this car a ton as I did.  It's beautifully built, cleverly conceived, and drives like a modern German car.  Now, about that bobbed fender kit and a pair of foglights up on the roof…