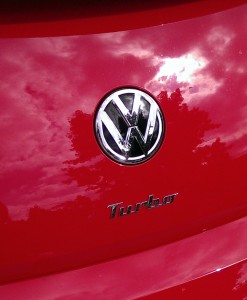 The current VW Beetle (reborn in 1999 as the New Beetle, you may recall) is a bit of a phenom in that it is the only surviving member of that era's class of retro cars. The Chrysler PT Cruiser? Cute but gone. The reborn two-seater Thunderbird. Also cute and also gone. The Chevrolet SSR? Equally gone. Only the Beetle stayed around long enough for a mid-life update a few years back, and to be offered in additional body styles — recall that it was first introduced as a coupe only, then a convertible. No matter, VW has continued to invest in the Beetle, recently refreshing all of its powertrain offerings. And they are really good. All of the previous naturally aspirated four cylinders are gone, as is the I-5, and the old underpowered diesel.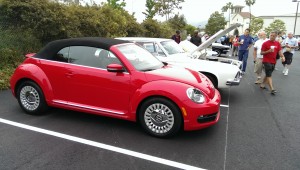 My Tornado Red tester was a 1.8T SE trim car carrying a $28,070 base and an option free, fully equipped bottom line of $28,890. A steal of a deal given its high build quality, genuine charm, fun factor, high feature content and nifty ragtop.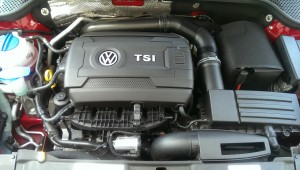 The 1.8T is a reconfigured rebirth of VW's old high performance 1.8 liter turbocharged four. That original high revving but somewhat torque free wonder has graduated to 2.0-liters now and can be had in several other VWs, including he GTI, and Audis too. This 1.8 Turbo has been retuned for strong low end torque, good every day performance, low emissions and good fuel economy. The EPA rates it at 25/34 city/highway, and 28 overall. Not hybrid challenging economy, but very respectable.
The transmission is a paddle free example of VW's excellent dual clutch DSG 6-speed trans that drives like an automatic but with the efficiency of a manual. This transmission aids performance and fuel economy.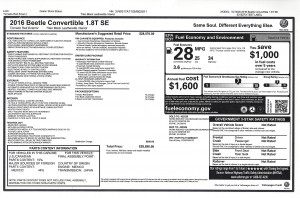 Check out the window sticker to see all the other good stuff that is included, and this car didn't leave me wanting for much.  Particularly slick is the one touch power top that raises and lowers itself in just a few seconds with no latching or unlatching to mess with.  And of course you'll remember those old school air cooled Beetle convertibles that used to stack up the top just behind the rear seat; it was way up in the air stream, looked ugly, and hindered rearward visibility.  Not this one; the top is beautifully made and finished, and drops down much more neatly; its self covering so there is no chintzy vinyl tonneau cover to snap on later.  Slick.
The new 1.8T is good for 170 horsepower and an even more meaningful 184 pounds-feet of torque and while the car isn't blazing crazy fast, its really quick and fun to drive.  The engine and trans are very responsive, and when you build up some boost and toe the throttle it really moves.  Plus the car's a great handler too.  Sharp, direct steering with no hint of torquesteer means the car goes where you point it, with conviction.  Plenty of grip from the tires too.  And while this isn't set out by VW as a "performance model" I assure you it really is.  Plus a good ride and relative quiet mean its a great weekender of everydayer.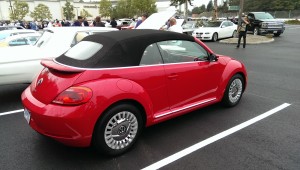 I have but one gripe: its difficult to open the rear trunk lid; pressing the button on the fob snaps it open just a hint, and its a nailbreaker to lift up after that.  Otherwise I'd happily own this car, and buy it with my own money.  It's well equipped, high quality, attractive and stylish, and fun as hell to drive.
You'll be interested in this car for its top down summer fun attitude and style, but you'll end up loving it long term for all the rest of its inherent goodness.  Try one, put the top down, and off to the beach with ya!