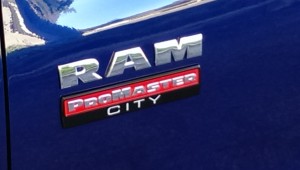 I love vans. Always have, both in the custom, surf wagon, shag carpet and 8-track sense, and because of their inherent practicality. I owned an old Econoline back in the day, and would own another van if I had need (or room) for one. My general preference is for full-sized, traditional, American branded, rear drive vans, like that Econoline, the GM twins, or the old Dodge vans that went away some years back. But I also really dig the high end, European style vans such as the Mercedes-Benz Sprinter. And the new full-sized Ford  Transit vans, which although decidedly American, have a certain Euro vibe to them.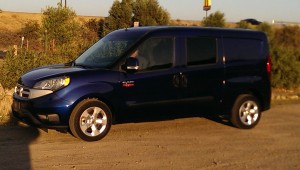 When traveling to other countries, I've so often seen legion of great smaller vans produced by other companies, and sold in other world markets; great smaller vans by Peugeot, Renault, Ford, other global GM divisions, Fiat, and several Japanese makers.  I often wondered why they weren't sold here; it seemed to me they'd be great for folks that needed a van, but something a little smaller and lighter duty and more economical than a 3500 series Savannah or an airport shuttle sized (and priced) piece.  You know, plumbers, painters, florists, delivery companies, and such. And so a few years ago, it begun.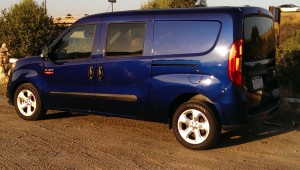 Ford was first to the table with the TransitConnect; a handier sized front drive, four cylinder only van that made sense for many buyers. So they sold. Well.  The first generation Transit Connects had some deficiencies, so Ford gave it a meaningful update last year.  I recall Nissan being next with the NV2000, also an FWD four-cylinder compact van with some Renault in its roots yet thoroughly redeveloped by Nissan for North America.  And they sell well too.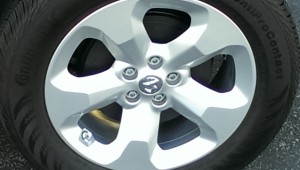 So it wasn't a huge surprise that as Italy's FIAT has continued to seek out and create synergies between its many European product platforms, and Chrysler's product lineups and needs in North America, that various Fiat vans would be reconstituted as Dodge (nee RAM branded) vans.  The full-sized Promaster was first just a few years back, and appears to be finding traction in the market.  And new for 2015 was the smaller Promaster City.  Like its big brother, the City is a Fiat van redressed and remodeled for our consumption.  And its a dandy, handy, ultimately friendly and useful vehicle.  You can get the plain wrapper, windowless box on wheels version, or a City configured with a second row seat, carpeting, side windows, and more passenger friendly trim inside.  The top trim variation for that is called the City Wagon SLT.  Which is what my tester had, perfect for a 1500 mile, Northern California round trip I had planned.  You can peruse the window sticker below to get the scoop on every bell, whistle, and do-funny that my tester was equipped with, but I promise you its interconnectivity and technology is as up to date and fresh as tomorrow.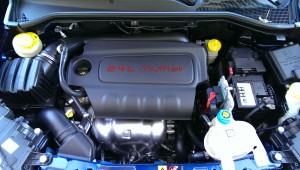 Its also a thoroughly modern package, with front-wheel drive (very efficient packaging for a small van, so no giant rear axle nor driveshaft need apply).  A smooth and relatively powerful Fiat Powertrain, essential Alfa Romeo, 2.4-liter fuel injected inline four cylinder engine (there is not lower base, nor optional up engine offered, or really needed).  The 2.4-liter I-4 rates 178 horsepower, and 174 pounds feet of torque — easily outpowering the Ford and Nissan compact vans, backed by a versatile 9-speed automatic transmission.  The box is smartly conceived too, with sliding doors on either side, and 60/40 split rear doors.  My tester being a passenger/cargo combo van, had a wide and relatively comfy second row seat, plenty of side glass, carpeting, and a headliner.  Fit, finish, assembly and materials quality are of high quality, better than I might have initially expected.  Box van tend to be noisy inside, creating an annoying drumming back in the cargo area, but that type of NVH was nicely quelled by the aforementioned carpet, headliner, and sound deadener.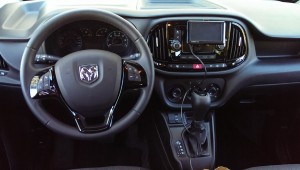 This truck is a jewel to drive, easy to handle, and super easy to park.  The engine is more than up to the job, and even though I expected a 9-speed trans to constantly be hunting up and down for the right gear, instead it offered a gear ratio for every occasion, smooth operation without constantly up and down shifting when I didn't want it to.  There is no manual trans offered, and none needed.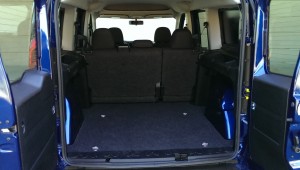 The example I had looked great in its deep, shiny Blue Night metallic paint over a gray/black interior.  This one wasn't cheap at $25,655 to start, and $29,015 all in.  But again it was the top model, and fully loaded with everything you could pack onto it.  More cargo minded examples, sans some of the pricier options, would cost much less.
This will make a superb every day car for many people and families,  plus a worthy workmate who needs to "live" in their car for hours on end as both cargo hauler and mobile office.  I would own one in a minute, and FCA has done a superb job of configuring this previously world market platform for American needs and tastes.  Although there is not such thing as the perfect car, I can honestly say I didn't find anything about the Promaster City that I didn't like.
A extremely useful, fine driving box on wheels that'll do a lot (with very respectable tow and payload ratings), is easy to drive, relatively good on gas, and well built.  Families should consider one too, since it holds a lot more stuff than your average crossover, and still has room for the gang.  Score RAM!