I love full sized vans, particularly Ford Econolines. Now the outgoing 2014 version of the Ford E-Series (nee Econoline) has been around a while and served well, but Ford has been long planning to replace them with a lineup of commercial level vans that are more fuel efficient, more cost effective to build, and can do as much or more in a more modern package. So comes the new Transit lineup. You may be familiar with the Transit vans Ford sells in Europe and other world markets, and even though these new North American Transits share the name, and somewhat resemble, the "international" Transits, they are very different; developed exclusively for the North American market, with our needs, roads, and drivers in mind.
The new Transits share practically nothing with the old E-Series vans, save for the wearing of Blue Oval Badges. The new chassis architecture is now a unibody design, still rear wheel drive, and is offered in a dizzying array of wheelbases, box lengths, payload ratings, and roof heights. There's lots of clever design work packed into them, such as super wide opening rear box doors, and interior floors, side panels and roof panels filled with "weld nuts" — in other words, nuts that are welded into the seams of the body panels that allow for the mounting of all kinds of racking and other stuff, preventing the need to drill holes through the panels to mount stuff. Smart!!! Since the weld nuts are part of the body panels prior to corrosion proofing and painting, you don't mess up the body's built in rust protection by having to bore holes through the metal.
Even on "base level" models, the standard equipment levels are high, including rear view backup cameras and screen, great for a big van that its tough to see behind.  I also like the smattering of 12V plug in power ports spread around the cabin.
Three powertrains are offered; a standard 3.7-liter naturally aspirated V-6, a twin turbo Ecoboost V-6 right out of the F-150, and a new inline 5-cylinder turbodiesel that offers a ton of low end torque and outstanding fuel economy. No more V-8s, at least for now, as Ford claims these three powerplants can meet any owners towing and cargo capacity needs and deliver better fuel mileage and lower emissions in the process.
I was skeptical in that regards, so I drove all three configurations, each backed by an automatic transmission. NO manual trans are offered or needed. The nat asp 3.7 has plenty of punch, but sounds a little thrashy at mid to high rpm.  For some reason, the EcoBoost version of virtually the same engine is much smoother and sounds better, plus it's downright fast.  I also did time behind the wheel of the I-5 TDI, and its a jewel.  It has that wonderful, soothing low level diesel rattle at idle that sounds like power to me.  And it runs beautifully, smoothly boiling out lots of low to mid range torque and adequate upper end urge, with no smoke or smell or noise or other old school diesel bad habits.  Among the three, this would likely be my personal choice were I buying one of these fans.
I am also impressed at how rattle free these big boxes are; old school vans are usually a bit noisy and rattly inside, but not these.  The structure is drum tight, the cabins are comfortable, and the instruments and controls logically designed and laid out.  I could absolutely drive one of these every day and be happy doing so.
There are already several companies that produce a wide variety of up-fit equipment for these vans, from shelving and racking to stakebed truck bodies.  And Galpin Auto Sports has already built a few of them into Lear Jet like Limos with fabulous seating, and high tech infotainment on board.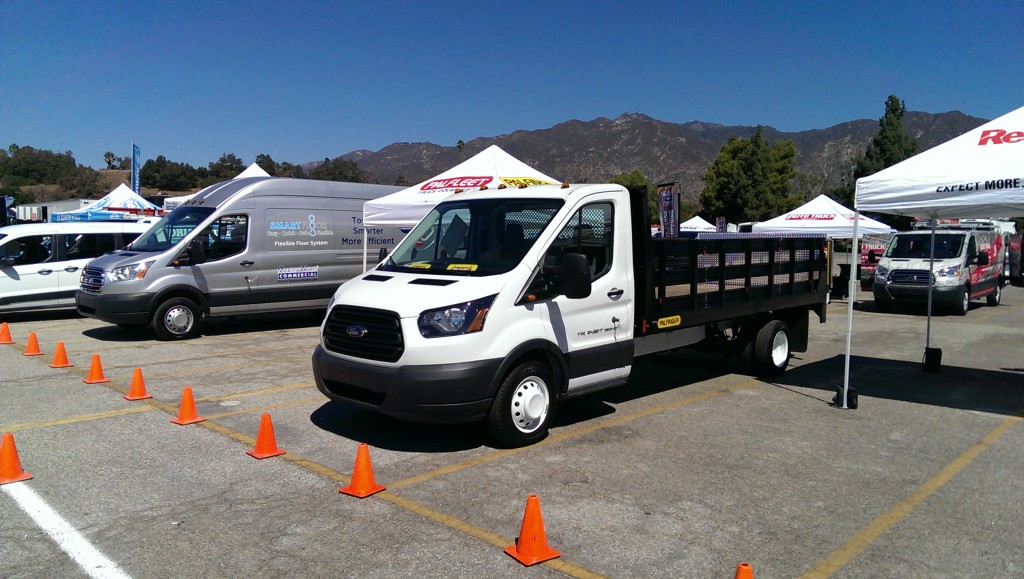 I've of course not been able to put one of them through 100,000 miles of daily testing with a full payload, but I have confidence that these trucks are built well and tough, and should be able to handle any task you have in mind or need for them.  Higher build quality, more options, choices, and capabilities, plus greater efficiency, than the models they replace sounds like a good deal to me.  And they are handsome, and great to drive.  I'm thinking some mag wheels, tinted windows, and orange shag carpeting, and its 1974 all over again.