I will disclose to you that when General Motors came out with its new lineup of mid-sized 3-row seat SUV Crossovers some years back (the Chevrolet Traverse, the Saturn Outlook, the GMC Acadia, and the Buick Enclave) I wasn't all that crazy about them. The Buick was the nicest, but the others left me flat. I credit GM for making the investment to develop a dedicated chassis architecture/platform for this vehicle, it not having been punched or pulled out of a truck design, or merely an over inflated mid-sized car with an SUV style body and all-wheel drive added, but I felt it was only half baked. The vehicle seemed a good size, with adequate interior room, and not bad looking, but the interiors were just so-so (except for the Buick's). GM had been boasting how fabulous its then new mid-sized all aluminum DOHC V-6 engine was, and while it put out adequate (but no more than that) power, it felt somewhat listless and wasn't nearly as smooth and sophisticated in its manners as most of the offerrings from Germany or Japan. The cars didn't ride that well, and felt heavy and ponderous on the move. Can't say I was a fan, but when I drove the much updated and remodeled Traverse at a recent Chevrolet product drive program, I came away with a whole new feeling about this platform, so I was anxious to drive this top line, fully loaded Acadia.
And then spent the following week with Infiniti's logical competitor to it, the new QX60 3.5.
Both testers arrived in my driveway fully loaded, with every imaginable touch, convenience and option. The GMC also got a substantive restyle with its remodel, and looks great.
The 3.6-liter V-6 has been tuned up and smoothed out, now good for 288 horsepower and a meaningful 270 pounds-feet of torque. It's paired to a much revised automatic transmission which reads the engine's mind beautifully, shifting positively and at just the right time.
The Infiniti cranks out a bit less power than the GMC's on paper but I couldn't feel any meaningful performance disadvantage. The Infiniti's 3.5-liter V-6 is rated at 265 horsepower and comes attached to a Continuously Variable Transmission, or CVT as they are called. The idea behind this transmission is that it doesn't have the stepped "gears" or ratios (first, second, third, overdrive, etc.) as does a conventional automatic and is supposed to ultimately be more efficient. The sensation is slightly different than what you might be used to; step on the gas and the engine revs up to a certain rpm where it puts out good power, then the transmission adjusts seamlessly and feeds in the power without "shifts." It takes a little getting used to but it works, and it's a technology that Nissan is very committed to, so you'll see more of it, and CVTs are very common on hybrid vehicles.
Both cars have great leather-lined interiors, the GMC a bit more traditional with more chrome accenting and handsome, authentic looking plastic wood trim.
And talk about electronics, creature features, and safety gear! World class in both cases.  Both nav systems and rear view cameras worked flawlessly, and I see a lot of value in Infiniti's AroundView camera monitor system that uses several cameras to give you a view on all sides of the car to make sure you don't bump into anything or anyone while parking and backing. Ingenious stuff that will save lives and damage.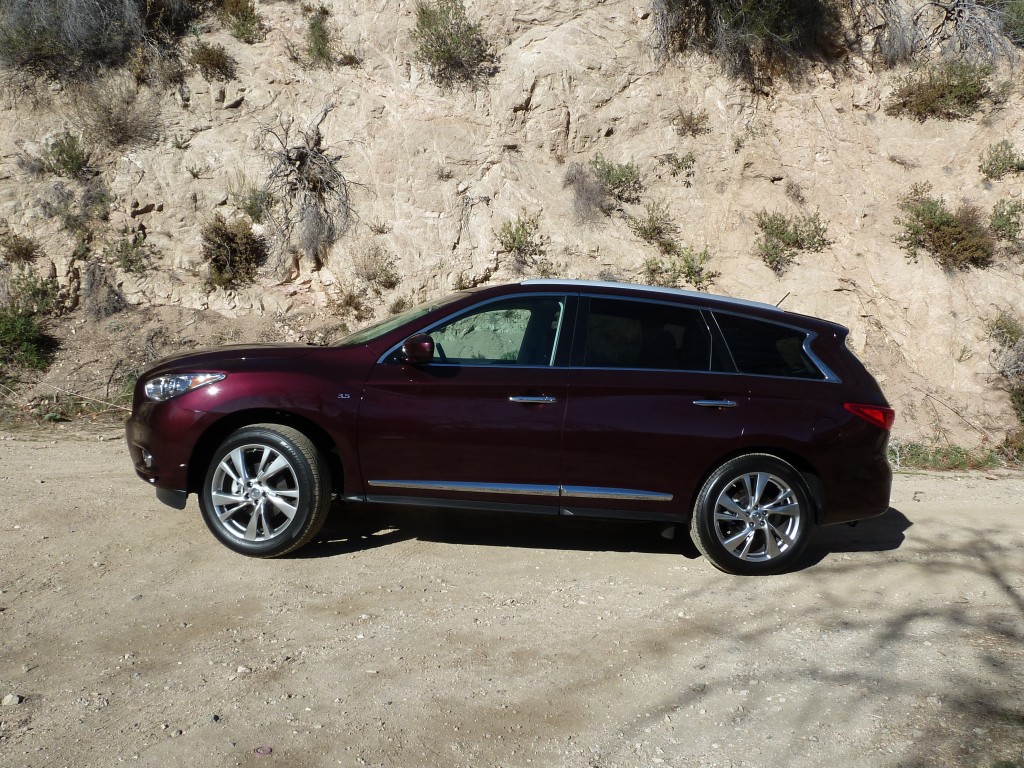 You'll be happy driving either one, as was I. The Infiniti feels a bit more nimble to me, with very surefooted steering and handling, but the GMC needs or makes no excuses. Both have plenty adequate power and good driving manners. Of course the wheels, tires, and brakes on these top of the line models are all massive, so they stop and corner well for being relatively large, heavy crossovers.
Price is about a wash. The GMC wearing a $50,335 sticker as tested, and the Infiniti costing about the same.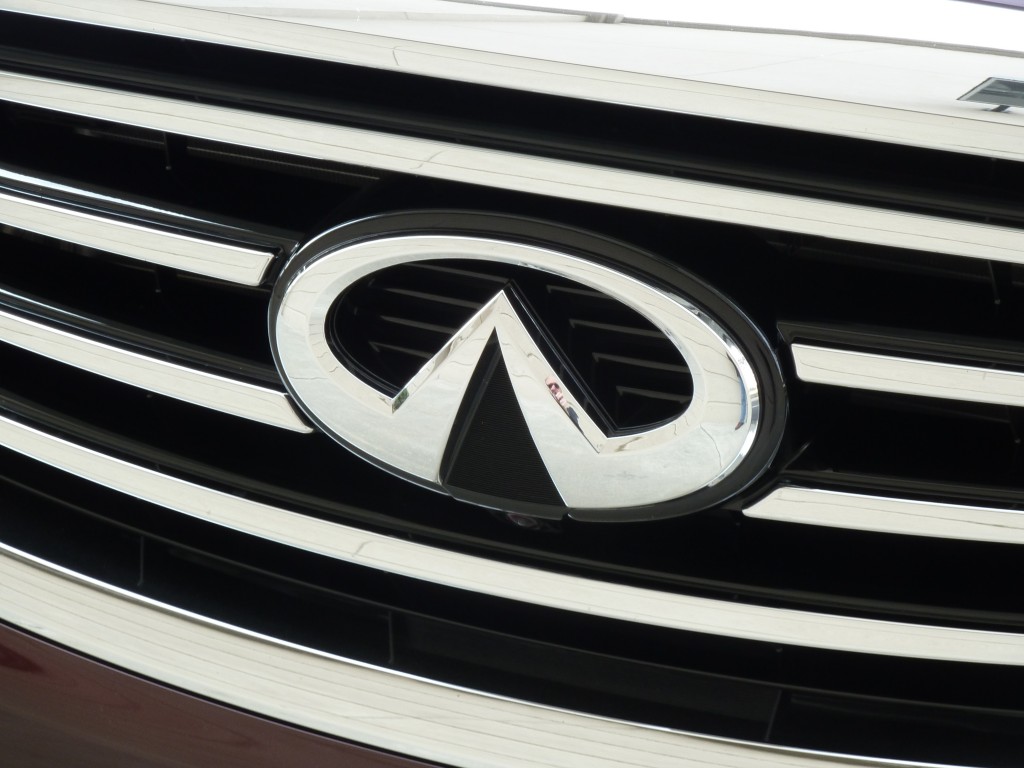 Which wins? Tough call, but for me it's the QX60 if only by a nose. I liked its sportier handling just a smidge better, but otherwise it's about a toss. My recommendation to you is to drive them both, and buy the one you like best and/or can get the best deal on; you won't go wrong.
GMC and Infiniti have raised the art of the mid-large sized luxury crossover to a very high state, these are handsome, elegantly appointed, comfy, safe, and high tech transport for today's times, and will address nearly any transportation need you have, and seat eight in style.