Model: KatieJo. Photos with model by Mel Stone; non-model photos by Kirk Gerbracht
The BMWs I first grew to love were cars like the 3.0CS, and numerous 5 Series machines (especially the second series first gen M5) were powered by great, smooth and lusty sounding inline sixes. Besides iconic sport sedan/coupes like the 2002, I believe it is these wonderful I-6s that ultimately made BMW so popular in this country (and successful on the world's racetracks). My own BMW was a 1995 525i that was a joy to drive and never gave a minute's trouble. This engine did it all; it had power, it sounded sweet, was smooth, reliable, and delivered pretty fair fuel economy too.
So it was with mixed anticipation and that I approached the new 328i, powered by BMW's also relatively new 2.0-liter "TwinPower Turbo" I-4, rated at 240 horsepower. Most of the great 3 Series of the last several generations are powered by those aforementioned straight sixes and one pretty fabulous V-8 too. In spite of the name, the TwinPower Turbo does not wear two turbochargers, and "EfficientDaynamics" is the name of its game, blending overall efficiency in a smart combination of power, fuel economy, and low emissions. This schnazzy new high tech motor – backed in this car by a 6-speed manual transmission–came wrapped in a new 3 Series – never a bad thing – which is ever so slightly larger than the generation before, and in every other way unmistakable as a new 3. My tester had about every option you can throw at a four-cylinder 3 Series; it was finished in dazzling it white with a Dakota Coral Red/Black leather interior, based at $34,900, and was option-loaded up to $43,670. Its best, and most expensive option, is the Sport Line package which added 18-inch alloy wheels and a bunch of other stuff for $1050 — Road trip!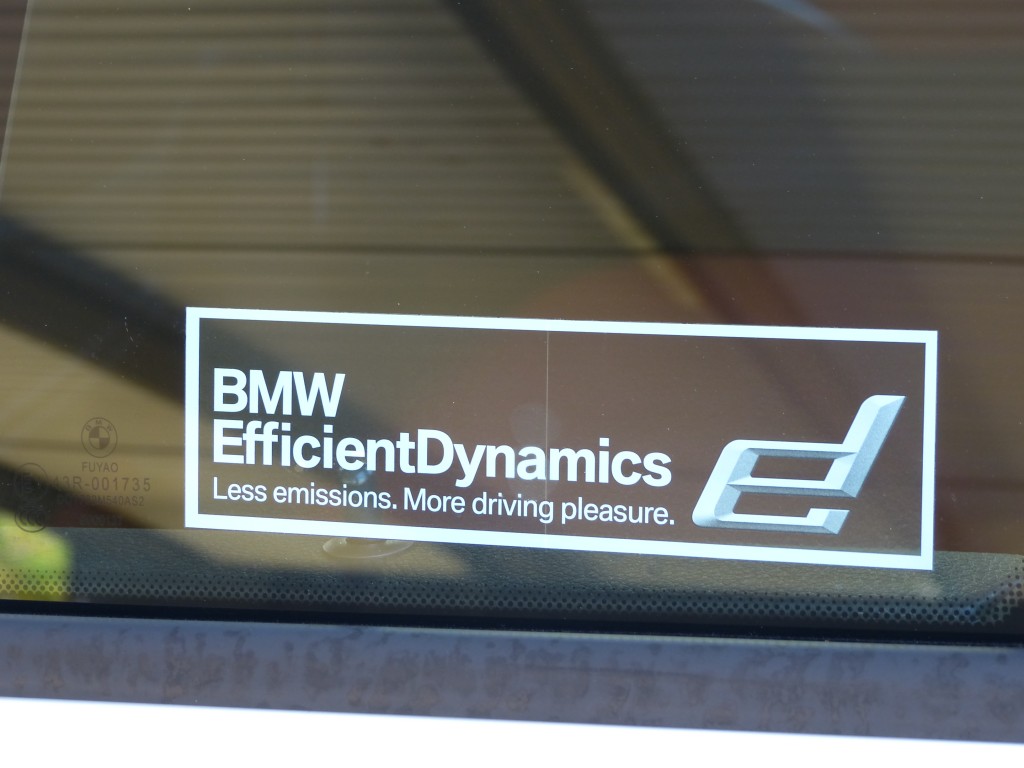 I needed to drive to Phoenix for a car club convention and speaking engagement, and this seemed like just the right ride. Gas prices were already hovering near five bucks a gallon, so the BMW's 34 mpg EPA highway rating was most welcome. More about that in a moment.
The TwinPower Turbo four does what's asked of it, and performs as promised. It idles with a somewhat metallic fizz, and doesn't, to my mind, match those lusty BMW straight sixes in terms of torque output or tonal quality. But it does move and sounds sweeter, once you get into meaningful turbo boost, say from 2500 rpm on up, it really scoots. Road & Track got a 0-60 time of 5.4 seconds and I believe it. BMW shifters aren't always fabulous, but this one is precise and direct. The gear ratios are perfectly matched to the engine's powerband. And I love the way this car handled. Turn the wheel, and the car turns in with alacrity and confidence. The engine sits well back in the engine bay for a front-mid-engined balance that keeps the nose and tail both planted through any kind of corner. Several recent 3 Series models have been criticized for a lack of steering feel; not so this one. It communicates its plans and its contact with the road, yet it always knows you're the boss. I can't imagine a compact/mid-sized sport sedan handling much better than this one (OK, well maybe an M3 or a C63 AMG or RS4). The Bimmer also rides beautifully, proves super comfortable, and delivers adequately on its sport luxury promise. Another thing that BMW, Mercedes, Porsche, and Audi have always had nailed is high speed stability. There's something to be said for all that "autobahn breeding" that these cars get during development, and this car felt rock solid and straight as a string any time I tested the far reaches of the speedo and tach.
Enhancing the fuel mileage and emissions picture are features like Auto stop/start, which, like most hybrids, shut down the engine at stoplights, refiring it when you move your right footie from the brake to the gas pedal to take off again. The first time or two it happens, you might be startled, but you get used to it, and if you just don't like it, you can deactivate the system.
What kind of mileage did we get? Just check out the trip computer photo. I made no serious attempts to "hyper mile" the car on our drive, meaning no drafting of big trucks, or coasting down long hills, turning off of the AC, or any other artificial tricks attempted at increasing fuel economy. In fact we drove it normally to hard. The result for our Phoenix to LA run home was an impressive 37.3 miles per gallon. Near hybrid mileage with a lot more fun and performance.
The new BMW isn't as lusty as those old sixes, but it's a lot more efficient, and if you want a new 3 Series, I wouldn't tell you not to get one. Just for comparison sake, I'd like to sample an identical car with an automatic transmission, since an auto's torque converter system tends to work super well with a turbocharged engine. But fear not; the 3 Series is still a world class car, and driving machine, and if you want one, I suspect you'll love it.
more pix….