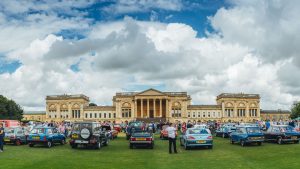 Hagerty Collector Car Insurance hosts a unique spin in the UK on its completely charming Concours d'Le Mons that we so enjoy here in America during Monterey Car Week.  I thought you would enjoy these charming photos and news release about it from Hagerty.  — MS
AND THE AWARDS FOR THIS YEAR'S MOST EXTRAORDINARILY ORDINARY CARS IN THE UK WENT TO …
Hagerty names UK's best and blandest
Buckinghamshire, England (July 25, 2017) – A thoroughly pleasant 1983 Datsun Sunny 1.5 GL took home Best of Show honors last weekend at what is always the nation's most eagerly anticipated car show, the Hagerty "Festival of the Unexceptional."
A record number of more than 2,000 enthusiastic visitors attended the fourth annual festival, which celebrates "the cars that were the workhorses of their day: the base model saloons, hatchbacks and estates that were sold in their millions between roughly 1968 and 1989, and are now so rare," said Angus Forsyth, managing director of classic vehicle insurance specialists for Hagerty International. "I just love overhearing enthusiasts commenting that they haven't seen one of those in years, the cars that we all remember from our childhoods."
The light-hearted Concours d'Ordinaire was held for the first time within the magnificent grounds of Stowe House, Buckingham.
With the bland leading the blind, the hard-fought judging of the 50 vehicles displayed on the immaculate Festival of the Unexceptional lawn saw the five-strong judging panel of mundane motoring masterminds admiring a selection of taupe, primrose yellow and lilac colored family saloons and estates, many equipped with rubber flooring, squidgy vinyl seats, no radio, manual wind-up windows and 'genuine' faux Formica wood inserts.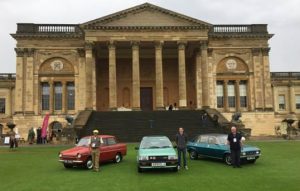 Mark Ashbridge, owner of the top prizewinner, described his 1983 Datsun Sunny as "a pleasant conveyance," perfectly summing-up what Hagerty's Festival of the Unexceptional is all about. The judges pondered that this was possibly the very first time in history that a Datsun/Nissan Sunny has won anything!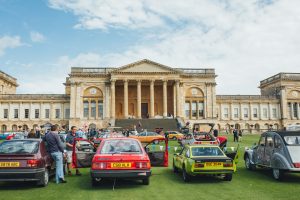 Other winners included:
Second Place: 1972 DAF 33 (Richard Holness)
People's Choice: 1972 Austin Allegro 1750 SS (Colin Corke)
Best Dressed: Simon Martin (Volvo 740 GL)
Feast of the Unexceptional/Best Picnic: John Usher (Austin Maestro Special)
The second-place 1972 DAF 33, entered by Richard Holness, had originally been owned by an elderly gentleman who kept it for 40 years, with the People's Choice award winner – a 1973 Austin Allegro 1750 SS – being the oldest surviving production Allegro in existence, appropriately owned by Colin Corke, a vicar from Longbridge.
Honorable mentions were also given to a 1971 Fiat 128 Estate, a 1971 Volkswagen Beetle, owned by the same participant since new, a 1977 Lancia Beta 1600 Berlina, and a 1973 Simca 100 GLS Estate, believed to be the last road-worthy example in the UK.
A small selection of cars was plucked out of the Unexceptional car park, including a late 'souvenir' edition of a Saab 96 L V4, plus a battered Alfa 75, hand-painted in pastel green, this Alfa Romeo being Jeremy Clarkson's entry into the 2008 Auto Italia concours, part of a "Top Gear" TV challenge.
The fascinating Festival of the Unexceptional visitor's car park was no less of a show. Over 200 gloriously ordinary and long-forgotten vehicles filled the rows, each telling a story of its own. These included examples of a rarely-seen Fiat 132 2-Litre, an immaculate Bedford CF van, a Talbot Avenger, Vauxhall Royale, Austin Ambassador, Honda Quintet, Lada Riva, plus a trio of Hyundai Stella saloons, making one section of the Festival parking area look like a 1980s-mini cab rank!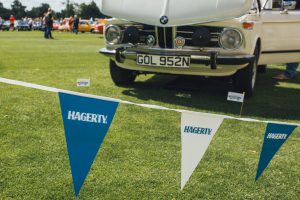 The date for the 2018 edition of the Hagerty Festival of the Unexceptional will be announced early next year.
Please don't leave, more car photos just below…