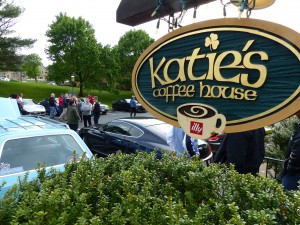 You know by now that I love Cars and Coffee events, and have been to many of them around the country. If you are heading Virginia or Washington DC way, this is one you must visit if you're there on a Saturday morning.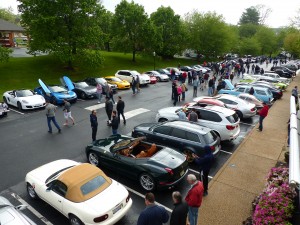 The epicenter is a little coffee, bakery and sandwich place called Katie's Coffee House which sits in a large office and retail complex in Great Falls, Virginia. The buildings are low rise, low key but attractive, and there's plenty of room for everything, plus plenty of "civilian" parking if all you have is a rental car. Otherwise it's "run what ya brung," with a great variety of cars and friendly folks. I've been twice now and enjoyed myself a bunch both times. This is one of those great events that began with about ten cars and now regularly draws many hundreds.  It had rained a little the night before I was there most recently, and that kept a little of the crowd of cars away, but not enough to kill the deal.  Still worth attending even if it was 50-75 cars down from normal.
I'm impressed with the quality and variety of the cars on hand, with truly something for everyone. And fortunately, the food and coffee at Katie's is terrific.
Here's the scoop on details and directions:
http://katiescarsandcoffee.com/
with many more photos just below.