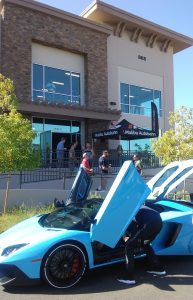 All of us seem to be always searching for that ideal car storage solution.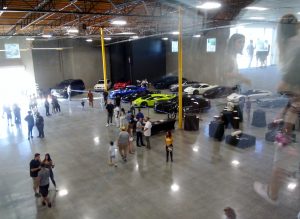 A relatively new company in the automotive events, products, and lifestyle space is Auto-Alliance, which has just opened a new vehicle storage and concierge facility in Moorpark, California, an hour or so north of most of Los Angeles.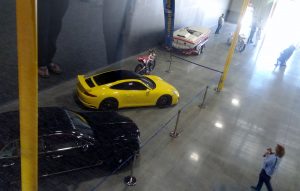 This amazing space isn't where you buy your own "car condo" although that's an attractive option for some.  The current Moorpark property consists of an airy, high ceilinged 20,000 square foot building in a handsome, new industrial complex, where you just rent space; there is no ownership option, and you pay by the car by the month.  It's a big beautiful space, and offers 24/7 security, fire monitoring and fire supression systems.  There's also a small retail space there where the company hawks branded goods, wrist watches and some other cool car goodies, plus a large mezzanine clubroom that overlooks the main storage floor.
The property also offers a variety of "concierge" type services; you can keep your car on a trickle charger while its stored.  A-A also offers dusting and washing programs.  You can ask them to start your car and let it run up to full temperature if that's part of your long term storage regimen.  They will transport your car to service appointments, car shows, or to you at the airport if that's what you wish.  They also can coordinate on-site detailing, window tinting, and a variety of other services if that's what you'd like.
Another important aspect of what A-A is selling (or renting) is community with other like minded car owners; you can meet up there with your friends, hang out at the property, or use it as a gathering point and launching pad for a day's drive or group trip.  Its an innovative idea, attempting to create a community around the property and the cars stored there.
There appears to be a good deal of benefit to this storage situation, although its not inexpensive.  There are various agreements you can sign up for, monthly, plus discounted rates for 6- and 12-month contracts, but at the end of the day it's at least several hundreds of dollars a month, with some of the services costing extra.  Only you can decide if this is a good deal for you or not.  It's certainly kinder on your car than just leaving it parked outside with or without a cover, or in a damp dirt floored barn.  The property is beautifully built and finished, and immaculate everywhere.
Understand that I have no skin in this game, as I'm not an owner or investor in this company or property, just simply passing the info on to you as an interesting story.
Learn more at:
Auto-Alliance
868 Patriot Dr Unit A