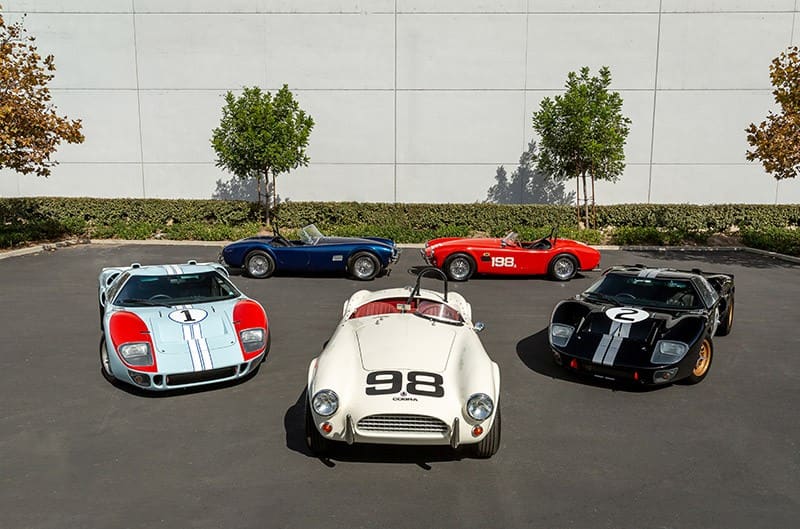 Most of us saw and presumably enjoyed the film Ford v Ferrari, which in some world markets was named Le Mans 1966. Sure, you can quibble with some of the factual accuracy of this big-screen, big-drama racing epic, as true fans know not everything happened as portrayed. And some of it didn't happen at all. But in the end, the producers got the big stuff correctly – and what about those cars!?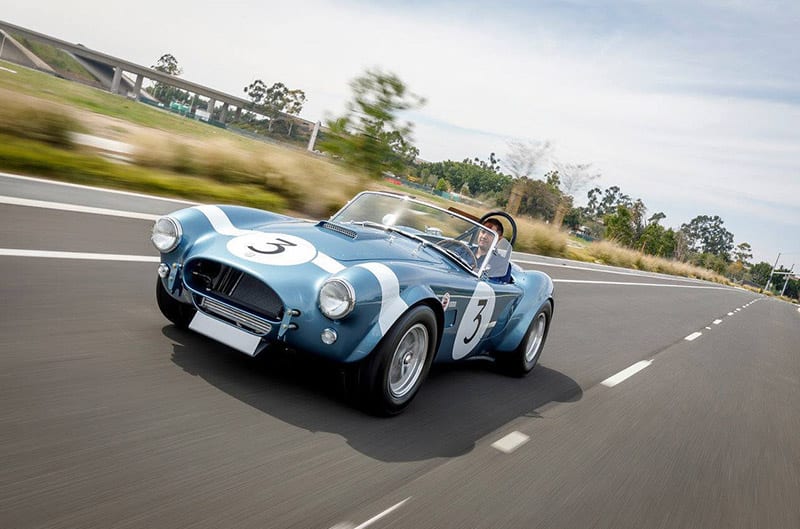 Besides the marvelous cars we got to see and hear in surround-sound, the set recreation in the movie was marvelous. Making any race track look like Le Mans is a major undertaking. Making one look like Le Mans in 1966 was an even bigger one that had to also include every car seen, period-correct apparel, signage, the grandstands and such. Matt Damon and Christian Bale did more than credible acting work portraying Carroll Shelby and the mega-talented but oft-times mercurial Ken Miles.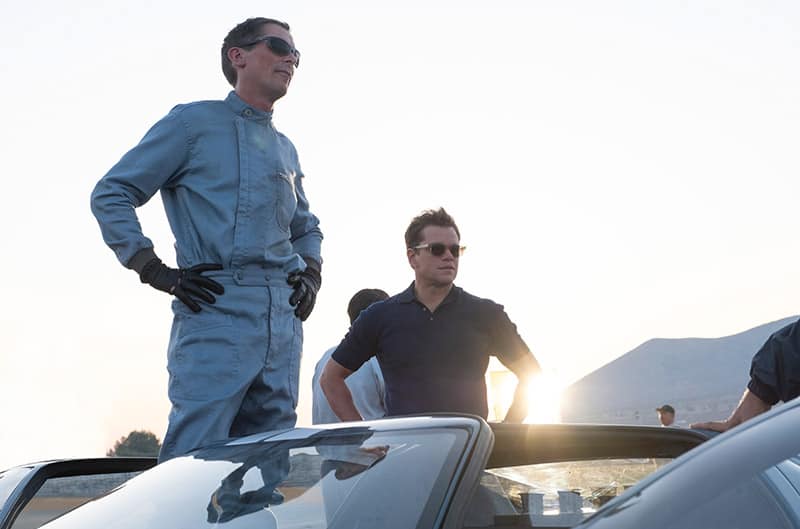 Among the many things Ford v Ferrari accomplished was to (re)introduce Ford and Shelby American's epic chase for total domination of Ferrari, and everyone else, at the 24 Hours of Le Mans in the mid-60s, as well as the rest of the world's sports car and endurance racing landscape. Shelby Legendary Cars provided all of the Cobras and GT40s you saw on that big screen, and still had a few on hand when we visited to ask, "Can we drive them?"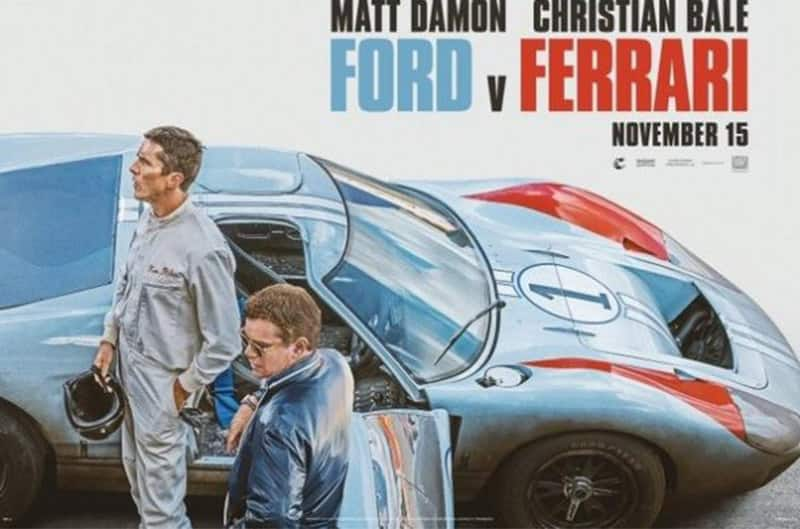 "Sure, no problem," said the ever-jovial Lance Stander, majordomo of SuperFormance, Shelby Legendary Cars (SLC), and Hillbank Motor Corporation.  SuperFormance, based in South Africa, is the company that produces all of the current continuation Cobras under license for Shelby American. Shelby Legendary Cars is the North American company, based in Irvine, California, that imports them, and handles distribution to Shelby licensed dealers. And Hillbank is one of those dealers, owned and operated by Stander. And in case you may wonder, there is no Mr. Hillbank. The company was named after one of the family's previous dealerships in South Africa – because it sat on the "hill" near the "bank" of a certain river. (As good a name as any, we say.)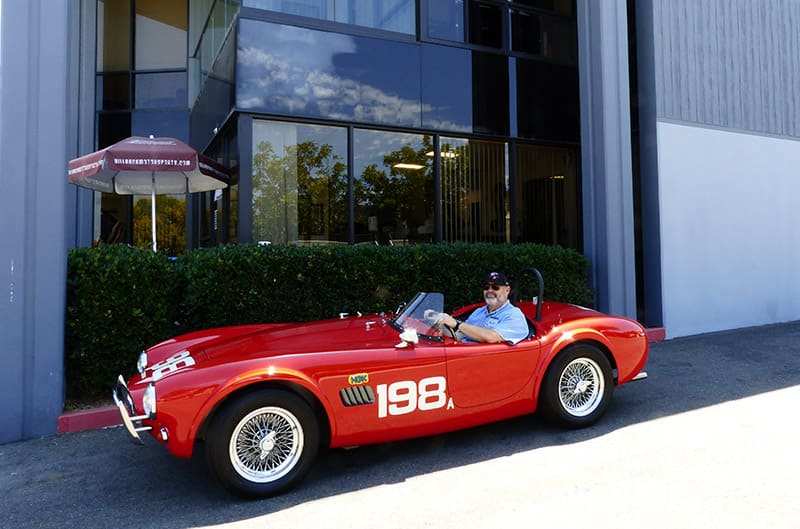 SLC provided nearly 30 different properties to FOX in the production of Ford v Ferrari.  We say properties, because not all of the items were complete and running cars.  Some were partially built body/chassis, other simply non-running bucks. One was a Shelby Engine Company big-block 427 that you only saw on screen sitting on an engine stand. Of course most of these properties were MkII GT40s to replicate the cars that you saw racing in the movie at "Le Mans," not to mention the countless Cobra roadsters that Bale raced and Damon drove. You also saw a Cobra Daytona Coupe or two flash by in various shop scenes. All in all, the movie included an overwhelming bevy of fast Ford and Shelby eye candy.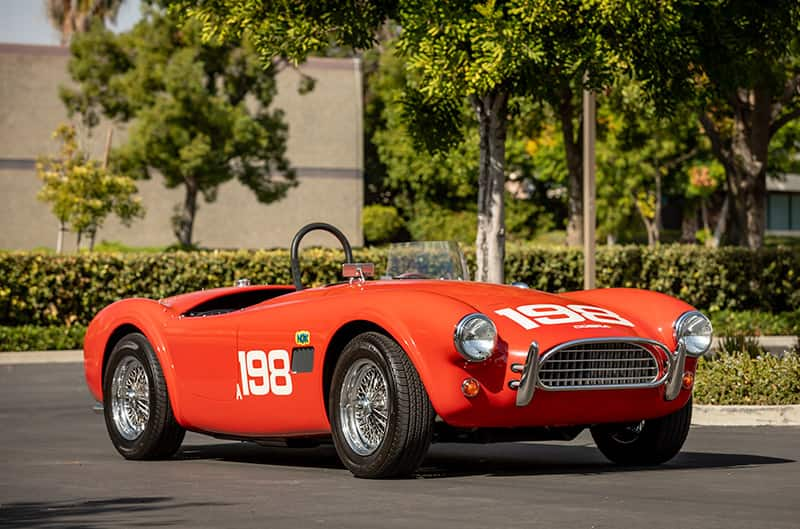 Besides a slow walk around SLC's sprawling warehouse and shop (where we must have drooled over every car on the property), our first ride was in a SuperFormance Shelby small-block Cobra that very authentically replicated the red Cobra raced by the late, great Dave MacDonald, a stellar driver that played big in Cobra history: David George MacDonald (July 23, 1936 – May 30, 1964) was an American road racing champion noted for his successes driving Corvettes and Shelby Cobras in the early 1960s. In his meteoric four-year racing career, MacDonald competed in 118 races, with 52 victories and 75 top-three finishes. At the beginning of the 1963 season, Carroll Shelby hired MacDonald away from Chevrolet to drive his Cobra roadster.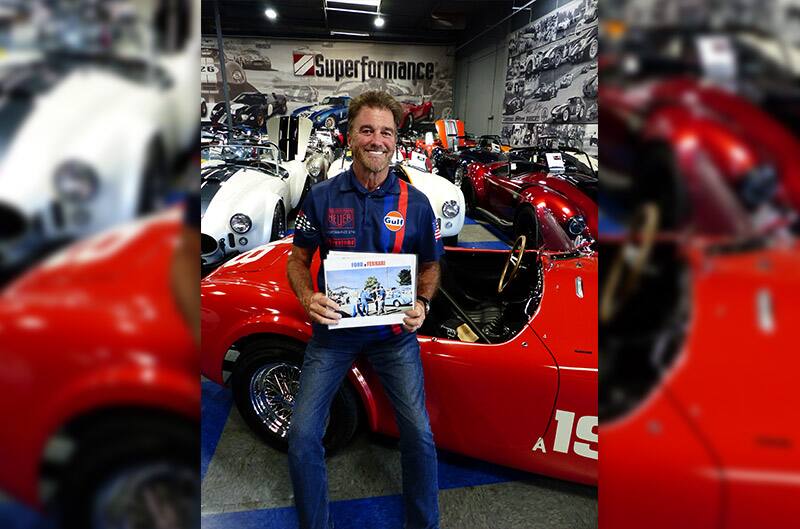 His first outing for Shelby American was February 2–3, 1963, at Riverside International Raceway and he drove Cobra CSX2026 to back-to-back victories. These were the Cobra's first wins. Teammate Ken Miles finished second both days in Cobra CSX2002. On February 17, 1963, MacDonald finished fourth in Cobra CSX2026 at the FIA Daytona Continental to give the Cobra its first top-five finish in international competition. Shelby retired the 260 cubic-inch V-8 engines after this race and debuted the new Ford 289 engine at the SCCA sanctioned races at Dodger Stadium on March 3-4, 1963. MacDonald again won both days in Cobra CSX2026 for the 289's first wins. At the age of 27 he was killed in the dreadful second-lap accident at the 1964 Indianapolis 500, cutting far too short what would have assuredly been a brilliant career.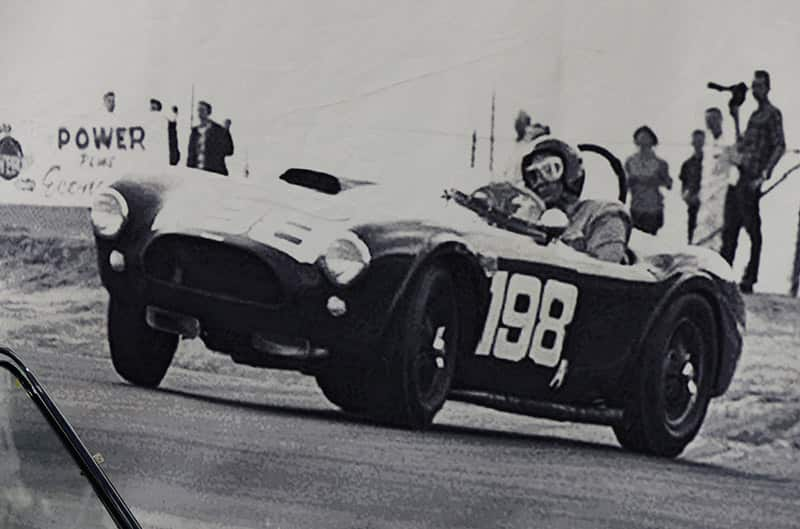 Our tour guide for this particular SuperFormance machine, which got a lot of screen time in Ford v Ferrari, was Richard MacDonald, Dave's son, and this red runner is his personal and everyday car. It looks, smells and feels like a real Cobra in most ways. The proportions and bodylines are spot-on (something many kits and continuation cars miss big). This car is really painted charcoal gray, but was wrapped in bright red for the film. It runs an essentially stock 5.0-liter Ford crate motor, backed by a Mustang-spec 5-speed manual transmission. The primarily substantive differences between MacDonald's #198 racer and this red machine are that the latter runs a street exhaust system, and the race car was equally bobbed of its bumpers. Notice the current car's license plate – DMAC198 (for Dave MacDonald, car #198). After our walkraound and a few details, he tossed us the keys and said, "have fun."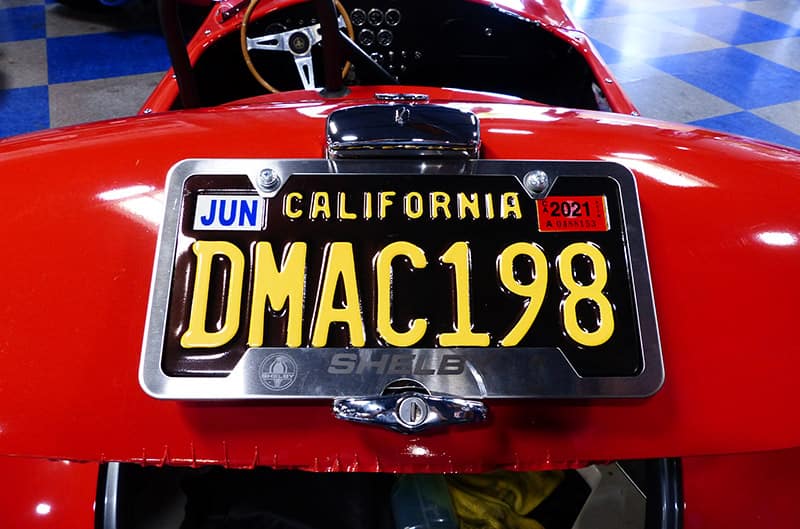 In the event you wonder if today's continuation Cobras drive and feel in any way authentic to a real one built in the '60s, the answer is that they absolutely do.  This one in fact drove very much like an ostensibly brand-new 55 year old car. Naturally, modern tires are better than anything the back-in-the-day-bias-plys could ever dream of, and all the bushings, bearings and everything else is fresh as well, and assuredly the chassis is much stiffer structurally. The 302 fires with no more drama than starting up any '65 Mustang. The small-block warms quickly; we depress the light but linear clutch, select first via the "shorty" shifter common to 260 and 289 Cobras, feed-in a little throttle, smooth out the clutch, and its away.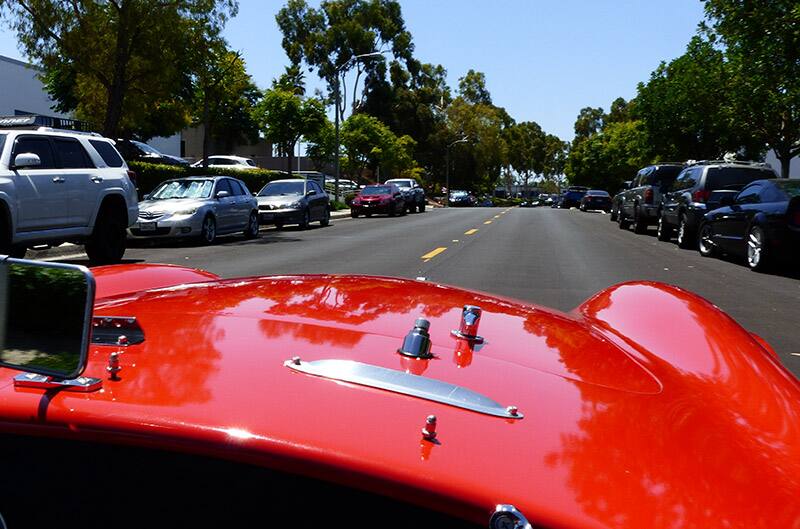 Of course the view out of the compact roadster body and the sounds are very authentic early Cobra. Honk on it and it really goes – of course not as seat-pinning as a 427 Cobra would be, but remember that this early Cobra is a quintessential sports car, plenty fast — yet not intended to be a fire-breather (although SuperFormance will build you a monster snake if that's what you want). Even though the shifter wears a knob containing the 5-speed's shift pattern, it retains the proper looking, although non-functional, reverse lockout T-handle common to 4-speed Cobras and Mustangs of this era. The sound is period-perfect, wonderful, rumbly and muscely/sporty but not over the top. Wind buffeting isn't as bad as you'd guess, and the car goes where pointed in very responsive, yet not oversensitive ways. Having driven several original early Cobras, we can tell you that this is what a fresh one feels and drives like.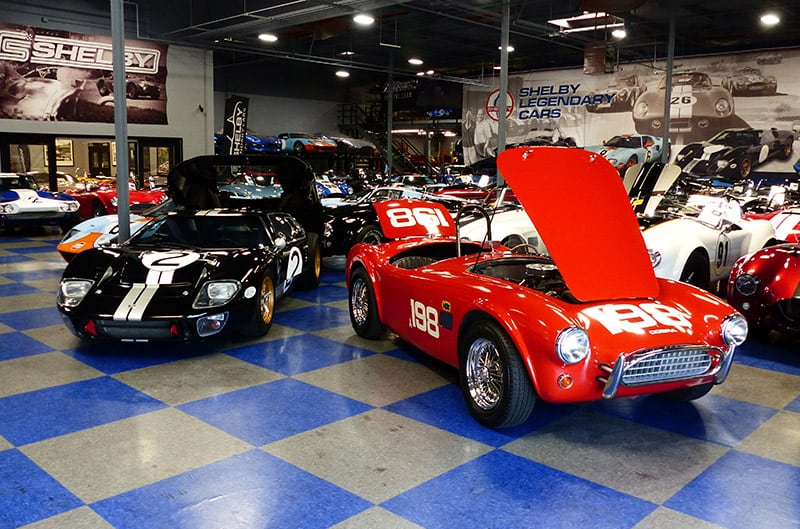 Besides working for SLC in sales and special promotions, it was Rich MacDonald's job to act as the on-set car wrangler during the film's production. It was his responsibility to deal with any mechanical issues that popped up, and to ensure that the right properties were in the right places at the right times to shoot each scene. He speaks very highly of Ford v Ferrari Director James Mangold, who really wanted every scene to look right. He also mentioned that when Mangold spoke, everybody on set listened, and oft times made the impossible happen. He speaks equally well of Damon and Bale, who he said, "are just the nicest guys, very respectful, and extremely professional." In fact, Mr. Cobra – Lynn Park – was charged with helping "train" and familiarize Bale and Damon with the Cobras, and how best to drive them.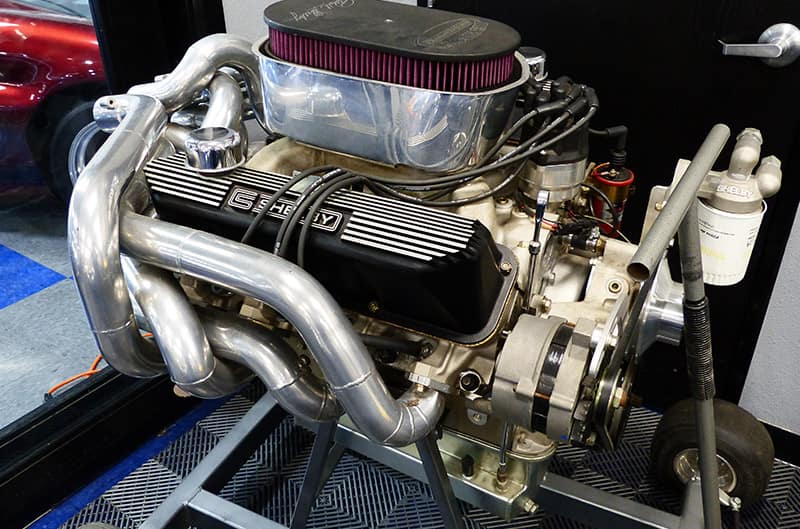 Our next order of business was the race-winning black "#2 McLaren/Amon-spec GT40" clone. We'll disclose that this isn't the exact chassis used in the film, but identical to it in nearly every way; in fact the actual car was on property during our visit, but already sold to a private owner, so we were happy to drive its virtual twin. This one runs a Windsor-based 427 exhaling through that famous "bundle of snakes" exhaust system that make any GT40 sound so memorable; this equal-length set of spaghetti pipes smooths out the syncopated sound of an American, 90 degree V-8 into the still devilish-sounding howl that defines these cars.  This car was original built for Carroll Shelby as an 85th birthday present, and puts the driver on the left side of the car with the shifter in the middle. It takes five pumps of the throttle, a twist of the key, and a thumb on the dash-mounted starter button to awaken the beast, which lights with a loud chesty bark. BAD KIT-TY.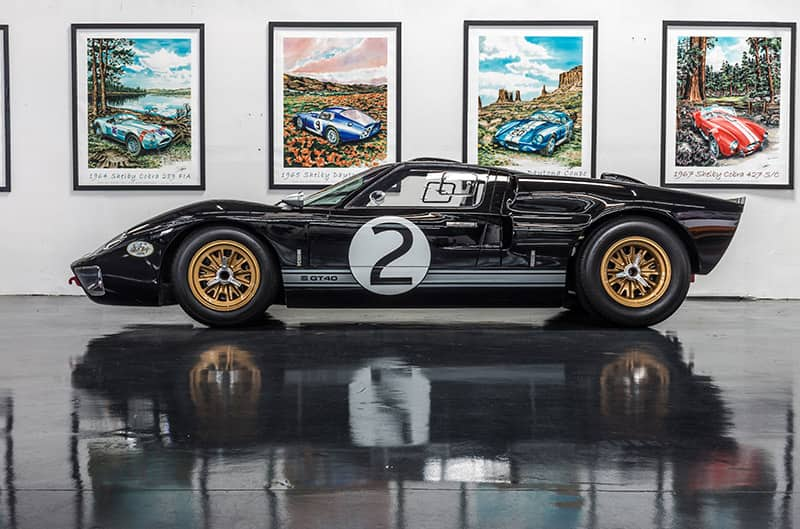 The only foot-long glasspack mufflers do very little to silence this beast, and given a somewhat aggressive camshaft, the idle is lumpy. Snap the throttle, however, and the engine (and tach needle) arc quickly, and the pipes explode with sound. This monster motor, which Stander said is "has been run very hard and is kind of tired," must still crank out 500-plus horsepower, good stuff in a car that can't weigh 2,500 pounds. The Windsor 427 is backed by a Z-F transmission, just like you'd find below the rear deck of a DeTomaso Pantera.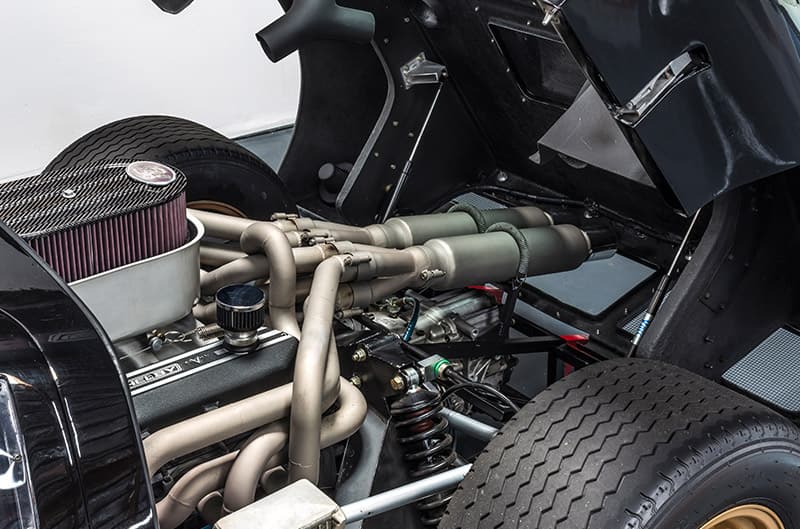 It takes some smooth throttle/clutch coordination to pull this black mamba away from a stop, but shifting is a relative snap from there. The steering is light once on the move, very direct, quick and equally communicative. Watch those driveways and speed bumps — a carton of cigarettes wouldn't slide under the front spoiler without touching, and anything stiffer than cardboard would scrape and do some damage. The brakes offer plenty of stopping power, but the pedal is hard as old oak. (Stander adds that the swap to a less-racy clutch is in the offing.)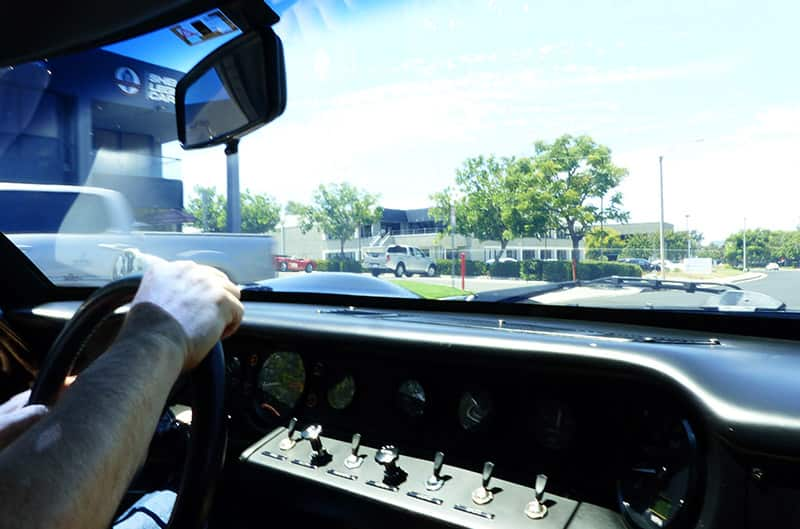 We unfortunately didn't have a chance to drive #2 on a track, but as much as we could we let it off the chain on city streets to confirm that it's not quick — instead genuinely race car fast. Stander adds with pride that a recent track day endeavor with the cast of Top Gear, saw the GT40 running numbers comparable to certain newer McLaren models, even on old-school Avon racing tires. And that's not against an old McLaren race car, but new-tech McLaren hyper cars. Meaning that this big-gunner Ford really works, and you simply can't deny the impact of weight-to-power ratios.

And the sounds?  Glorious, better and more direct than the incredible sound-mixing of the film. Remember the old saying, "Is it Live, or Is it Memorex?" At the wheel of this car, nothing beats live. Does it feel like a real GT40? Yes, remarkably so. We can assure you that if you wish to, and can afford one of these amazing SuperFormance GT40s, it'll be the jewel of your collection, and a drive you'll never tire of.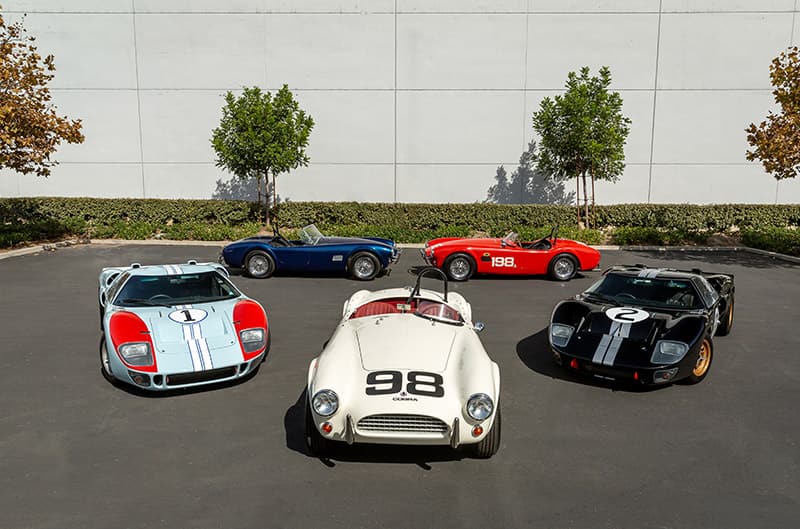 If you're a now-converted, diehard Ford v Ferrari fan, you can have your own Cobra or GT40 configured and liveried just like one of the movie machines. SLC calls them Cinema Series cars. We'd not only make room in our garage for one of these cars, we'd build a special garage if we had the room.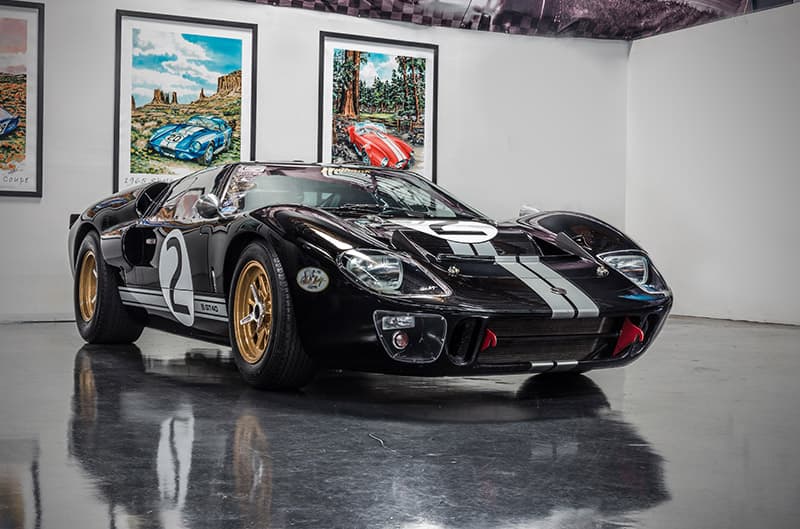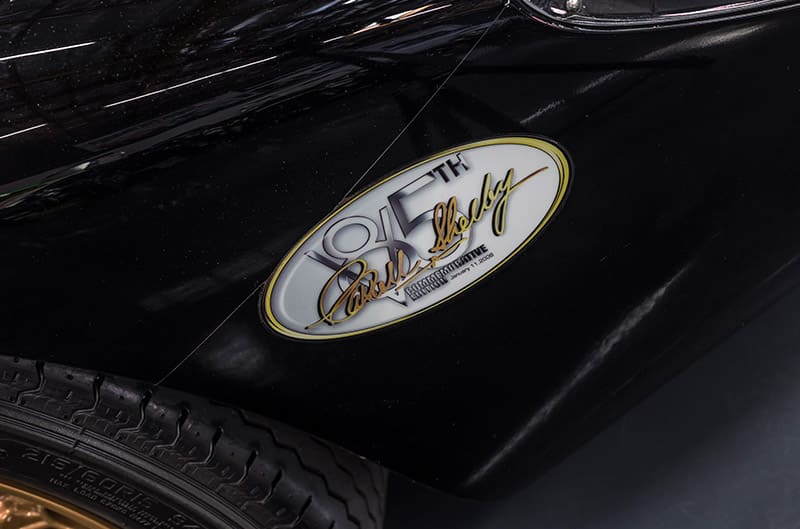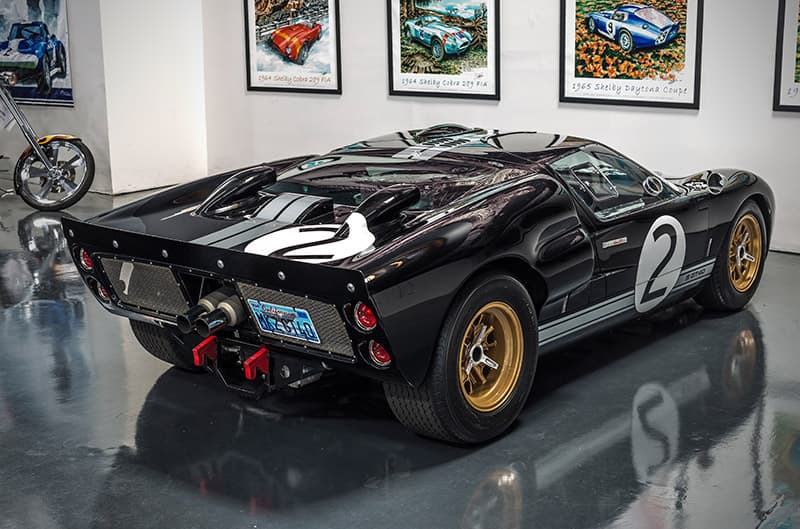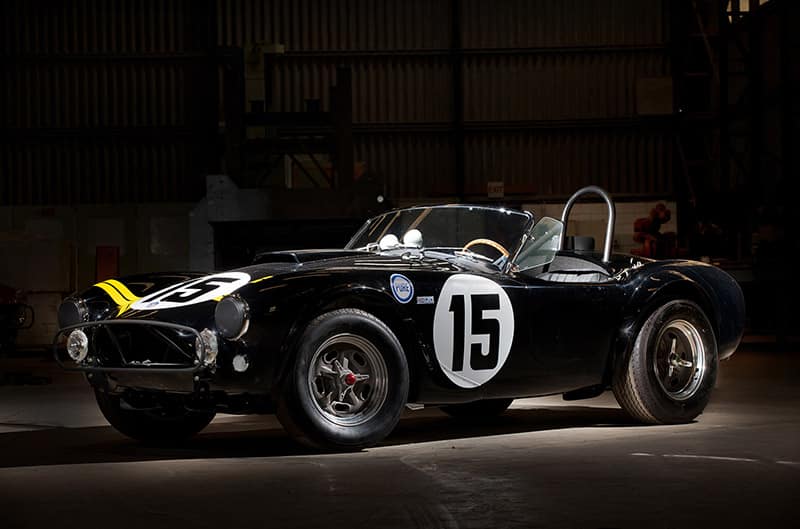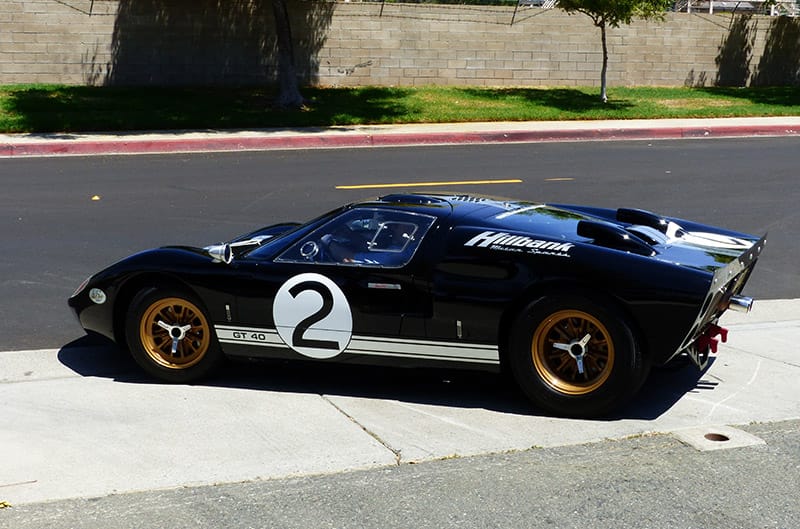 Shelby Legendary Cars
1 Whatney
Irvine, CA  92618
www.superformance.com
(949) 900-1962
(NOTE: SuperFormance has an owner's forum and a car registry. Additional information is available at: www.superformance.com, info@Superformance.com or by calling a dealer at (800) 297-6253.)