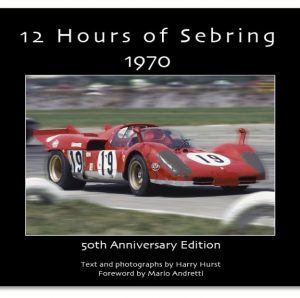 50th Anniversary of 12 Hours of Sebring 1970 Celebrated with Expanded E-book
Dear Gang…for my money, Sebring 1970 was one of the most compelling and exciting endurance sports car races ever, and most certainly the finish was.  Peter Revson and Steve McQueen were challenging for the lead in a finely balanced but generally outgunned privately entered Porsche 908 Spyder when the incomparable Mario Andretti was substituted into the remaining Ferrari 512 in the final hour with the instructions of "go out there and go as fast as you can and do whatever you have to do to run down Revson and win the race."  And Mario being Mario did just that, by only seconds.  A nailbiter for sure, and one of the greatest comebacks in sports history.  This wonderful book is by my friend, writer and photographer Harry Hurst who was there for all of it.  Has it really been 50 years? 
Yup…I hope you enjoy, and thanks for listening — MS
Philadelphia, Pa. –– With the postponement of this year's Sebring, enthusiasts can make up for the absence of racing by reliving "one of the most exciting endurance races ever" – the classic Sebring race of 1970. Harry Hurst has expanded and updated his original book, "12 Hours of Sebring 1970," for the 50th anniversary of this legendary race. He has added more than 50 pages, 30 new photos, and interviews with 8 additional participants.
The new edition is being offered for $15.00 as a downloadable e-book. More information and the link to purchase are here: https://glorydaysofracing.com/12-hours-of-sebring-1970/
Harry Hurst was track photographer at Sebring in 1970 at the age of 19, and was fortunate to be able to capture some memorable images of the great cars and drivers of that era. For over thirty years, these photos sat in boxes. Finally, Hurst decided to put them together in a photo essay; to tell the story of one race and the cars and drivers that made it great.
In his Foreword to the book, Mario Andretti notes, "All the top Formula One and sports car drivers of several eras have driven there: Fangio, Gendebien, Moss, Stewart, Phil Hill – the list is endless. That's what makes the tradition of Sebring so rich." Some of the top F1 drivers at Sebring in 1970 included: Mario Andretti, Jacky Ickx, Pedro Rodriguez, Jo Siffert, Vic Elford, Mike Parkes, Brian Redman, Piers Courage, Francois Cevert, and Dan Gurney.
Andretti also notes that the 1970 Sebring was especially memorable for him. "I remember the 1970 Sebring as a great race for the Ferrari team because we really got our butt kicked at Daytona the month before by Porsche. We came to Sebring, and I put my 512 on the pole. With Arturo Merzario as my co-driver, we dominated the race. That car went out with a huge lead, but I was able to get into another team car and win the race. …[F]or me, [it] was a very satisfying win." The last section of the book includes Andretti's recollections of the dramatic finish of the race.