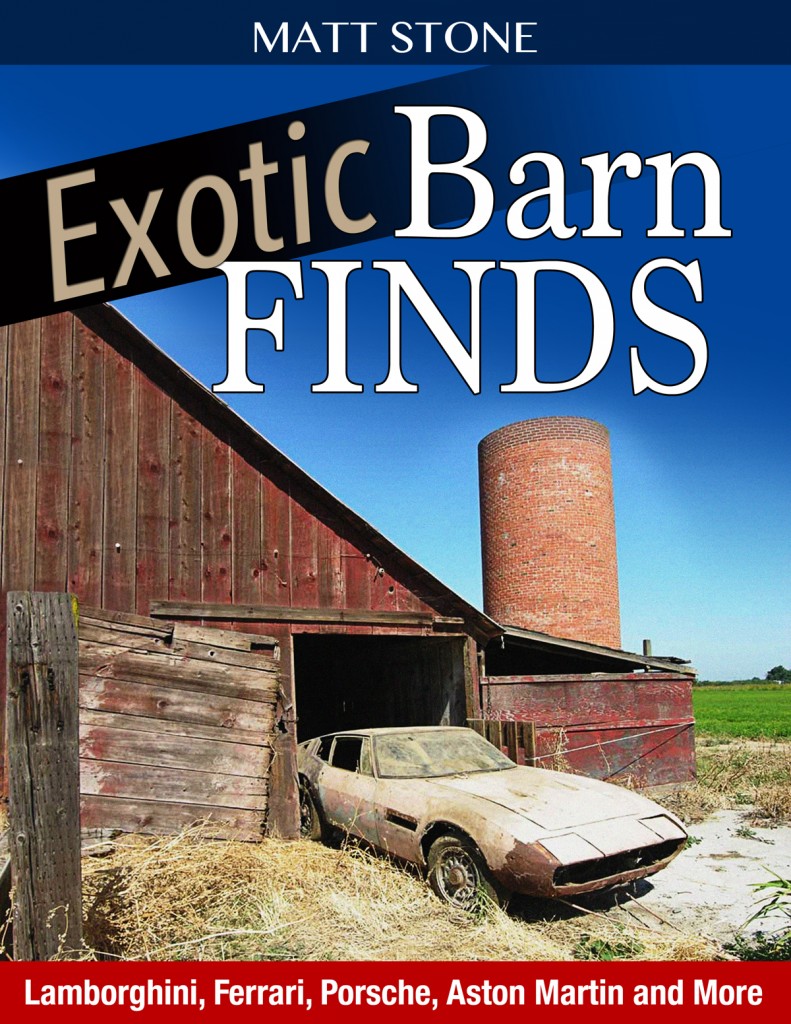 I've spent many hours daydreaming about why car people are so jazzed up over finding a dusty old car abandoned in a barn or garage.
Is it an update or automotive incarnation of the buried treasure fantasy? Or a spin on the notion of nostalgia? Or maybe some people automatically think they can prize that "unwanted old junker" away from a less than knowledgeable owner and sell it and make a ton of money on the deal. Or one's inner "This Old House" gene that makes us want to adopt a neglected old thing (car, dog, house, spouse, whatever) and nurse it back to health and beauty. Now back to the buried treasure mentality; to find something valuable that nobody else knew about, dig it up, and cash in? I asked my friend Corky Coker, who owns a variety of businesses that serve the collector and classic car marketplace, and hosts a television show about barnfinding cars (charmingly named "Backroad Gold,") what he felt drove the phenom. He replied that it's a "giant mix of all those factors with a heap of human nature thrown in."
I agree.
This notion is nothing new; the hope of finding that Bugatti in a barn or the forlorn Ferrari in a field has been the fantasy of car enthusiasts for decades, but it certainly has become exponentially more popular in the last dozen or so years. Perhaps it's the growing popularity of buying and selling cars at collector and classic car auctions (often on live television), where the buyer and seller groups are larger and more diverse. The internet certainly keeps the barnfind jungle drums humming. Another reason is likely the growing appreciation for unrestored cars, originality and the "patina" of use and enjoyment – although as you'll see, too many barnfinds have been abused and neglected far beyond the notion of patina; many have degraded to "parts car" status, or are in genuine need of a comprehensive physical and cosmetic restoration. No matter, it's the thrill of the hunt for many. And perhaps it's all analogous to the notion of so many of us rooting around in Antique shops and at garage sales.
I've come to think of "barnfind" as metaphor for a car lost and found, as not every great hidden find comes directly and literally out of a barn, and I hope you'll go along with me on this. But if the piece wasn't somehow lost, salted away, vanished and then reborn into the world, it's not a barnfind. Many cars have been lost; the idea here to me means cars that have been lost (or hidden) and found.
In as much as I've invested so many brain hours into this entire notion, I've now written a book about it.
Exotic Barn Finds will be available this fall, to be published by CarTech Books. In order to set my piece apart from the already many great barn find books out there, I've elected to stick with primarily "exotic" marques and models. My other goal being to avoid stories of just "another nice old car" in other words, not that I have anything against them, but you won't find any '47 Plymouths in this volume.
I apologize that this all sounds like an unabashed plug for my next book, as it kind of is. However, I'm guessing that visit  this site, you like fabulous old cars, and the stories that surround them being lost and found, plus hundreds of great photos of same, so I hope you'll allow me license to use this space to clue you in to this upcoming project about topics we both love. Exotic Barn Finds will be available publisher-direct at www.cartechbooks.com or you can pre-order now at www.Amazon.com. I hope you check it out and I further hope you enjoy it. Thanks for listening.