When I first saw the Mercedes-Benz CLA45 AMG at an auto show, I knew it was a car I had to drive and evaluate as soon as possible. I immediately liked the CLA's curvy styling, and was interested that Mercedes had again elected to offer a more value priced "entry level" model to attract younger buyers to the brand. Then add to that the full AMG spa treatment, least of all including a turbocharged, two-liter four spooled up to more than 350 horsepower. With that comes all the usual AMG suspension, interior, and rolling stock upgrades, plus 4Matic all-wheel drive and a 7-speed autoclutch gear box, and I'm in!
My handsome tester was finished in elegant metallic gray with a mostly black interior and really looked the business with enough cool exterior upgrades to distance it upwards from the base CLA models, plus a fabulously trimmed interior given seriously grippy and supportive sport seats, and all the expected infotainment toys. My initial concern was that such a small turbocharged engine would be all upper end power with no low end torque for punching the car away from lights and around town.
I needn't have worried, because AMG's engine boffins are better than that. It's not a C7 Corvette off the line, but AMG has tuned in some low end turbo boost helping make plenty of low to mid-range torque. And once you get some revs on the tach, it's good bye. Motor Trend got a 0-60 time of 4.2 seconds, fast by any measure. And the dual-clutch 7-speed sequential manual gearbox is a great partner; there's a ratio for every occasion, and you can really keep the engine on the boil in any situation. I enjoyed driving it "on the paddles" by using the manual shift mode and shifting myself, but the trans is plenty smart, so if you just leave it in Drive, and orchestrate the powertrain with nothing more than your right foot, you'll be happy and fast.
18-inch performance wheels and tires don't seem like anything so exotic today, but believe me are a perfect match for this size car. Turn in is near go-kart quick, with reasonable steering feel, high grip levels, and a generally neutral attitude with still comfortable yet firm ride quality. Another thing I really extra love about this car is a trait common to most AMG Mercedes, and that's superlative high speed straight line stability; Punch up 120 on the speedo and this thing feels laser guided and like it's bolted to rails.  All that autobahn breeding really shows.  Torquesteer from a high horse motor in a front-drive car? No worries, because standard in this AMG is 4Matic all-wheel drive, which can adjust and mix power delivery between the front and rear wheels in a seamless fashion, successfully quelling any notion of torquesteer. And this car has a wonderful exhaust rumble too; not too loud, but absolutely there, in a rich, bassy, exotic snarl, with a little bit of pop and burble on the overrun.
I won't get too deep into all the infotainment details here, but all of the electronic wizardry inside works perfectly, with a great nav and Bluetooth functionality. The carbon fiber trim inside is real, and looks great and high tech. Build quality is first rate.
I found very little in this car not to like.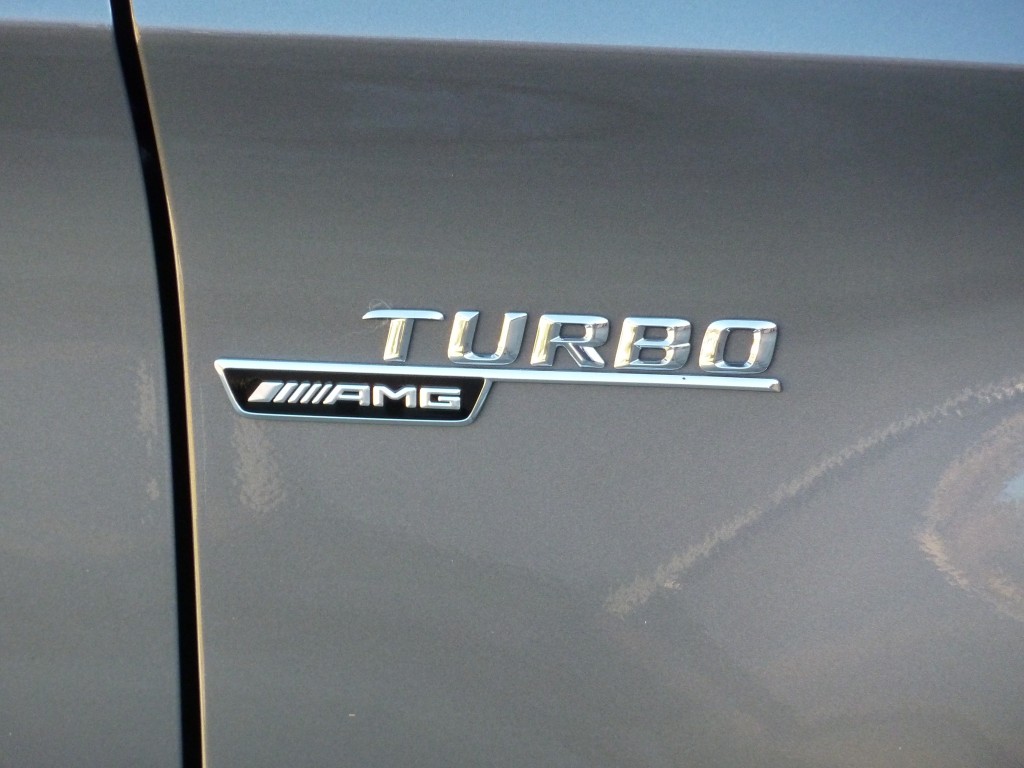 The swoopy roofline compromises rear seating comfort just a bit for taller passengers, and of course: Speed costs money, so it ain't cheap. The base MSRP is $47,450 and my tester bottom lined at $57,165, window sticker just below. There were a few price options you might choose to live without, but getting a nicely equipped CLA45 is still going to run you $55,000 just about no matter what. Not inexpensive, but the content, luxury, quality and performance are definitely present and accounted for. Those are decisions you need to make for yourself, but if the car appeals to you, I'd say you won't be disappointed. With absolute respect to Mazda: Zoom Zoom.