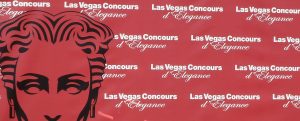 Please remember that you can doubleclick any image to see it full screen in high res
You may wonder why a place as entertainment-centric as Las Vegas doesn't have a world class concours.  It's not for a lack of trying, as several groups have attempted to launch just such an event.  None of them ever got enough traction to last more than a couple years.  Now a new group is trying to Go Big with an automotive event centered around Sin City, and may just have planted enough seedlings to make it fly.  It all happened the final weekend of October, 2019, and included a glammy opening night gala, a classic cars cruise down The Strip (very compelling visuals), a golf tourney, and a good-for-a-first effort concours.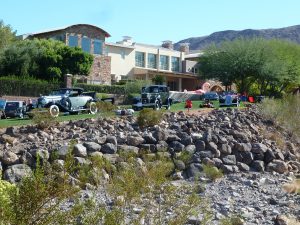 Concours events on golf courses are nothing new, but this locale was spectacular, called Dragon Ridge Country Club in nearby Henderson.  The course sits in a bit of a valley, with rocky mountain formations, and large, expensive, and architecturally interesting homes surrounding, plus a view of The Strip and much of Las Vegas.  Its airport close and easy to get to via Uber or Lyft; I heard people that tried to park and shuttle from the lots to the show field weren't as happy.  No matter, its a beautiful spot making for great visuals.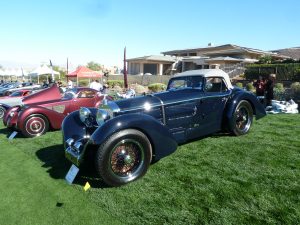 The "dedicate" marques, special classes, or whatever you choose to call them, this year highlighted one-offs and race factory design studies, show cars and concepts.  A brilliant idea to showcase cars everyone wants to see, without showing any preference to particular makes or brands — smart call.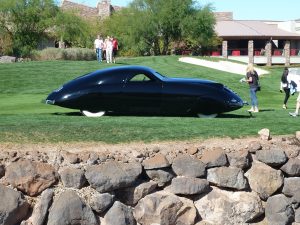 Star among them was the 1938 Phantom Corsair, nicknamed The Flying Wombat for the film in which it starred, and belonging to the National Auto Museum in Reno.  This amazing looking machine to my eyes a huge, angry, windblown drop of Marvel Mystery Oil.  Had Batman, or Darth Vader, had a car in 1938 this would have been it.
The rest was a fine collection of "everything else" from heavy classics to American muscle.  One innovation about which many talked about was that dealers and sponsors were allowed to set up their tents, and display their primarily new cars bordering the showfield; some loved this idea, others disliked it.  Intensely.  On the plus side people don't have to go hunting separated areas to find these folks, the detractors feeling it took away from the classic cars actually a part of the show.  It worked well in the case of one Porsche Classic dealer, who displayed a new 911 along with a very very early, and nicely restored example.  The Bentley dealer brought and displayed, IMHO, too many cars.  No matter, you can love the idea or you can hate it, but something new and different at the Las Vegas Concours.
The were some other teething problems, but all in the spectator saw a good show.  For me, and for the winners of the final special and Best of Show awards, is that the awards presentation program took a near half hour break just prior to handing out the heaviest hardware to the biggest winners.  By this time other show entrants were driving away (a distraction at best) and a considerable amount of the crowd, including the 90% of awards ceremony audience, dispersed.  So the big winners weren't properly honored by this faux pas.  I will say that the award trophies themselves were beautifully designed and elegantly crafted, I'd proudly put one up on my trophy shelf.
The organizers have promised it'll all come back for 2020, and its my guess they will have smoothed out some of the first year bumps and teething pains, and hopefully make a go of it on the big game Concours d'Elegance world stage.  Stay up to date at https://www.lasvegasconcours.com/