Hey Gang,
Assuming you are fans of Bring-A-Trailer, Craigs List, RennList, Hemmings, and all the other wonderful online timewasters that allow us to digitally peruse (and pursue) our automotive fantasy wants list (or even actually buy cars from them now and again) I'm pleased to alert you to a new site that currently (as in "so far") aggregates great classic, collector, and special interest vehicle for sale listings from around the Mysterious InterWebs, and puts a ton of them in once place, for your surfing pleasure.
It's called Zero260.com, and as you by now have guessed, is a fun word spin on the automotive performance measurement "0-60."  I love this site, as its staff of expert writers and car types, curate, assemble, and repackage the latest and often greatest stuff for sale online and all those places I mention above.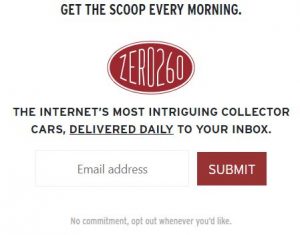 The site also adds value in terms of its own analysis as to why this or that vehicle is hot, or not.  Plus a valuation analysis too.  So you're getting a third party opinion above and beyond that of just the seller.
The site also draws its share of celebs and influencers as both perusers and sellers.  Once such example is this totally badass Nova SS 327 4-speed reputedly owned by Paul Zuckerman who co-hosts a great podcast with auto media mogul Spike Feresten.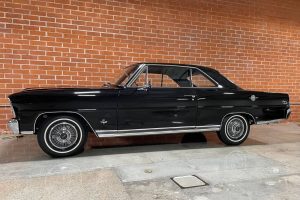 The site's format is easy to cruise and digest, with lots of photos, and a connection to the seller's original advertisement so you can contact the seller if you wish to take things further.  Check back often, as the site is being refreshed constantly as new posts pop up.
You may wonder why Zero260 doesn't offer its own auctions.  So do I.  I'm not a betting man, but were I, I'd guess (and its only a guess) that this could come some day.
I encourage you to check it out at www.Zero260.com.
Thanks for listening…MS