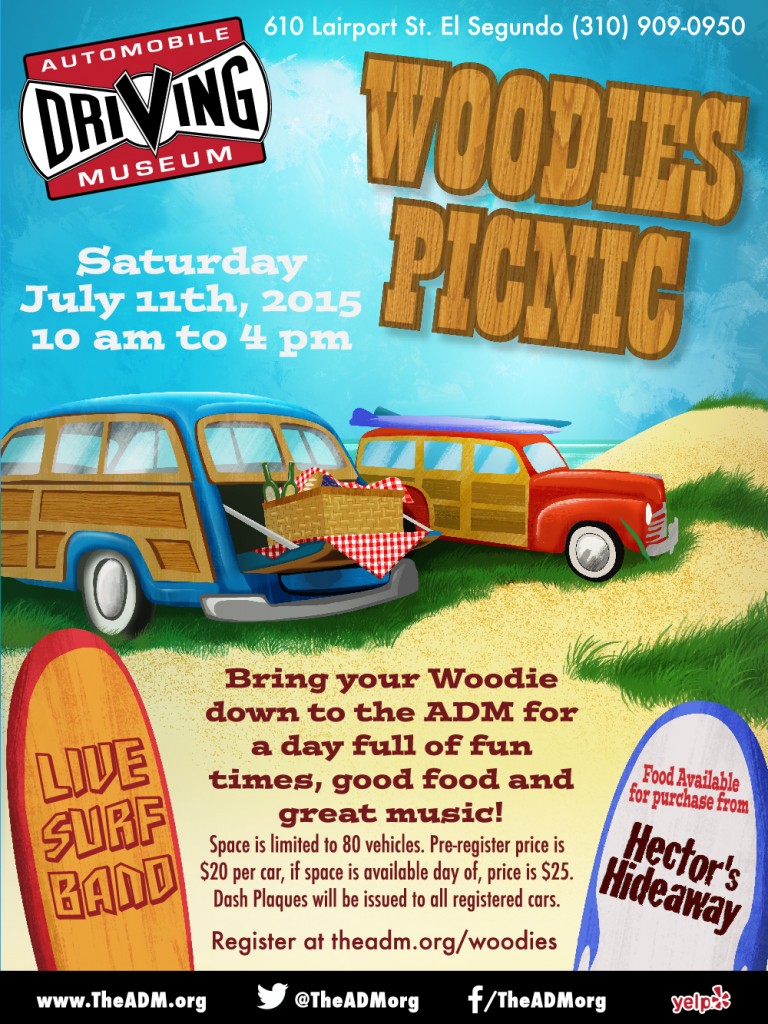 Some news from my friends at the Automobile Driving Museum that I thought you might enjoy….
(El Segundo, CA) The Automobile Driving Museum (ADM), a non-profit museum that preserves historic automobiles, is proud to present "Woodies in the Park" picnic and car show on Saturday, July 11th, 2015 from 10:00 a.m. to 4:00 p.m. The ADM will be hosting some of the nicest wooden bodied station wagons here in the Southern California area. On display will be stock and modified versions of the "Woodie Wagons" built by Detroit from the earliest years up thru 1953. Inside the museum, a special exhibit of three unique Woodies that will be on display from July 3rd to July 19th, 2015.
If you are a proud owner of one of these cool cars or just a big fan, we urge you to attend! A BBQ of hamburgers, hot dogs, and tacos will be available for purchase on the grounds of the museum. A beautiful picnic setting will be available for your comfort. Come cool off in our Ice Cream Station inside the museum or rock out with our Surf Band outside. It will make you feel like you are back in the golden years of Woodies, the 1960's.
Car show pre-registration entry fee is $20 before July 1st, 2015, and $25 at the door for up to two guests. Check-in and set-up starts at 8 a.m. Limited parking of 80 cars. All registrants get an event dash plaque.
The ADM is proud to present this important segment of automotive history and a great summer beach day. Join us July 11th, 2015 for a special day of Woodies at the Automobile Driving Museum, 610 Lairport Street, El Segundo, CA 90245, www.theADM.org or 310-909-0950 for more information. Come see these fabulous vehicles and join us for a picnic and surf rock.
About the ADM:
The Automobile Driving Museum is a unique venue for auto enthusiasts. Not only is the museum filled with over 130 vintage, antique, and muscle cars; but is also the only museum that takes you for a ride in them. The ADM is conveniently located at 610 Lairport Street, just 1Ž2 mile south of LAX in beautiful El Segundo, CA. 90254. Admissions are a requested donation of $10 for adults, $8 for seniors, $5 for children (11-17) and 10 and under are free. Open daily from 10 a.m. to 4 p.m. and closed on Mondays. The ADM is host to many events for families as well as auto enthusiasts and is a great location for weddings, birthday parties, and holiday parties. The museum offers guests the opportunity to see their cars up close. In addition, the museum offers guided tours on the weekends and rides in their cars on Sundays, weather permitting. For more information about the ADM, visit: www.theADM.org, Twitter @TheADMorg, and Facebook at /TheADMorg. Come take a ride you'll never forget.