Click on any image to see it full screen in hi res
Detroit, Dearborn, Pontiac, Lansing, and Flynt are just some of Michigan's many car company towns.  In Dearborn — definitely Ford country — you'd be a Mo-Ron if you don't avail yourself to the outstanding Q, killer burgers, wide choice of beer, and downright charming automotive decor (and merch) at this Dearborn-far-better-than-your-average sports-bar.  Yes of course they have a stadium's worth of big screens hanging everywhere, but the authentically automotive design and decor make it really charming — all five of the Ford Model As on display in, and in front of, the place are clean, nice, and genuine cars, not plastic mockups.  All of the door pulls on and in the building are real gas pump handles.  And the urinals are fashioned out of kegs.
Q is the house specialty, but the craft burgers are just as crafty, as is the generous and made-fresh fish-n-chips.; portions are generous and prices reasonable.  There's a large main dining area with tables, booths, and high tops and clean, attractive, attentive, and friendly staff that will absolutely take good care of you.  There are also two additional meeting/party/private rooms that you can book for that special dinner, party, bar mitzvah, bachelor party, or business meeting.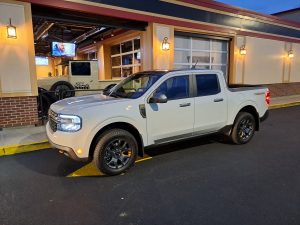 On my recent weeklong trip to Michigan, I only went there three times, and could have gone again.  It's that good and I can't wait to go back.  Ford's iconic and famous Glass House World HQ is just around the corner, and those folks eat at the Garage, thus so should you.
Monday – Thursday11 AM – 10 PM
Friday – Saturday11 AM – 10:30 PM