The XC90 was Volvo's first real entry into the Sport/Utility marketplace in 2002, and remains at the top of its model lineup as its largest SUV, and only 3-row seat model.  It's been updated and remodeled several times over its near two-decade long life, and the current example is as modern as can be, fresh, handsome, and technologically up to date.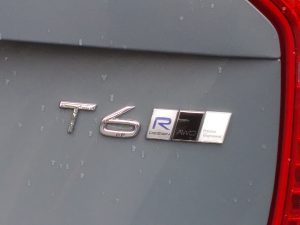 Volvo offers it in a small variety of trim levels, and with several different powertrains.  My tester was a fully stacked and equipped R-Design level piece, powered by the turbocharged AND supercharged 2.0-liter I-4, boiling out an impressive 316 horsepower.  Completing the powertrain is an 8-speed automatic transmission, and all-wheel drive.
As you can imagine it being a top level model it was equipped with every bit of tech and spec one could ask for, including some interesting drive aids which we'll get to in a moment.  Including the R-Design upgrades, this already well equipped luxury SUV contained nearly $20K in options, stretching its base price from $56,300 to nearly $75,000.  A lot of dough for sure, but comparable to competing Mercedes-Benz, BMW, Lincoln, and Range Rover models.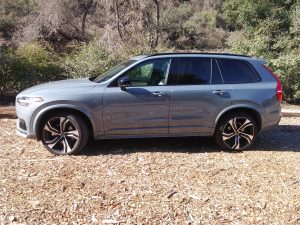 It's a handsome rig, no doubt. Nicely proportioned, elegant even — and not looking large or oversized in any way (as many 3-row seaters often do).  You can make those decisions and conclusions on your own, but I'll tell you the cabin of this ride is near faultless; its room, its elegant, its comfy, and its fabulously appointed and finished.  The Nappa leather sport seats coddle, cosset, and feel yummy to the touch.  The gauges and instrumentation are clear and logical.  The center stack control screen and infotainment offerings are comprehensive, up to date, and work beautifully.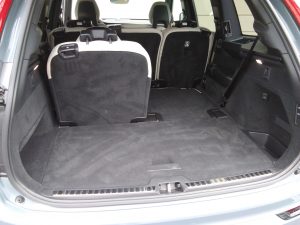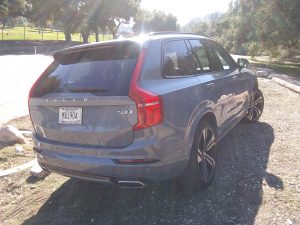 The rear load floor if flat, and the second row seats fold in 60/40 fashion, which is handy if you need to load stuff and still carry a back seats passenger or two.  Or the whole thing folds flat opening a cavernous rear cargo area.
Its also a general joy to drive; taking me and three passengers on a 450 mile in a day road trip in superb comfort and quiet with a great ride.  It also handles nicely too, good grip from the tires, with crisp steering response, well controlled body motions, and a supple ride quality.  All of that, while ensconced in this beautiful cabin, caused one occupant to liken it to riding in an executive jet.  Particularly interesting are some of the driver aides one of which allowed me to roll down the highway for several miles with hands off the steering wheel, and the XC confidently and accurately tracking through sweeping bends and such, when it sensed my hand had been off the wheel for "too long, " or that more aggressive corners approached, it flashed a little warning asking for "driver involvement."  There's also lane departure warning, park assist, back up assist, and the always much appreciated blind spot warning systems.  Trick stuff along the path to more autonomous driving, and it all worked very well, and you can elect to use it, not, or simply to turn it off via the central control panel.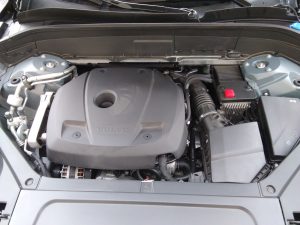 I have one issue with this particular powertrain offering; don't get me wrong, it performed beautifully and cranks out all the power its rating would indicate.  My issue is more a philosophical one, that being that it uses a lot of hardware to make 316 horsepower.  Most engineers opine that the best and most elegant (there's that word again) technical solution that delivers the desired results (in this case lots of horsepower and torque) is the simplest.  So much of the car industry has settled on a turbocharged 2.0-liter I-4 as a smart solution to deliver 250-275 horsepower, but Volvo wanted more for this top line model, so it added a supercharger.  All of that means more hardware to ultimately wear out, more weight, and more cost.  I have no reason to suspect, like most Volvos, that this won't be a robust and long serving powertrain, but I sure wouldn't want to own it 8-10 years or 100,000 miles down the line.  That won't matter to most new vehicle buyers, as they'll lease it for three years and then give it back and won't car about the downstream maintenance issues.  Volvo also offers a PHEV powertrain equipped XC90, and I'd very much like to sample that; I'm guessing it won't perform quite as well as this one, but uses a lot less mechanical power adders, and should deliver far superior fuel economy.  The two different blowers were also well phased to each other; the supercharger providing low rpm torque and the turbo spooling up for top end power when needed, never fighting each other for turf.  Not that it matters a lot, but the 2.0 Turbo supercharged powertrain in my tester didn't sound particularly lusty, rich or expensive either.  It didn't sound awful, but not the bass rich, smooth, and silky sounds you expect of a European powerplant with over 300 horses.  No matter, I'm guessing that most people who buy or lease it will love it, and when you punch the pedal, it sure does go; the transmission is a perfect dance partner for it too, very smooth and also responsive.  Loaf along the freeway with a full load and it'll deliver 25mpg.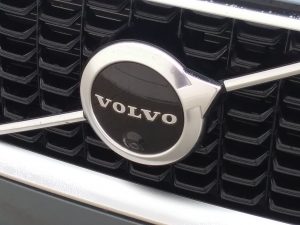 So all in, what to think?  A near perfect package in search of a more appropriate powertrain, to my way of thinking anyway.  I'd like to sample a couple of the other XC90 models to see how they fare.  That said my guess is that if you like it, you'll love owning and driving it.  Lovely, roomy, responsive, comfy, and exceptionally well built and finished. Much as you'd expect of a modern Volvo.