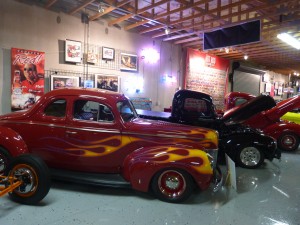 Let me clue you in to the coolest little hot rod collection / museum that you've probably never heard of, and I'll bet you've never seen. It's called Nostalgia Street Rods.
It's all been assembled by The Goldstrom family, husband Art, late wife Shirley, and daughter Sheri. It wasn't originally planned as a museum, per se, although it's functionally become one almost by default. Mr. Goldstrom made a successful business in construction, or more correctly destruction. If you've ever watched a film or video of a large building — like an old Las Vegas hotel — being blown up and then crumbling in on itself, there's a good chance that Goldstrom's company was involved in the job. He wasn't the dynamite guy, but instead lead the team that did the pre-explosion engineering work, and then the post imploding clean up and demo, leaving the site clean, flat and ready for the next construction project. No matter, Goldstrom loved cars and racing, a very pure hot rodder who ran some cars at the California dry lakes top speed wars back in the 1950s and later got into drag racing, primarily with alterds.
Out of all this straight line action came a garage full of cars. Then more, and more and more. He kept buying industrial property surrounding his construction business office, and ended up with a whole corral full of small buildings, and about 240 cars. Wife Shirley was seriously into "autograph" type memorabilia, posters, prints, photos, guitars, gold records; all kinds of things considered collectible memorabilia, and these items became decoration for the buildings full of old cars. Daughter Sheri, being a pretty serious car gal herself, is the collection's curator and chief decorator and display manager.
Goldstrom admittedly prefers Fords, although not everything in the collection is Blue Oval, and not everything is a hot rod either; there are some lovely and beautifully restored factory style Model Ts, Model As, and flathead era cars on show.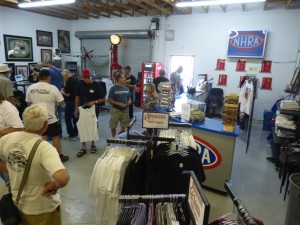 The Goldstroms open the doors once a year for a major car show on the property, which benefits a wide variety of local charity interests. Tours are given Mon-Fri at 10AM, Noon, and 2PM. The cost is $20 and worth every nickel. Plus of course there's a gift shop stuffed with plenty of T-shirts.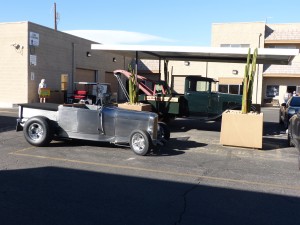 Don't be fooled when you drive up to the property and park, as there are no red carpets or flashing neon signs announcing the collection. The Goldstroms keep it a little low key for security reasons. But if you're in Vegas, you must visit. There are no high tech interactive screens to play with, just immaculate rooms and rooms full of great cars, hot rods and memorabilia. And if you're luck, Art Goldstrom will be around and lead your tour, its great when he does because of course he's the man who gathered the cars (or built them in their own shop on property) and he tells great stories, and often fires up a few cars and guns a few engines for your pleasure. Nice family, real people, and a wonderful gathering of cars and stuff.
Nostalgia Street Rods
5375 Cameron Street
Las Vegas, NV 89118
702-876-3654
www.HotRodsandmore.Vegas or
http://nostalgiastreetrods.com/
Lots more photos below….