Some News I thought you might enjoy from my friends Donald Osborne, Michael Furman, and the folks at The Blackhawk Museum.  The museum is a must if you've never been, and the book is fabulous…MS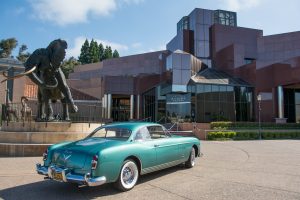 Offers a Rare Opportunity to Witness the Jet-age Cars that
Forever Changed Modern Automotive Design
Book Author, Automotive Expert and Historian Donald Osborne, known for his recurring
segment 'Assess & Caress with Donald Osborne' on the CNBC Primetime show 'Jay Leno's
Garage,' hosted a sold-out speaker series presentation on July 8 at the Museum to launch the
exhibition.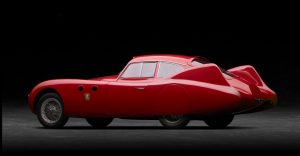 Mid-century automotive icons such as Harley Earl's Buick Y-Job and Le Sabre for General
Motors, Giovanni Savonuzzi's Cisitalia 202 MM Aerodinamica Coupé for Stabilimenti Farina
and Virgil Exner's Plymouth Belmont for Briggs Body Company are on display among many
other masterpieces.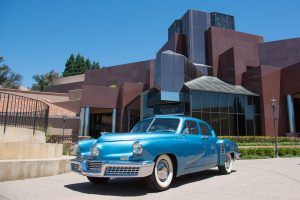 July 12, 2017 (Danville, CA) – Transatlantic Style: A Romance of Fins and Chrome, is an
exhibition showing the creative storm in automotive design shared between the United States and
Italy during the post-World War II period. It is based on the book Stile Transatlantico /
Transatlantic Style: A Romance of Fins and Chrome that premiered at the Pebble Beach
Concours d'Elegance last year as a spectacular large-format hardcover edition, telling the
compelling story of this rich creative exchange, the societal and economic forces that helped to
drive it and the personalities that populated it. It is the first book ever written on a topic that is
arguably the one of the most important and relevant in the collector car industry today. Author
Donald Osborne, the greatest-known 'Transatlantic Style' expert of our time, is the brilliant mind
behind this study, which could otherwise have been a documentation of his great life passions:
mid-century art & design, Italian culture and automobiles. In partnership with the Blackhawk
Automotive Museum in Danville, California, he has curated this special exhibition with the same
title of the book that opened this week and runs through the end of September.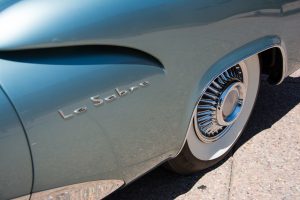 "My goal in creating this Transatlantic Style project is to reveal to a larger world the remarkable
work of brilliant designers from this fertile period and how much it was shaped by this crosscultural
exchange," says Author and Historian Donald Osborne. "Our culture and values today
are the result of our pasts and perhaps with a greater understanding we can see what truly open
minds in full creative flower can achieve."
Transatlantic Style: The Exhibition
Besides authoring his book, Donald Osborne wanted to take his study beyond the pages of the
volume and into the gallery of the world-respected Blackhawk Automotive Museum in order to offer the public an opportunity to learn and see 'Transatlantic Style' in person. With the support
of Don Williams, a driving force behind the creation of the Blackhawk Automotive Museum, his
carefully-curated exhibition Transatlantic Style: A Romance of Fins and Chrome offers to the
American public their first-ever opportunity to walk through history, viewing a select gathering of
iconic, jet-age cars together in one setting to really understand the impact these cars have had.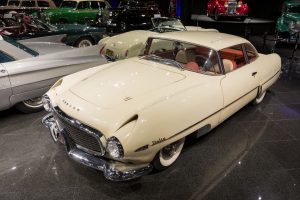 "We are extremely pleased to be able to work with Donald on hosting this wonderful exhibition
of automotive design, which coincides with our 30thAnniversary," says Blackhawk Museum's
Executive Director Tim McGrane. "We look forward to welcoming many visitors to the Museum
over the next three months and we timed the exhibition so that automotive enthusiasts attending
the Pebble Beach Week of events in August will also have the opportunity to visit the Blackhawk
Museum."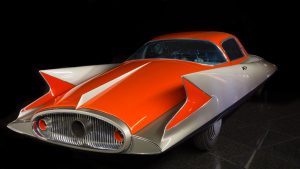 Works of motoring art designed and crafted by brilliant designers and coachbuilders, including
Harley Earl for General Motors, Virgil Exner for Chrysler, Giovanni Savonuzzi and Gian Paolo
Boano for Ghia, Battista Farina for Pinin Farina and Frank Spring for Touring, are featured in the
exhibition. As the author and curator points out, these designers shared ideas and inspired each
others' future works during this fertile period of post-war growth, thus shaping the whole of
automotive design between the United States and Italy, impacting history, commerce and the
world as a whole.
The exhibition will feature a number of significant collector cars on display, including the: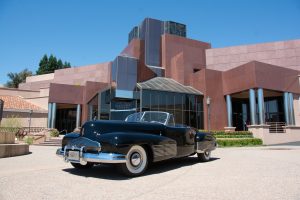 Buick Y-Job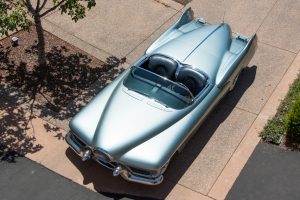 Le Sabre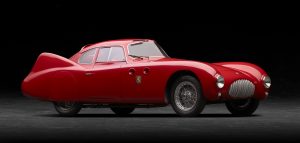 Cisitalia 202 MM Aerodinamica
Cisitalia 202 SC Coupe
Lancia Aurelia B20 Coupe
Alfa Romeo Giulietta Sprint
Nash-Healey Roadster
Plymouth Belmont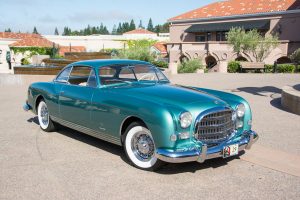 Chrysler GS-1 Coupe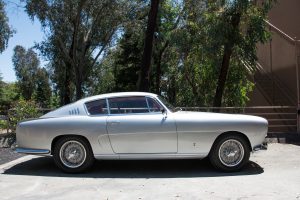 Alfa Romeo 1900 CSS Ghia Coupe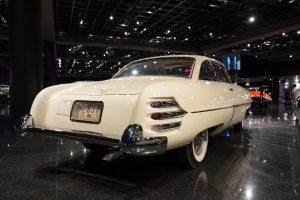 Hudson Italia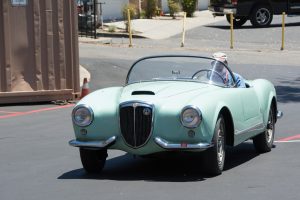 Lancia Aurelia B24 Spider America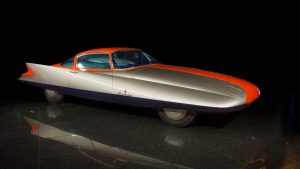 Ghia Streamline X 'Gilda'
Chrysler 300F Convertible
Lancia Flaminia Pinin Farina Coupe
Maserati 5000GT Touring Coupe
Cadillac Eldorado Brougham Pinin Farina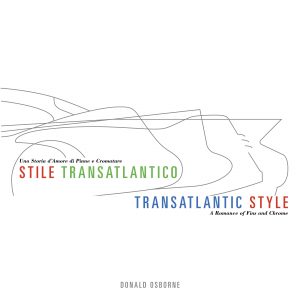 Stile Transatlantico: the book
In an unparalleled and in-depth approach that is written in both English and Italian, Donald
passionately guides his readers throughout the automotive design history shared between the
United States and Italy following World War II, as well as through the love and leadership the
two nations shared in creating some of the most beautiful cars ever made. With the cooperation of
Corrado Lopresto and Lawrence Auriana, the world's two leading collectors of Italian cars,
combined with Osborne's New York Times-style storytelling, fascinating case studies and the
stunning photography taken by renowned automotive photographer Michael Furman, Donald
Osborne's Transatlantic Style has become the leading written authority on this fascinating chapter
of post-war automotive design in the United States as well as Italy.
A beautiful, large-format hardcover book, Stile Transatlantico / Transatlantic Style: A Romance
of Fins and Chrome, is available for purchase through its publisher at CoachbuiltPress.com, on
Amazon.com and leading automotive booksellers around the world. It is written in both English
and Italian. The standard book price is $100 and, for $450, one of 50 numbered special editions
may be purchased, offering a unique hardbound cover, plastic slipcase and tip-in page with the
signatures of author Donald Osborne and photographer Michael Furman. Visit
http://www.coachbuiltpress.com/transatlantic-details.html to look inside and purchase online.
About Donald Osborne
Donald Osborne, author of Stile Transatlantico / Transatlantic Style: A Romance of Fins and
Chrome, is a classic car historian, consultant and writer, specializing in postwar Italian sports cars.
Donald is also host of a weekly segment called 'Assess & Caress with Donald Osborne' on the
CNBC Primetime show 'Jay Leno's Garage' where he shares his knowledge on classic car
values. An Accredited Senior Appraiser (A.S.A.) member of the American Society of Appraisers,
he works for clients on the acquisition, sale and valuation of classic vehicles and travels the US
and Europe attending major events, rallies and auctions. His expertise is frequently shared with
the readers of Sports Car Market magazine, and he has written for The New York Times,
BusinessWeek Online, the Wall Street Journal, Art & Antiques, Palm Springs Life and Road &
Track. He has also curated an exhibition titled "Ferrari and Futurists: An Italian Look at Speed"
at Heather James Fine Art in Palm Desert, CA. A talented opera singer and stage performer,
Donald is often requested to open and close leading classic car event ceremonies by singing the
national anthem, as well as emcee throughout the course of the event. In tandem with the book
launch of Stile Transatlantico, Donald worked with the Blackhawk Museum in Danville, CA, to
curate an exhibition of the same theme. Follow Donald Osborne on Facebook and or by visiting
his web site Automotivevaluationservices.com.
About the Blackhawk Automotive Museum
Recognized as one of the world's greatest classic car museums, the Blackhawk Automotive
Museum has a rotating collection of approximately 55 one-of-a-kind classic & styling cars and
historically significant sports & racing cars. Opened in August 1988, the privately funded
museum carries out its mission of blending art, culture, history and technology with changing
exhibitions, educational lectures and family programs. In special collaboration with Donald
Osborne, the museum hosted a speaker series presentation with the author on July 8th to launch
the official Transatlantic Style exhibition that runs through September 30. Associated with the
Smithsonian Institution, the Museum is open year round on Wednesday through Sunday and is
located 30 miles east of San Francisco in Blackhawk Plaza at 3700 Blackhawk Plaza Circle,
Danville, CA 94506. For more information, please visit BlackhawkMuseum.org.
About Michael Furman and Coachbuilt Press
Michael Furman is the world's most in-demand automotive photographer whose studio imagery
can be seen in numerous books, magazines and museum exhibitions that celebrate historically and
aesthetically significant motorcars. He is often present at many of the great concours d'elegance
as a featured artist, author, judge and sponsor. His company, Coachbuilt Press, applies its unique,
award-winning style and expertise to the creation of custom and limited-edition publications for
leading museums, auction houses and noted automobile collectors. Visit CoachbuiltPress.com for
more information.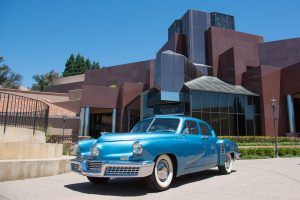 # # #