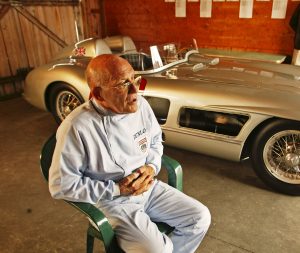 A lot has been said and written, and will continue to be, about Sir Stirling Moss who passed away April 12, 2020, at the age of 90, at his London home.  His racing record generally speaks for itself:  Sir Stirling Moss is one of the world's most accomplished racing drivers.  He raced successfully in Formula One notching 16 grands prix wins but never the world championship, and also podium finishes at the 24 Hours of Le Mans.  He may be best known for his epic win in the 1955 Mille Miglia, at the wheel of the factory Mercedes-Benz 300 SLR Number 722 — setting a time and speed record that still stands.  Moss remained a fully engaged enthusiast for the rest of his life, was an honorary judge at the Pebble Beach Concours d'Elegance, and owned an OSCA sports racer powered by rare desmodrodmic valvetrain-equipped powerplant. 
It was my pleasure to meet him on several occasions, and get to know him and his positively delightful wife Susie a bit over dinner a time or three; he'd been in somewhat poor health the last few years, so his passing saddens, but doesn't ultimately surprise me.  I have one interesting anecdote from his early automotive life that I'd like to share with you in the hopes that you'll enjoy it, and learn more about the man beyond his racing stats.  His first car was a 1936 Morgan three-wheeler, and he shared the following story with me for a book I did some years ago.  And you can doubleclick on any photo to see it high res and in full screen view.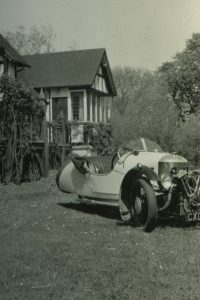 "The first car I had to drive on the road was a Morgan three-wheeler.  It had a two-cylinder Matchless 1000cc air-cooled engine.  We paid 50 Pounds for it, which was quite a lot in those days.  It was considered a "non-reversible tricycle" which back then in England you were allowed to drive when you were 16 years old.  I actually drove illegally at 15, a bit prior to my birthday.  It was quite exciting to me to be driving.
One time, I had a problem with it when I was coming back from the country.  I got a puncture in the [single] rear tire.  The car swerved to the side, I went up an embankment, and the Morgan tipped over.  It wasn't very bad; it just sort of gently rolled.  My pet ferret was riding in a box mounted to the back, and I was very worried about it, but the box was undamaged and the little animal was fine.  It got a little oil on its head, but blinked at me and was otherwise OK.  I managed to get the car rolled back over, and it was a pretty exciting event for me at a very young age.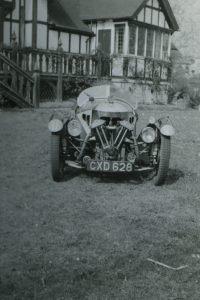 The Morgan was a lovely cream color, with a blue flash as I recall.  It ran along really well, although I think it only had about 22 horsepower or something like that.  It was a very rudimentary vehicle, but weighed very little.  They raced them quite a little back then.
The great thing about having a car was that you could pick up the crumpet [girls] a lot easier than if you had a bicycle of course.  It was quite useful from that standpoint.  Driving was quite fun back then as well, because there were far fewer cars on the road.  I drove this car until I was 17 or so.
Then my father got an MG/TD coupe, which was a very nice looking car but you couldn't see out of it very well.  It was a very unusual car, and my father said "OK, you can drive this now."  It was frustrating, because after a while, he took the car away from me and I had to ride a bicycle.  He then bought a BMW 328, in which he allowed me to drive in a couple sprint races in 1947.  We didn't drive much on the road then, because WWII was only just over, and there was petrol rationing and so forth.  By the time, I was under contract racing an HWM.  I don't remember what happened to the Morgan, if we sold it or traded it or whatever.